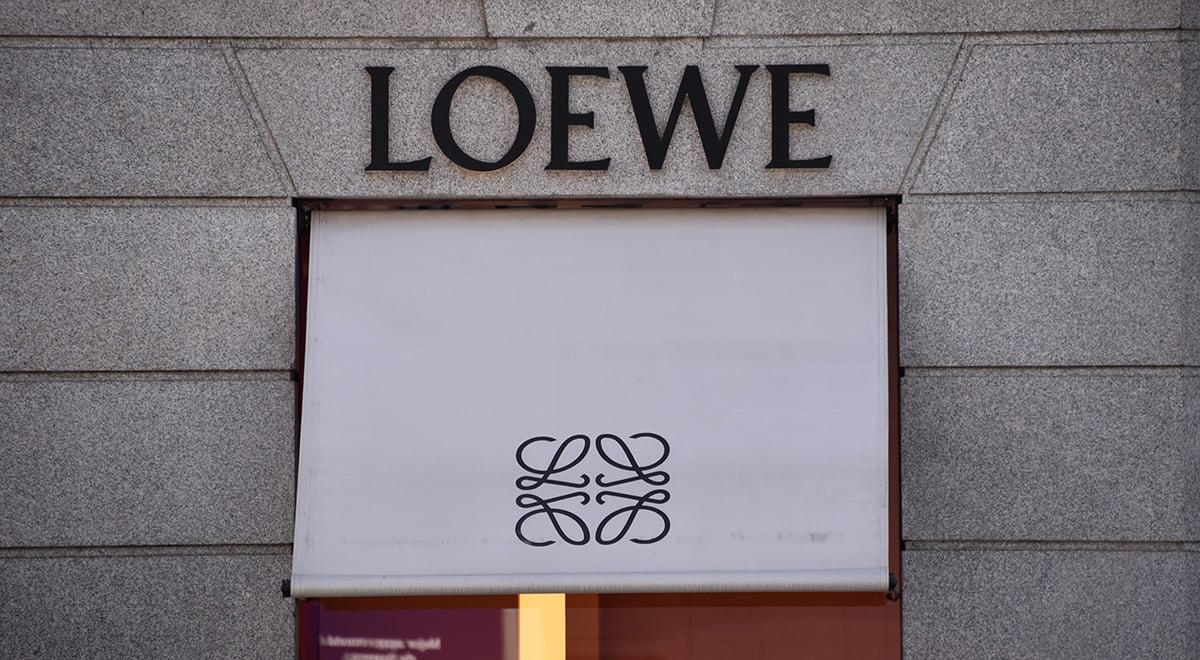 Fashion, to some, is about pushing the envelope further than it's ever been pushed. With the rise of social media and increased access to luxury brands, such a task has become increasingly more difficult, which we witnessed first-hand in 2022.
Some brands tried to be provocative and failed miserably (here's looking at you, Balenciaga), while others sparked major buzz on social media for their innovation (think Bella Hadid being spray-painted into her dress on the Coperni runway).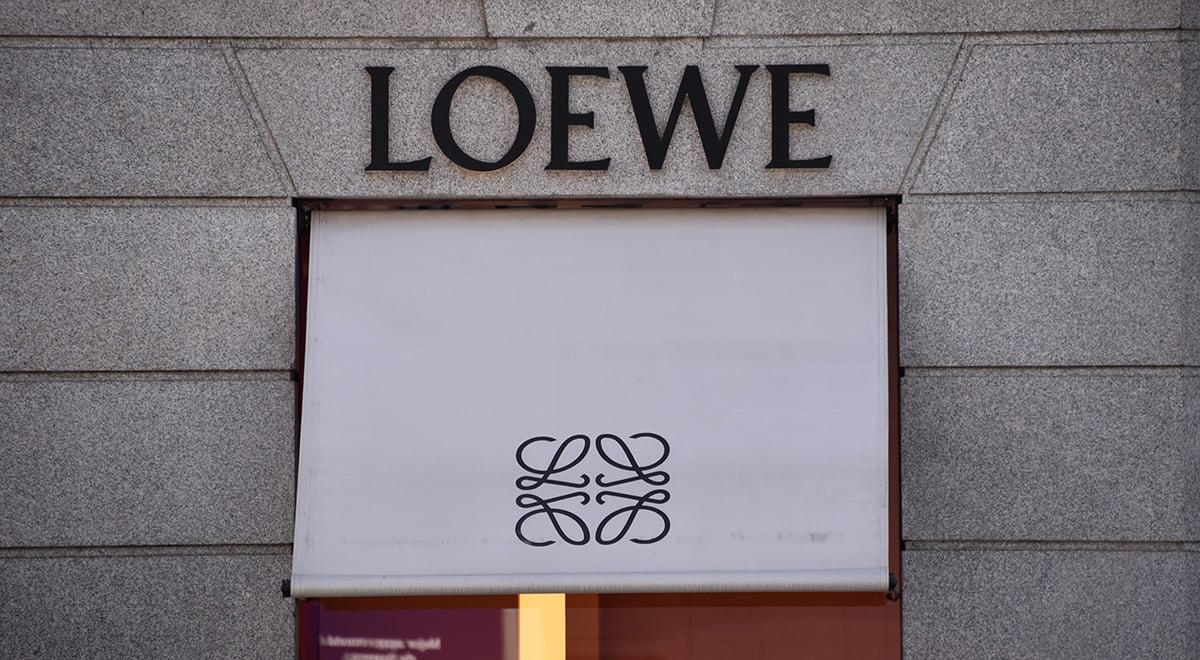 Loewe is a Spanish luxury fashion brand known for specializing in leather goods and innovative designs (Credit: Georges Hanna / Shutterstock)
One brand, however, is ushering us into 2023 with unique designs that remind us fashion doesn't have to be overt to make a statement. Loewe, the Spanish fashion house under LVMH, has several striking pairs of shoes that'll make your jaw drop.
Many are polarizing, some are downright weird, and all are Loewe. Let's get into it:
1. Flamenco Wedge Boots, $1,950 at Mytheresa
Katy Perry once asked us, "Do you ever feel like a plastic bag?" Most of us answered with a resounding "No," because we weren't sure what she meant by that. We're still not. But we think we might be able to get a bit closer to finding out with the Loewe flamenco wedge boot.
Replete with rubber soles and a lambskin insole, you'll have literal bags around your ankles when you step into these babies. We'll let you decide if these are weirdly cool or just plain weird.
Inspired by Loewe's iconic bag, the flamenco is coated in supple leather, designed with signature coiled knots and rubber wedge soles
Weird isn't always a bad thing. Some people embrace the adjective and wear it like a badge of honor, which is what we imagine many of the designers at Loewe do. We're especially confident that's what the designer of the balloon sandal has done.
This heel, which comes in two colorways, features a Jeff Koons-Esque balloon that sits right atop the foot. Good news: the balloon won't pop while you're walking. Bad news: you might not be able to walk.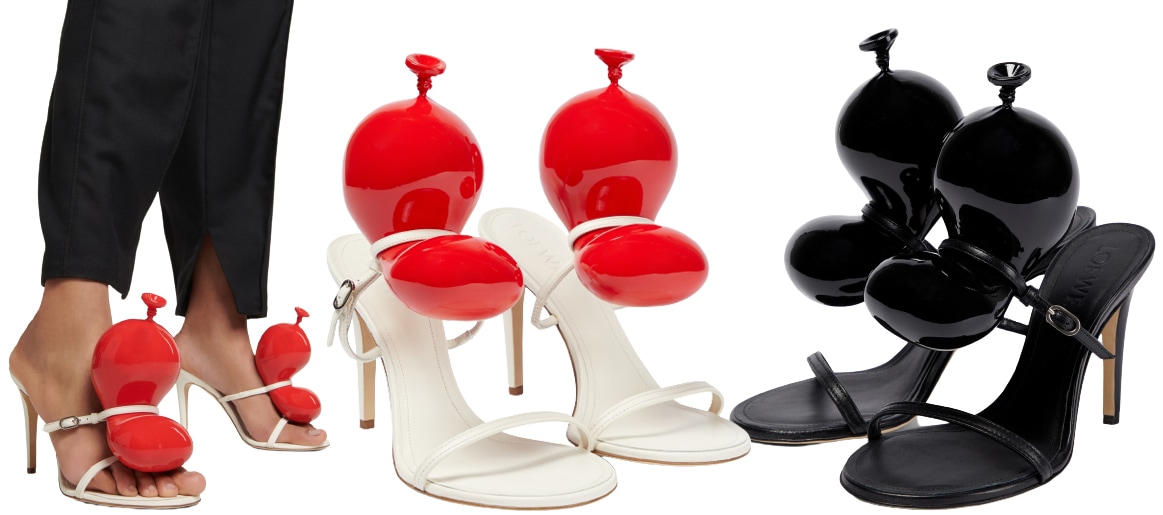 Uniquely surrealist, the balloon sandal is made from leather with playful balloons floating on delicately buckled straps
3. Balloon Pumps, $1,100
A similar concept to the Balloon Sandal, the balloon pump also comes in two colorways – black and red or tan – except instead of placing the balloon atop the foot, it's under the heel.
This balloon more closely resembles a water balloon than a balloon animal, a la the sandal, and we've got some questions.
While we admire the thought and the craftsmanship, we're desperate to know whether these are at all comfortable. With the balloon for a heel and an extremely pointed toe, our feet hurt just looking at them. We like looking at them, nevertheless.
Loewe animates the classic black pumps with 3D balloon-shaped heels
4. Padded Ankle Boots, $1,200 – $1,356 at Mytheresa and Farfetch
This might be a controversial pick. While we find the padded ankle boot a little weird, others are going to find them absolutely to die for. Remember what we said about these shoes being polarizing? Akin to Moon Boots, this Loewe offering comes in black and is a little more puffy than padded.
The only redeeming quality is the height – these lambskin boots only ascend to the ankle, unlike its sister shoe, the padded high boot.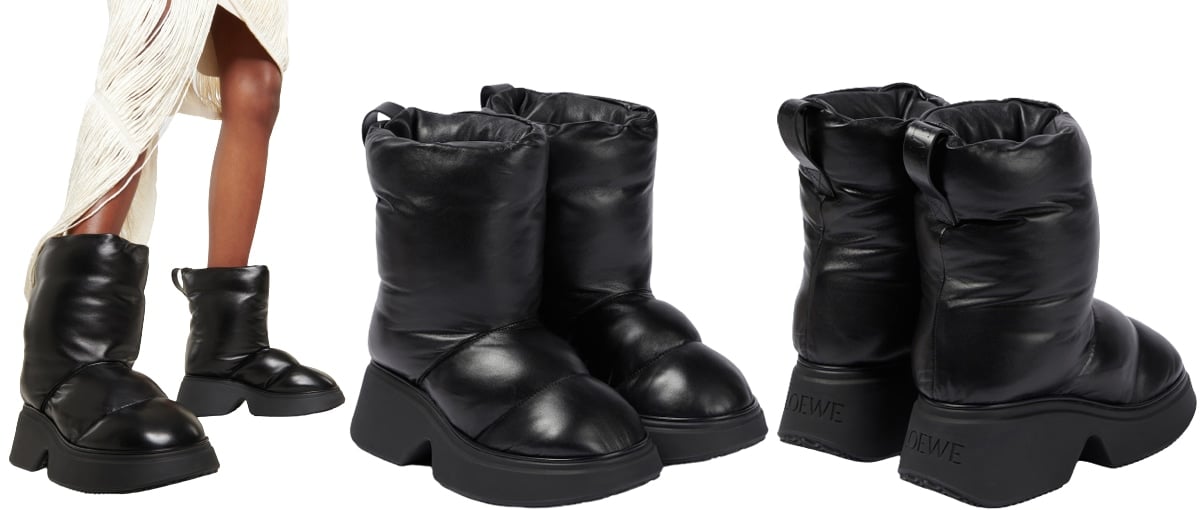 The padded ankle boot is made from quilted lambskin leather and features an exaggerated wedge rubber sole, branded heel counter, and an embossed LOEWE leather pull tab
5. Folded Boots, $1,200 at Mytheresa
Have you ever wanted to wear jeans but only around your ankles? If so, you're in luck. The folded boot by Loewe features a leather pump with a denim bootie.
These shoes give slouchy vibes in all the best ways, and they let you wear a pair of jeans without wearing a pair of jeans. Jean-ius. If you want another option, check out their other ankle boot that features two-tone denim instead of just one wash.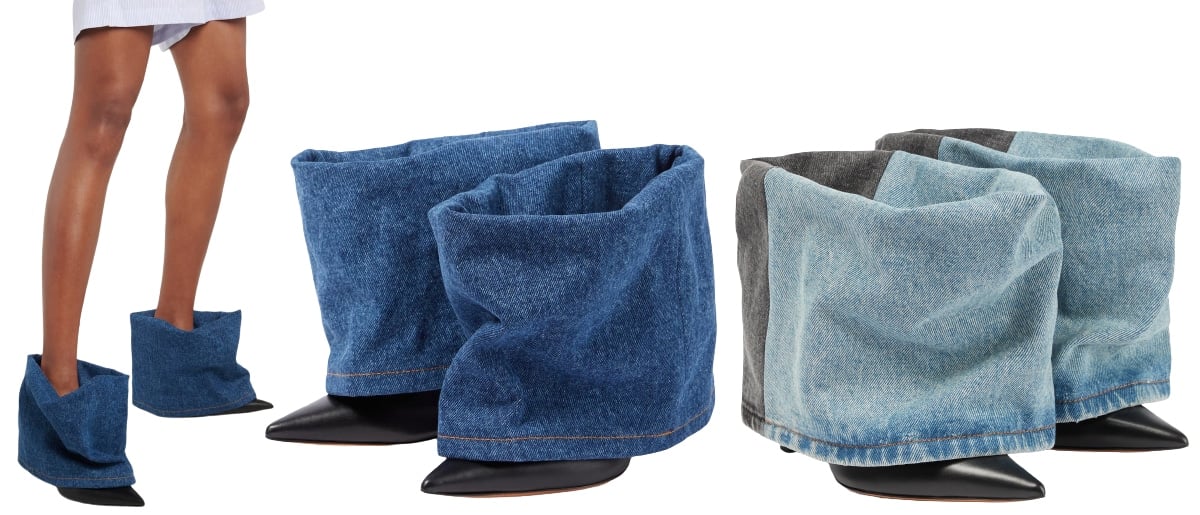 The folded boot is a pair of denim bootie with a large folded denim cuff falling over a black leather pump
6. Tulip Sandals, $1,600 at Mytheresa
Loewe's designers sat in a room and asked each other what inanimate objects people should be stepping on, and they incorporated their brainstorming results into their designs. Or at least that's what we imagine happened.
However, they landed on this idea, and the brand created the tulip sandal, a darling shoe with a tulip in place of a heel.
Of course, it's not a real tulip, but it's a fun idea that's totally camp. Our only complaint is the color of the tulip – at first glance, it looks more like fire than a flower – but we'd still wear the shoes.
These sandals are made from leather and sit atop 4-inch lopsided tulip-shaped heels
Why stop at tulips? Loewe knew there were more flowers that could be made into heels, hence the rose heel boot. This black calfskin ankle boot features a pointed toe and a rose heel.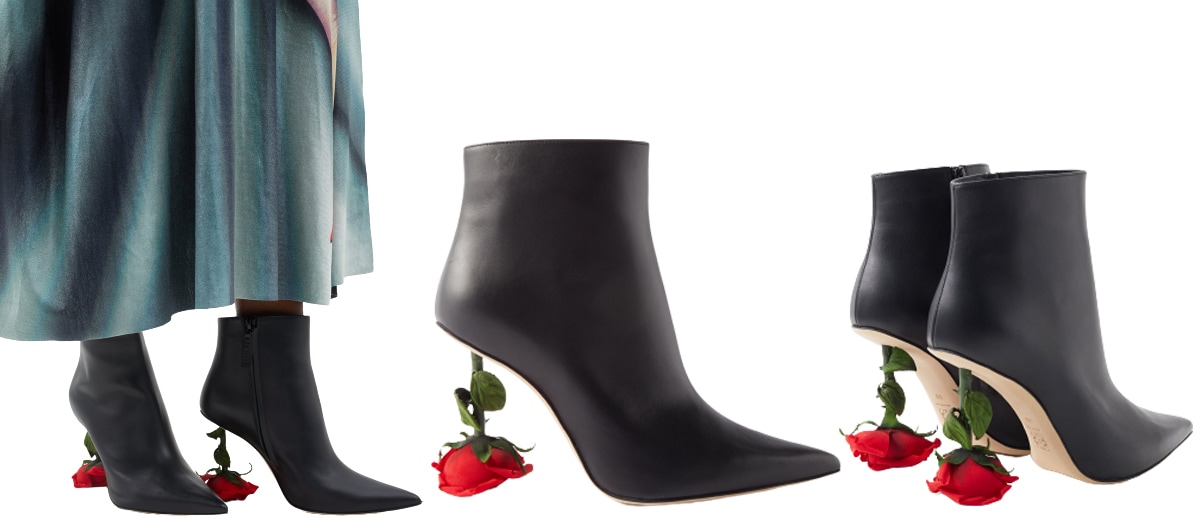 Inspired by the 1930s Surrealist art movement, Loewe's black ankle boots are made from leather that's elevated with a blooming rose heel
Like the tulip, the rose is face-down, but unlike the tulip, you can actually tell it's a rose. The unmistakable flower makes for an unforgettable shoe, and if you're not fond of wearing boots, perhaps the slingback or sandal options will suffice.
The Rose Heel also comes in slingback pump and open-toe mule silhouettes, featuring the same rose heels with handcrafted crepe petals
8. Broken Egg Sandals, $1,600
Apparently, Loewe wants everyone walking on eggshells. The broken egg sandal is arguably the weirdest on this list, proving that anything can be an inspiration for a shoe if you want it to be.
The white goatskin sandal is quite regular from the front, but when you take a look at the heel, you find broken eggshells and runny yolks. Though undeniably weird, these shoes are a work of art. And if you're going to be wearing something weird, it should definitely be art.
Arguably Loewe's weirdest shoe design, the broken egg sandal features a faux cracked egg at the heel
We've got to be honest, we almost left this shoe off our list. When you're scanning the Loewe website for shoes, it's easy to write this mule off as another block heel.
But when you look more closely, you see the heel is no ordinary block heel but rather a bottle of nail polish.
These Loewe mules feature a classic silhouette, elevated with a playful bottle of nail polish in place of a heel
The nail polish mule is the perfect balance of artsy fun and discreet high fashion. If you want to simultaneously blend in and stand out, these are the shoes to wear.
The calfskin mule comes in multiple colorways, too, so you can match your heels with your nails. They also come in a slide if you'd prefer.
The nail polish heels are also seen in Loewe's slide sandals, featuring two goat leather straps
10. Block Heel Slides, $1,100 at Nordstrom
What's so weird about a block heel slide, you ask? Take one look at the block heel, and you'll have no further questions.
The block heel on this slide is a lavender bar of soap. It's objectively hilarious and perfect for spring. No word on whether the heel keeps the white straps extra clean, though.
Loewe's block heel slides have a block heel that's crafted to resemble a bar of soap