Do you love tall women? If so, you are not alone – we do, too! Not in a weird way, but nothing makes us stop in our tracks like a woman with an Amazon-esque stature.
There's a reason why runway models are usually six feet and up – they're awe-inspiring.
Female fashion models are usually at least 5'9" (175 cm) tall and are much taller than the average woman (Credit: Fashionstock / Shutterstock)
Whether you are a kindred spirit to Tormund Giantsbane from Game of Thrones (he loves a "big woman") or are simply curious to know which ladies in Hollywood can reach the top shelf for you or Tom Cruise, we've got you covered.
Here is our list of the 14 tallest actresses in Hollywood:
14. Tilda Swinton – 5ft 10 (177.8 cm)
Some folks radiate tall-people energy, and it just makes sense that Tilda Swinton is tall. The 61-year-old actress is known for playing ethereal, often off-putting characters, such as her roles in films like The Chronicles of Narnia, Suspiria, and Okja.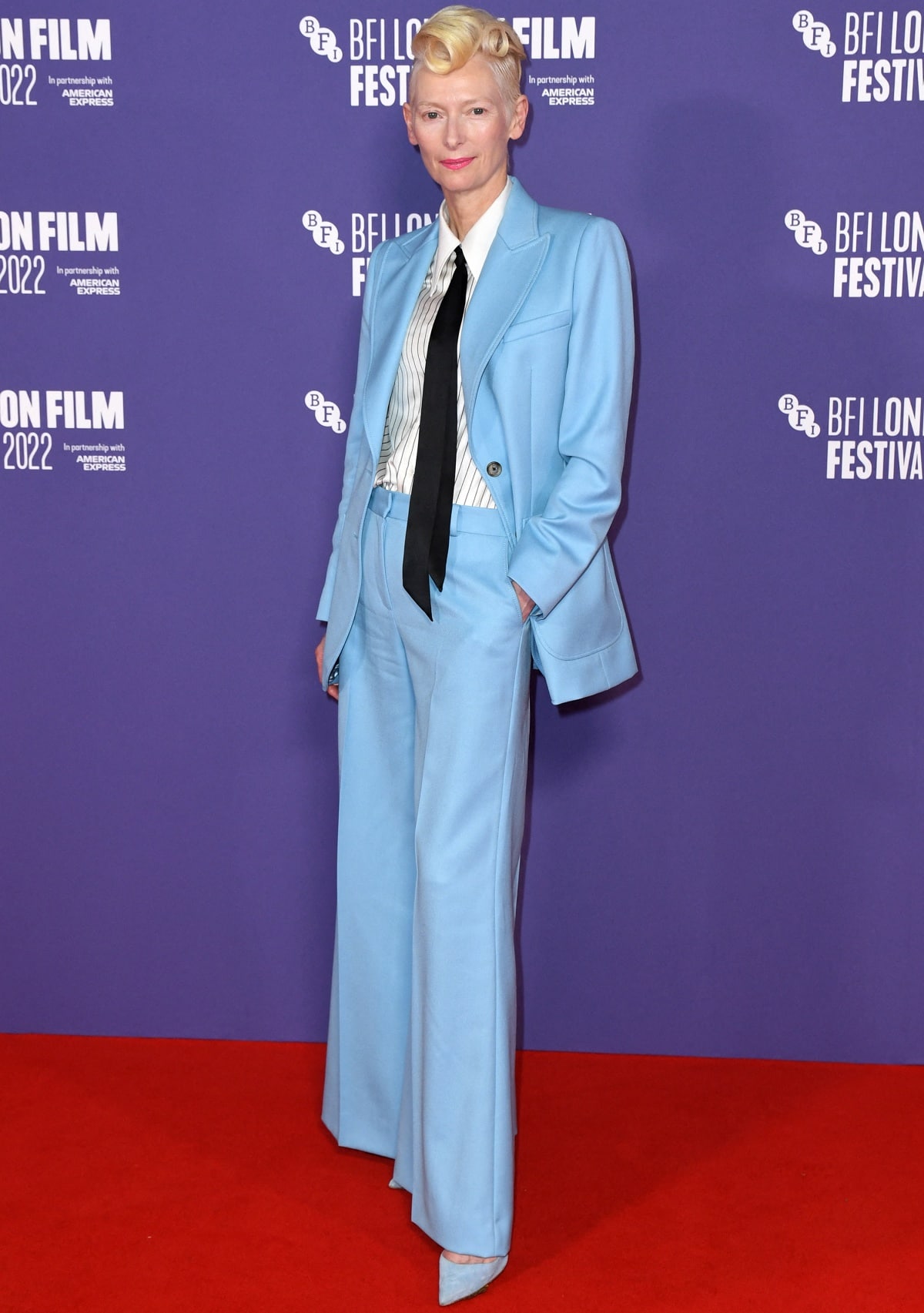 Tilda Swinton rocking a retro-chic look in a custom Bella Freud pale blue suit and matching pointy-toe pumps at The Eternal Daughter premiere during the 66th BFI London Film Festival on October 6, 2022 (Credit: Stuart Hardy / ABACA / INSTARimages / Cover Images)
Surprisingly, Swinton's unique look didn't result in an early modeling contract. Instead, the actress got her start on the stage, first joining the Royal Shakespeare Company in 1984. Although Swinton is a heavy hitter on the silver screen, she frequently returns to the stage for performances in between filming.
13. Nicole Kidman – 5ft 10 ½ (179.1 cm)
This tall actress is known for being a true chameleon, as viewers are often confused whether 55-year-old Nicole Kidman is Australian or English due to her impeccable accents!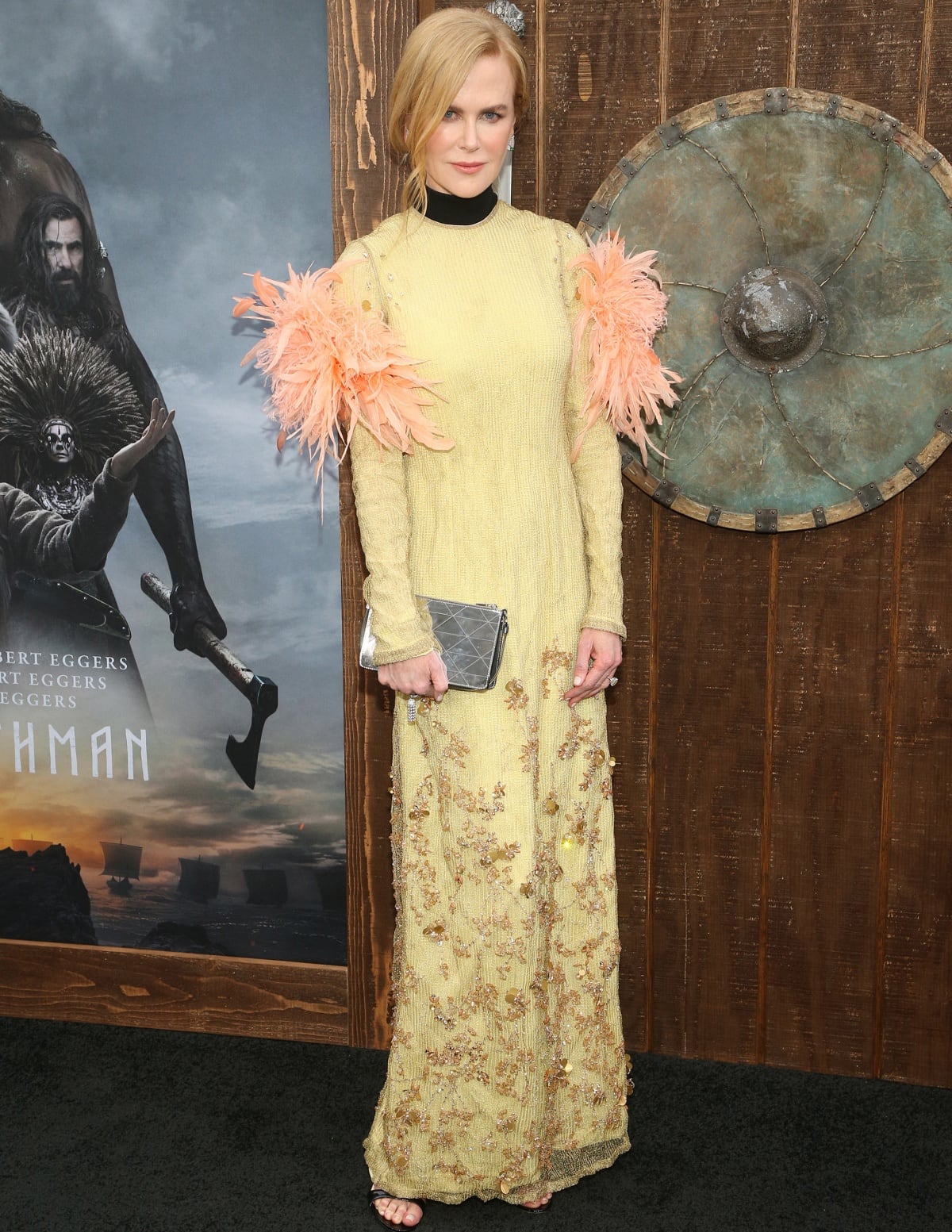 Nicole Kidman in a Prada dress with gold embroidery and feathered detailing at The Northman premiere held at the TCL Chinese Theatre in Los Angeles, California on April 18, 2022 (Credit: Fayes's Vision / Cover Images / INSTA)
As it turns out, Kidman has lived all across the world (though she shares dual citizenship in Australia and the United States), which may have contributed to her brilliant portrayals with numerous accents. From Big Little Lies to Moulin Rouge and Eyes Wide Shut, Kidman's filmography is the stuff of legend.
Standing at almost 5'11", Nicole Kidman is only an inch taller than her husband, country music superstar Keith Urban. Although the height difference is small, Kidman's penchant for wearing sky-high stilettos has resulted in a number of press photos showing the actress as she towers over her husband. Good thing Keith Urban isn't insecure about his height!
Keith Urban, who is an inch shorter than Nicole Kidman, is still smitten with his much taller wife after all these years (Credit: Faye's Vision / Cover Images / INSTA)
12. Rebecca Romijn – 5ft 10 ½ (179.1 cm)
As much as we love Jennifer Lawrence, 49-year-old Rebecca Romijn will always be the true Mystique from the X-Men franchise in our eyes!
Like a number of the other tall women on this list, Romijn was a model before transitioning to acting and has appeared on the covers of Cosmopolitan, Glamour, GQ, and Sports Illustrated in their issues across the world.
Even more, she has appeared in ads and fashion shows for hundreds of brands, including Armani, Dior, and Tommy Hilfiger.
Rebecca Romijn flaunting legs for days in an embellished minidress with pointy-toe heels at the Star Trek: Strange New Worlds premiere in New York City on April 30, 2022 (Credit: JENNIFER GRAYLOCK / INSTARimages)
Based on her killer performance, we wouldn't have guessed that X-Men (2000) was actually Romijn's first major movie role! Since then, she has appeared in titles like Good Deeds, Satanic Panic, Ugly Betty, and a number of Star Trek reboots.
11. Brooke Shields – 5ft 10 ½ (179.1 cm)
The gorgeous Brooke Shields' career has been marred with scandal, but most of it has been through no fault of her own. Shields began a modeling career before she was even a year old and continued to model all throughout her childhood.
Among these modeling jobs was for one of Playboy's former publications, Sugar 'n' Spice, which published photos of a then 10-year-old Brooke Shields completely nude.
Though legal action was taken against the photographer and publication, they ended up getting off scot-free as Shields was considered a child "performer" – not a model – and it could not be considered child pornography (?!?!?!).
Her early acting career was no less scandalous. Shields' first major film role was in Pretty Baby (1978), where she portrayed a child prostitute at 12 years old. At 14, Shields starred in Blue Lagoon (1980), which frequently depicted the young actress completely nude and engaging in sexual acts with another child.
Getting into the holiday spirit, Brooke Shields sparkled in a red St. John ensemble with metallic gold leather heels at the New York premiere of Spirited on November 7, 2022 (Credit: ROGER WONG / INSTARimages / Cover Images)
Brooke Shields is a prime example of a child star, who was exploited by the adults around her. Fortunately, the almost six-foot-tall model and actress has been able to recover from her traumatic childhood.
Since then, she has earned a degree from Princeton and appeared in numerous titles, including The Muppets Take Manhattan, The Other Guys, That '70s Show, Hannah Montana, and Scream Queens.
10. Uma Thurman – 5ft 11 ¼ (181 cm)
If you didn't already know, then it certainly comes as no surprise that 52-year-old Uma Thurman got her start in showbusiness as a model.
Despite suffering from severe bouts of body dysmorphia as a teenager, a then 15-year-old Thurman was signed to Click Models agency and dropped out of school to pursue modeling and acting.
Uma Thurman paying homage to her Pulp Fiction character in a custom Bottega Veneta white blouse and black floor-length skirt at the 94th Academy Awards in Los Angeles, California on March 27, 2022 (Credit: Abby Grant / Cover Images)
Standing at 5'11", the actress has gone on to star in a number of iconic titles, most notably as director Quentin Tarantino's muse in films such as Kill Bill Volume 1 and 2.
You may have seen Uma Thurman's daughter, Maya Hawke, in the latest seasons of Stranger Things. Unfortunately, she didn't inherit her mother's model height, as Hawke is only 5'8".
9. Aisha Tyler – 5ft 11 ½ (181.6 cm)
52-year-old Aisha Tyler is a bona fide comedy powerhouse (and a Dartmouth graduate!) and had plans to make it big from the beginning.
After a short stint at an advertising firm, Tyler packed up for Los Angeles in 1996 to start her career on screen.
Standing at six feet tall, Aisha Tyler has appeared in both dramatic titles (Ghost Whisperer, CSI: Crime Scene Investigation, and Criminal Minds) and comedic ones (Reno 911!, The Boondocks, Robot Chicken, and The Boys).
Aisha Tyler in a sparkly red mini dress and black booties at the premiere of Disney's Star Wars: The Rise of Skywalker in Los Angeles, California on December 16, 2019 (Credit: Sara De Boer / Startraksphoto)
She has also managed to integrate her love of gaming into her career, frequently hosting at the E3 Entertainment Expo and lending her voice to games like Halo: Reach, Gears of War 3, and Watch Dogs.
Nowadays, you can see Aisha Tyler hosting the reboot of Whose Line Is It Anyway?, making audiences laugh over and over again.
8. Jane Lynch – 6'0" (183 cm)
There is no denying that 62-year-old Jane Lynch has left her mark on the entertainment industry, using her height to her advantage in roles that epitomize a tall and powerful woman.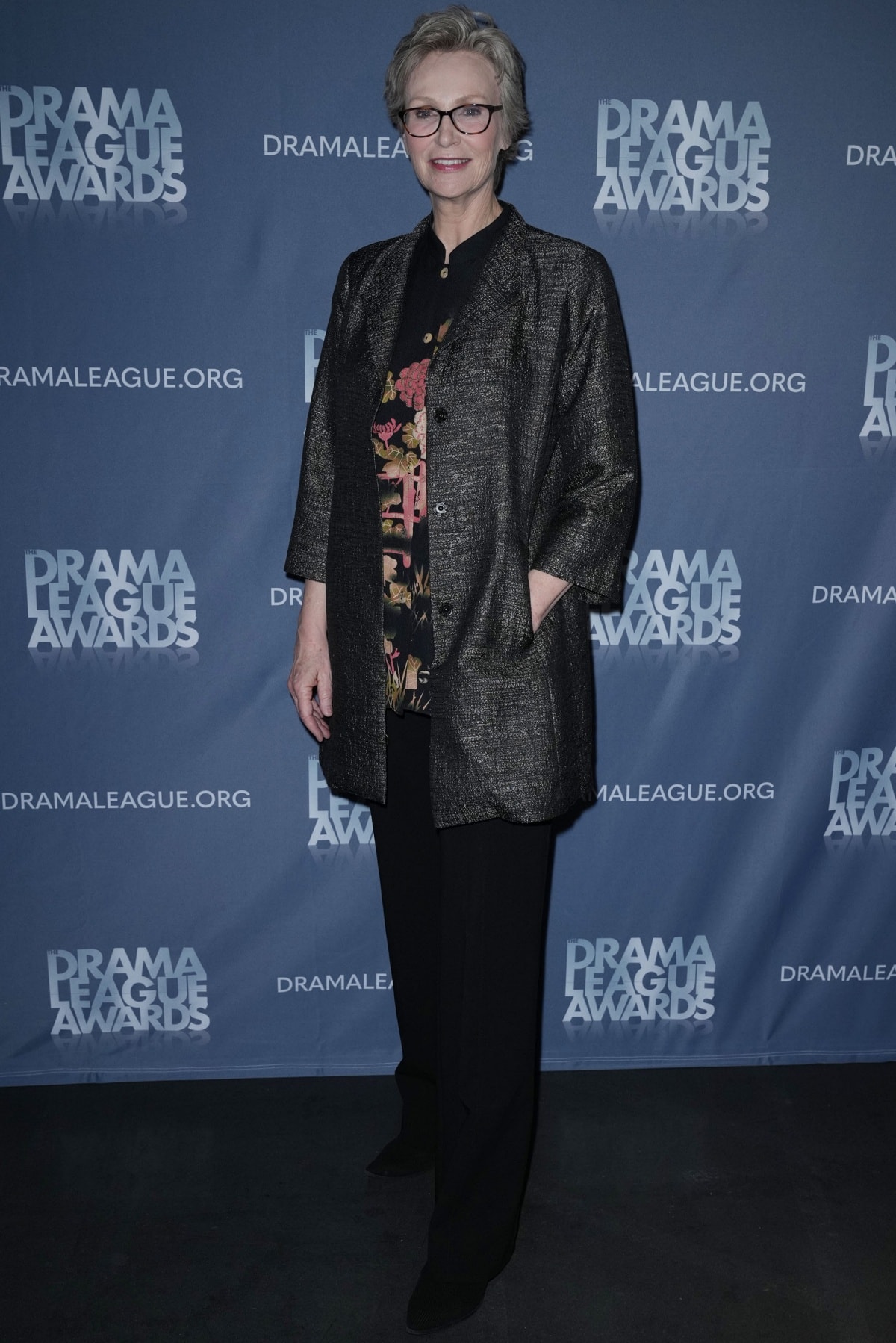 Jane Lynch looking every bit the thespian at the 2022 Drama League Awards in New York, New York on May 20, 2022 (Credit: JOHN NACION / Startraksphoto)
We're not the only ones who think so, as Lynch has won five Emmy Awards, two Screen Actors Guild Awards, and one Golden Globe Award throughout her career.
If you need your daily dose of Jane Lynch, check out some of her appearances in For Your Consideration, Best in Show, Glee, Talladega Nights: The Ballad of Ricky Bobby, and The 40-Year-Old Virgin.
7. Geena Davis – 6'0" (183 cm)
66-year-old Geena Davis is an actress, who doesn't seem tall – many of her roles are softspoken, motherly characters that would typically be played by shorter actresses – but sure as the sun sets, Geena Davis is six feet tall.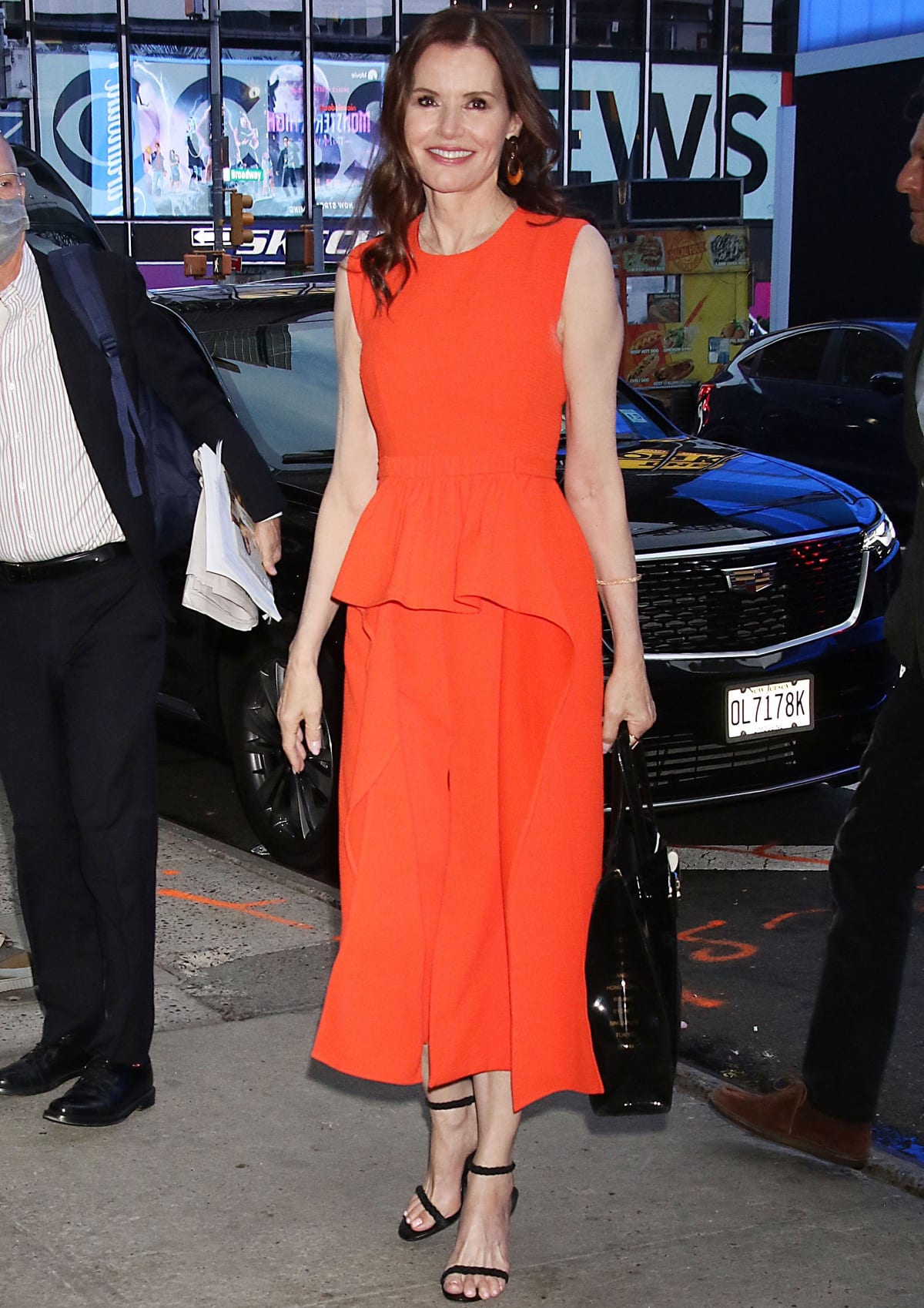 Geena Davis towering over everyone in a pair of black ankle-strap heels outside the Good Morning America studios in New York City on October 10, 2022 (Credit: ROGER WONG / INSTARimages / Cover Images)
Davis has been a mainstay on the silver screen since her breakout appearance in Tim Burton's Beetlejuice, starring in titles like Thelma & Louise, A League of Their Own, and The Accidental Tourist.
Her statuesque height pairs perfectly with her award statues, as the actress has earned an Academy Award and a Golden Globe award.
6. Allison Janney – 6'0" (183 cm)
62-year-old Allison Janney is one of those unsung Hollywood heroes you always recognize but never quite seem to remember their name. However, we promise that you'll remember her if you ever meet this 6-foot-tall beauty in real life!
Allison Janney looking elegant in a Brandon Maxwell dress at the 2nd Annual Academy Museum Gala in Los Angeles, California on October 15, 2022 (Credit: Faye's Vision / Cover Images)
Janney made her debut on screen in 1991, doing short stints in long-running dramas like As The World Turns and Law & Order. It wasn't until 1999 that Allison Janney scored her breakout role as C.J. Cregg in the critically acclaimed drama, The West Wing. Since then, she has gone on to appear in titles such as The Girl on the Train, Ma, The Help, and I, Tonya.
5. Leslie Jones – 6'0" (183 cm)
Like Aisha Tyler and Jane Lynch, Leslie Jones is a 6-foot-tall comedic genius. She first came into the public eye when she joined the cast of the iconic sketch comedy show Saturday Night Live in 2014.
Jones earned an Emmy nomination for her work on the show, eventually leaving after SNL's 44th season. Since then, she has appeared in reboot titles such as Ghostbusters and Coming 2 America.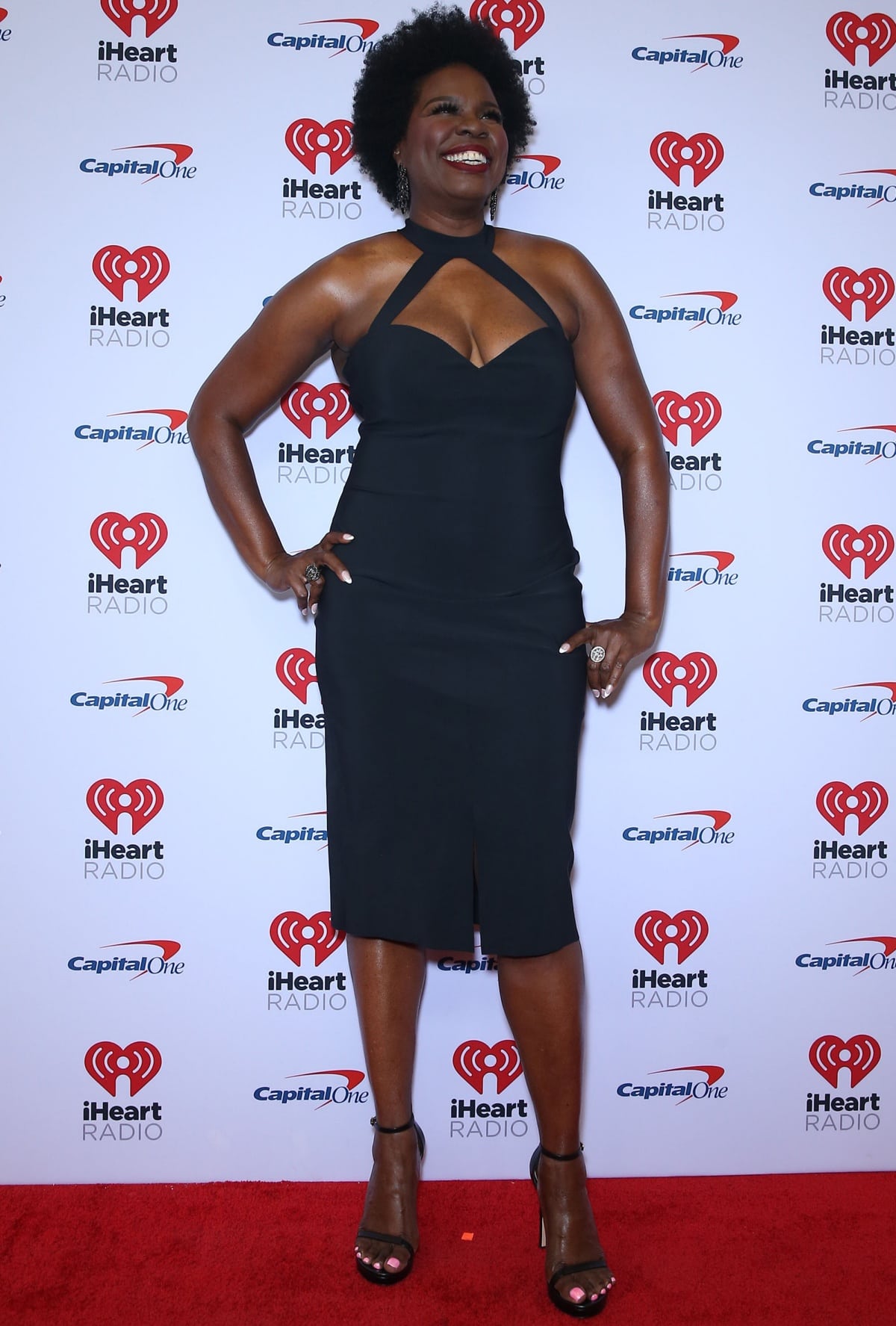 Leslie Jones in a sultry black dress and ankle-strap heels at the 2022 iHeartRadio Music Festival held at the T-Mobile Arena in Las Vegas, Nevada on September 24, 2022 (Credit: Brandi Benton / Startraksphoto / Cover Images)
Unfortunately for Jones, her height and size has led to hurt in her personal life, saying, "Maybe because I'm tall, maybe I'm not the regular size – which is not that big."
Before the premiere of Ghostbusters, Jones made an upsetting confession on her Twitter page, writing: "It's so funny how there are no designers to help me with a premiere dress for movie. Hmmm that will change and I remember everything."
Designer Christian Siriano quickly responded, saying he "can't wait to make her something fabulous to wear." Siriano isn't exactly a red carpet regular, but he is a talented designer with a penchant for working with those who don't fit the mold of what a Hollywood actress "should" look like.
Still, Siriano doesn't want to be lauded for something that should be normal, as the designer tweeted: "It shouldn't be exceptional to work with brilliant people just because they're not sample size. Congrats aren't in order, a change is."
Leslie Jones stunned in a red off-the-shoulder gown from Christian Siriano with Vince Camuto heels at the premiere of Ghostbusters held at the TCL Chinese Theatre in Hollywood, California on July 9, 2016 (Credit: INFphoto)
To no one's surprise, Leslie Jones looked absolutely fantastic at the premiere. She has continued to wear Christian Siriano designs for nearly all of her red carpet appearances since then.
4. Elizabeth Debicki – 6ft 1 ¾ (187.3 cm)
32-year-old Elizabeth Debicki is exactly the kind of tall, awe-inspiring woman, who makes you say "wow!" as she walks by.
Debicki was born into a tall, waifish family as both of her parents were ballet dancers, who inspired her to study dance as a child. As a teenager, Debicki realized she preferred acting to ballet, eventually earning herself a drama degree from the Victorian College of the Arts.
Poised and elegant, Elizabeth Debicki made a stunning entrance in a Dior Spring 2022 Haute Couture gown at the world premiere of The Crown Season 5 in London, England on November 8, 2022 (Credit: Stuart Hardy / ABACA / INSTARimages / Cover Images)
In 2016, she talked about her tall family in an interview with Daily Mail.
My younger sister is also very tall and my little brother, who is just 17, is 6ft 6in, so we're the Amazonian Family. As a teenager I wasn't comfortable with being taller than other people, and I'm sure I stooped a lot. …Granted, it's not easy to be a super-tall woman in Hollywood. But there are times when it works in my favour. In The Night Manager, for example, both of my co-stars, Hugh Laurie and Tom Hiddleston, are also well over 6ft and it was lovely to look a co-star in the eye and not have them standing on an apple box.
Elizabeth Debicki's first role was a small appearance in the 2011 film A Few Best Men, but her breakout performance was as the mysterious Jordan Baker in Baz Luhrmann's The Great Gatsby. Since then, she has appeared in titles such as Tenet, Guardians of the Galaxy Vol. 3, and The Man from U.N.C.L.E. Currently, she stars as Princess Diana in The Crown.
3. Dot-Marie Jones – 6'3" (190 cm)
Dot-Marie Jones may not be a household name, but her role as Coach Beiste in Glee has left such an impression on us to this day that we couldn't not include her on this list. Plus, she's tall!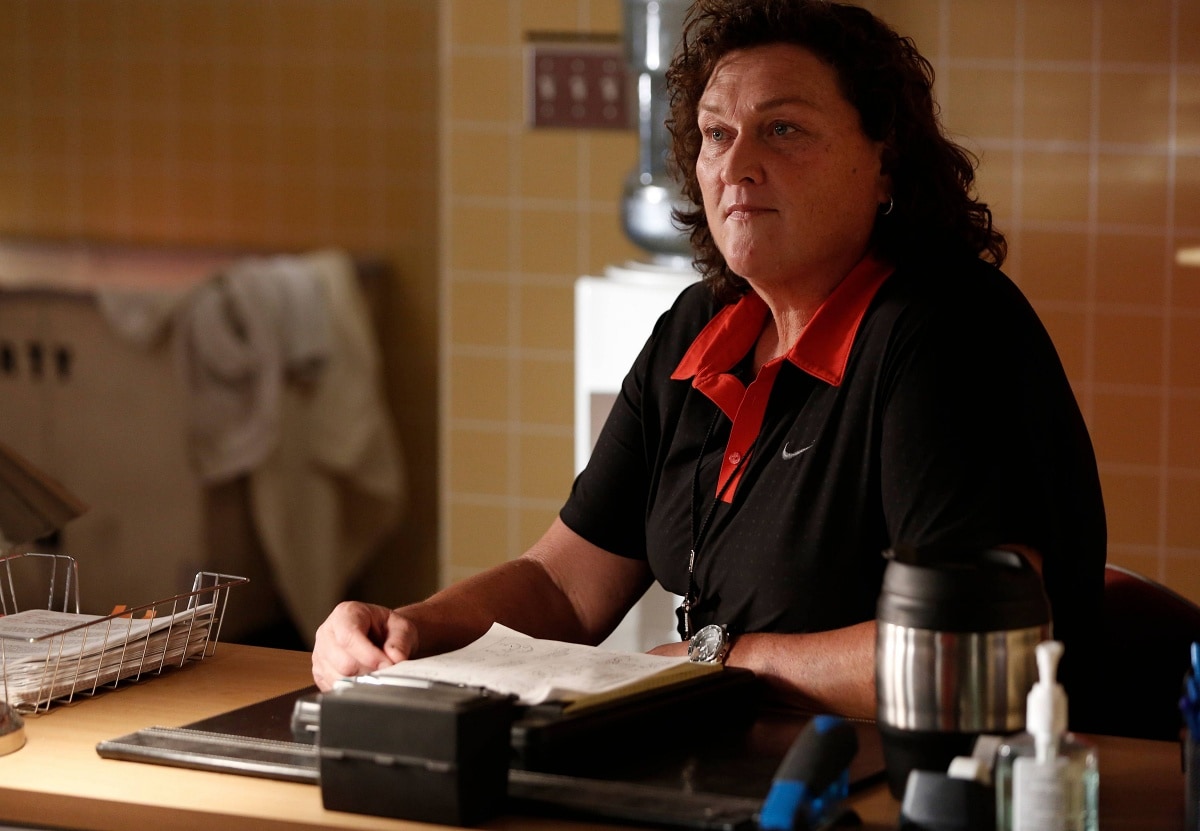 As Coach Beiste, Dot-Marie Jones and her impressive height made her an imposing presence in the musical comedy-drama television series Glee (Credit: Fox)
The 58-year-old actress is a former athlete, becoming a champion weightlifter in high school. Surprisingly enough, she is a celebrated arm wrestler, earning her first world championship at just 19 and winning the next 14 arm wrestling championship titles in a row.
Her 6-foot-3-inch frame certainly helped Jones get an edge over her competition.
Dot-Marie Jones attending the Creative Arts Emmy Awards in Los Angeles, California on September 10, 2011 (Credit: Sara De Boer / Startraksphoto)
After a short stint as a professional wrestler, Dot-Marie Jones went on to make appearances in titles like Married… with Children, Desperate Housewives, and The Boondock Saints before scoring her role as Coach Beiste in Glee. Starring alongside Jane Lynch, who is also on this list, Jones earned a nomination for a Primetime Emmy Award for her excellent portrayal.
2. Gwendoline Christie – 6'3" (191 cm)
The "big woman" at the heart of Tormund Giantsbane's affections herself, is none other than Gwendoline Christie!
She is known for her role as Brienne of Tarth in HBO's critically-acclaimed (and then extremely not acclaimed, thanks to the dumpster fire of an eighth season) Game of Thrones.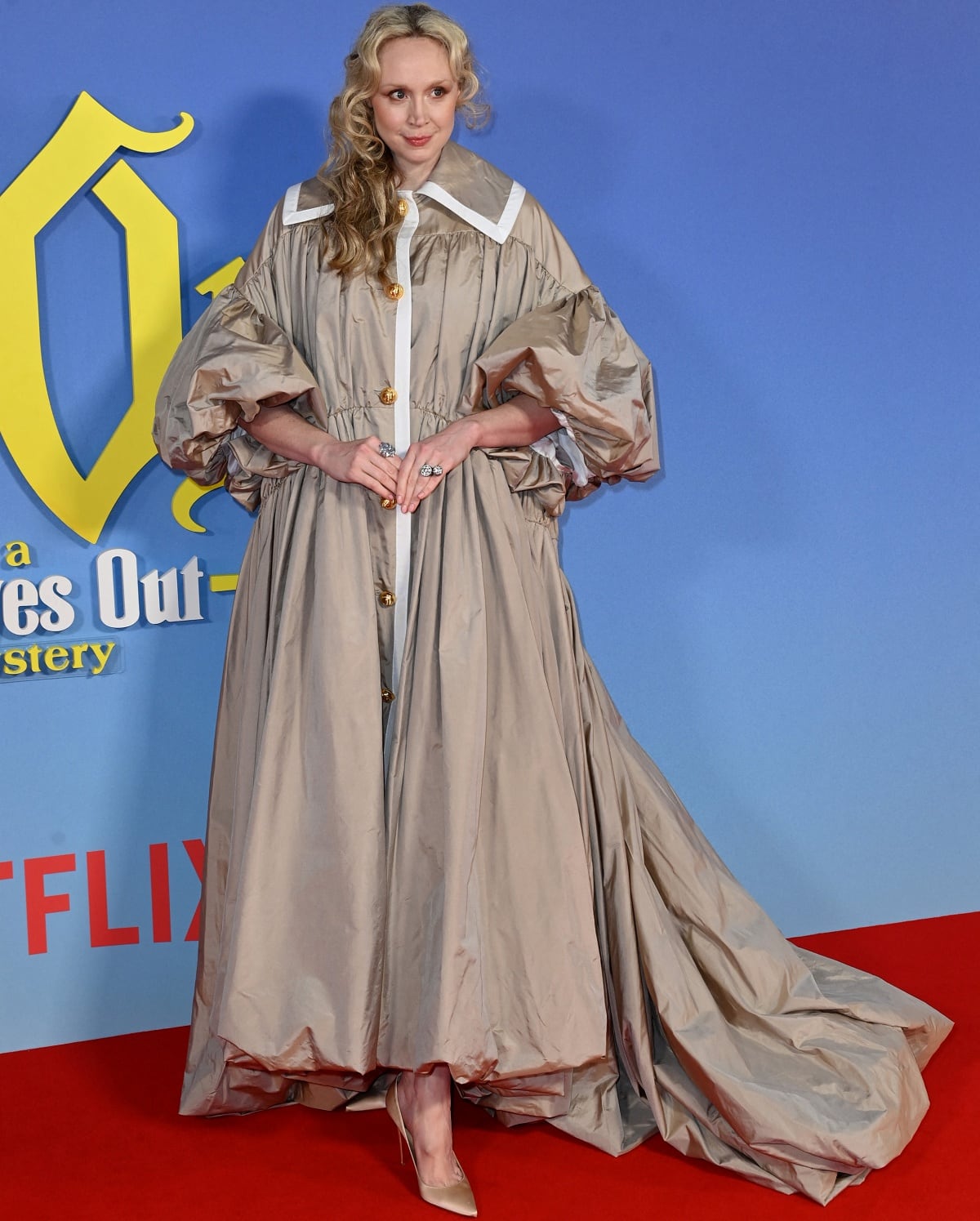 Gwendoline Christie wearing a Thom Browne look with pointy-toe pumps at the premiere of Glass Onion: A Knives Out Mystery during the 66th BFI London Film Festival on October 16, 2022 (Credit: Stuart Hardy / ABACA / INSTARimages / Cover Images)
Standing at a formidable six feet and three inches, Gwendoline Christie did not start her career as a model, nor was she born into a dynasty of nepotism.
Growing up in a hamlet near South Downs, East Sussex, Christie actually trained as a gymnast for much of her childhood before being forced to quit due to a spinal injury. Perhaps this was for the best, as many gymnasts are very short – plus, it's what spurred her to take up acting!
"I'm certainly really rather tall at 6 foot 3, and I've been this way since I was 14, but for years, women who are even 5 foot 10 have come up to me in the street and said, 'Oh, it's so nice to see a woman who is taller than me. I've always felt like a giant," she told Rolling Stone in 2013.
Gwendoline Christie performed in a number of stage shows before securing her first film debut with a small role in The Imaginarium of Doctor Parnassus. In 2011, she was cast as Brienne of Tarth in Game of Thrones, shooting the actress to international superstardom.
Towering over director Rian Johnson, Gwendoline Christie stands at an impressive height of six feet and three inches (Credit: Aurore Marechal / ABACA / INSTARimag / Cover Images)
She has also appeared in other titles such as The Hunger Games: Mockingjay – Part 2, Star Wars: The Force Awakens, Star Wars: The Last Jedi, and most recently, Netflix's successful adaptation of Neil Gaiman's Sandman.
"I went to a village school in the countryside. At 12, I was 5'7″. At 14, I was 6'1″. Then I grew another couple of inches after that when I was around 18. I'm now 6'3″ and a quarter. Either I'm still growing or my posture has improved. I'm hoping I'm still growing," she told Vogue in 2015.
1. Lisa Leslie – 6'5" (195.6 cm)
Topping off our list of the tallest women in Hollywood is none other than 50-year-old Lisa Leslie, who has a good two inches (at least) over the rest of the actresses on this list!
Although Lisa Leslie is best known for her career in the WNBA, she was a prolific actress in the early 2000s, as well as a sports broadcaster.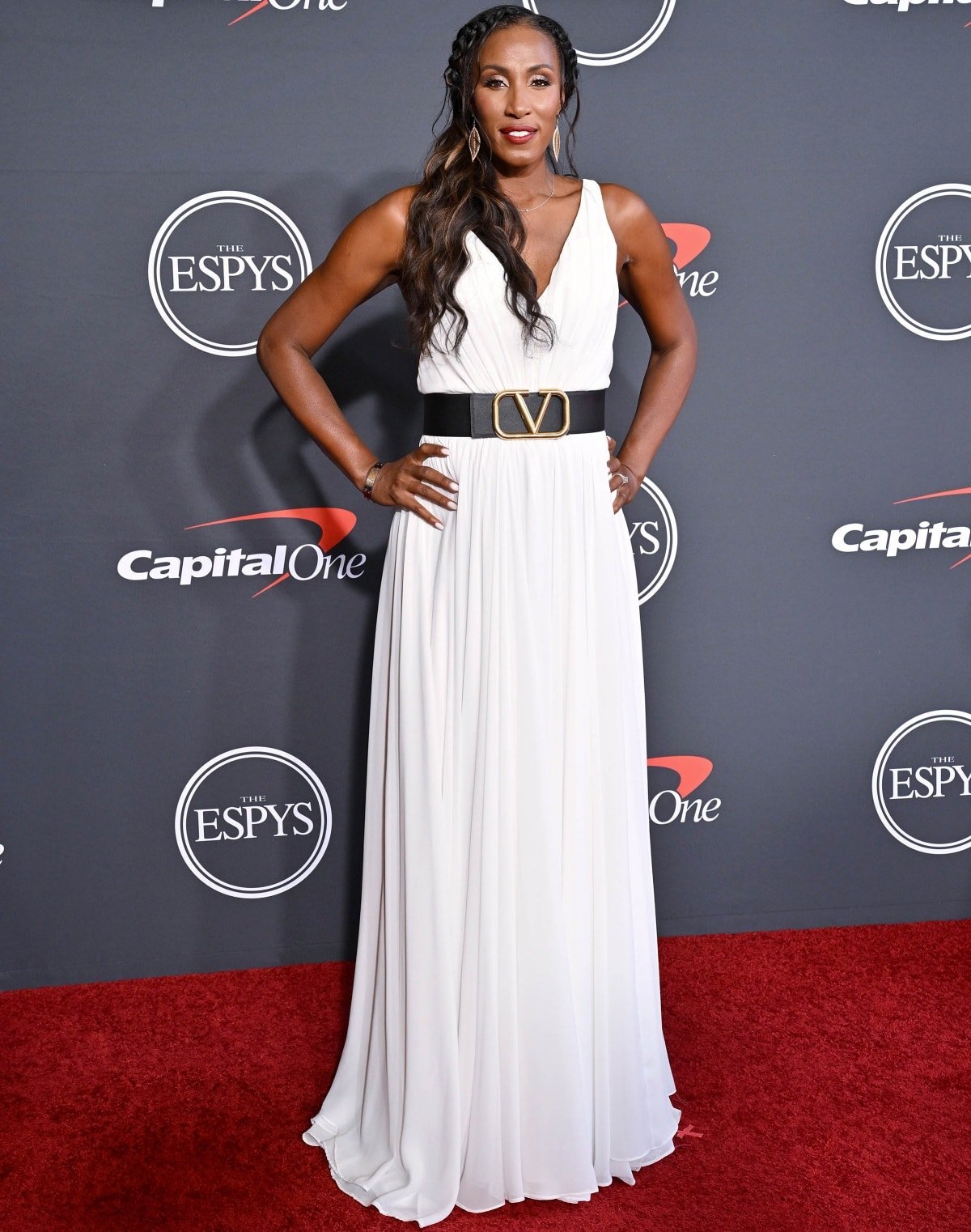 Lisa Leslie looking beautiful in a white gown at the 2022 ESPY Awards held at the Dolby Theatre in Los Angeles, California on July 20, 2022 (Credit: BauerGriffin / INSTARimages / Cover Images)
Leslie has appeared in titles such as What Men Want, One on One, and Sister Sister, but has returned to the basketball court in more recent years.
After winning four Olympic gold medals, two FIBA World Championships, and an induction into the Women's Basketball Hall of Fame, Lisa Leslie has turned her expertise to coaching and currently serves as the head coach for the Triplets.
"I think when you're tall as a kid, you can face a lot of challenges — if you don't have people pouring into you the positive things about being tall," Lisa shared with "Oprah: Where Are They Now?" in 2016.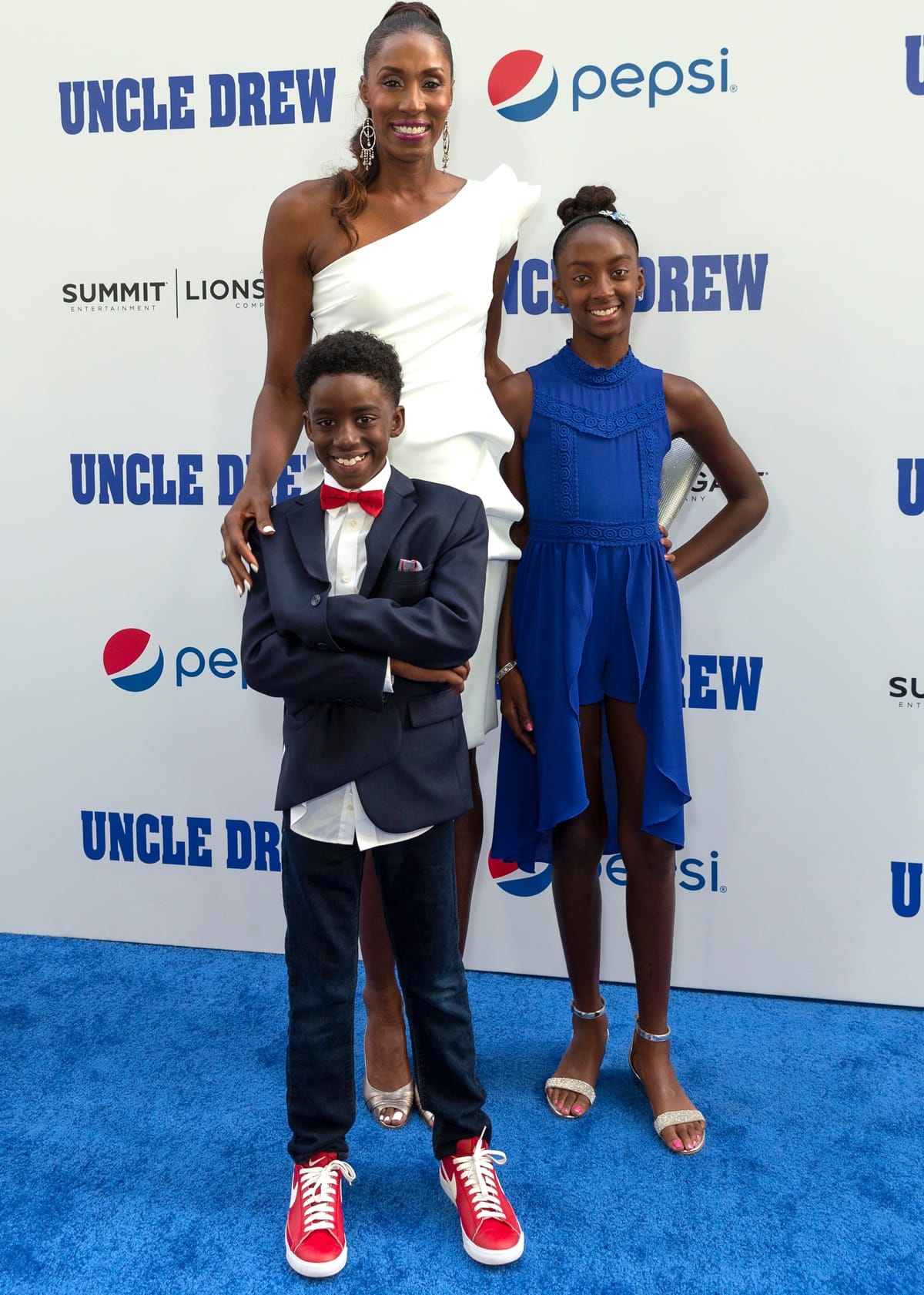 Lisa Leslie with her kids, Michael Joseph Lockwood II and Lauren Jolie Lockwood, at the "Uncle Drew" New York Premiere on June 26, 2018, in New York City (Credit: Lev Radin / Shutterstock)
"I was lucky, because with my mom being tall, she already knew that kids would tease me. She armed me the same way I arm my daughter, which is saying… 'When people say you're tall, we say and beautiful," Lisa said about her mom, who is also over 6 feet.
"It's really been a blessing to have a mom who is 6'3″. My mom's very beautiful, very tall. But she's always been a hard worker."