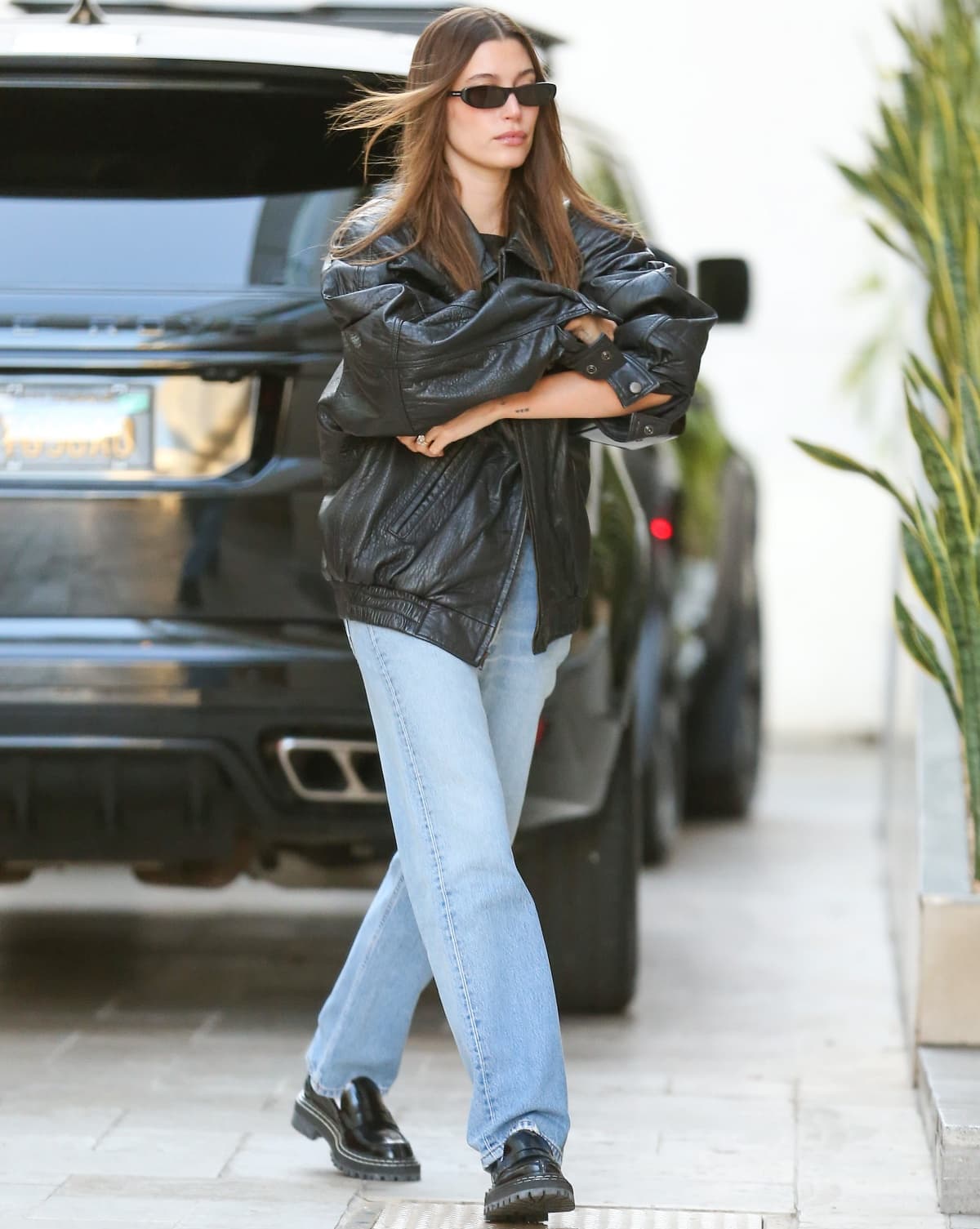 Hailey Bieber has been a sought-after runway regular from the start, and she's only gotten more attention as time passed.
If you're a fan of the American model's chill vibes, you should check out her cold-weather ensembles. You may get endless seasonal outfit ideas from the socialite, and the most significant part is that you already own many of the same items she wears.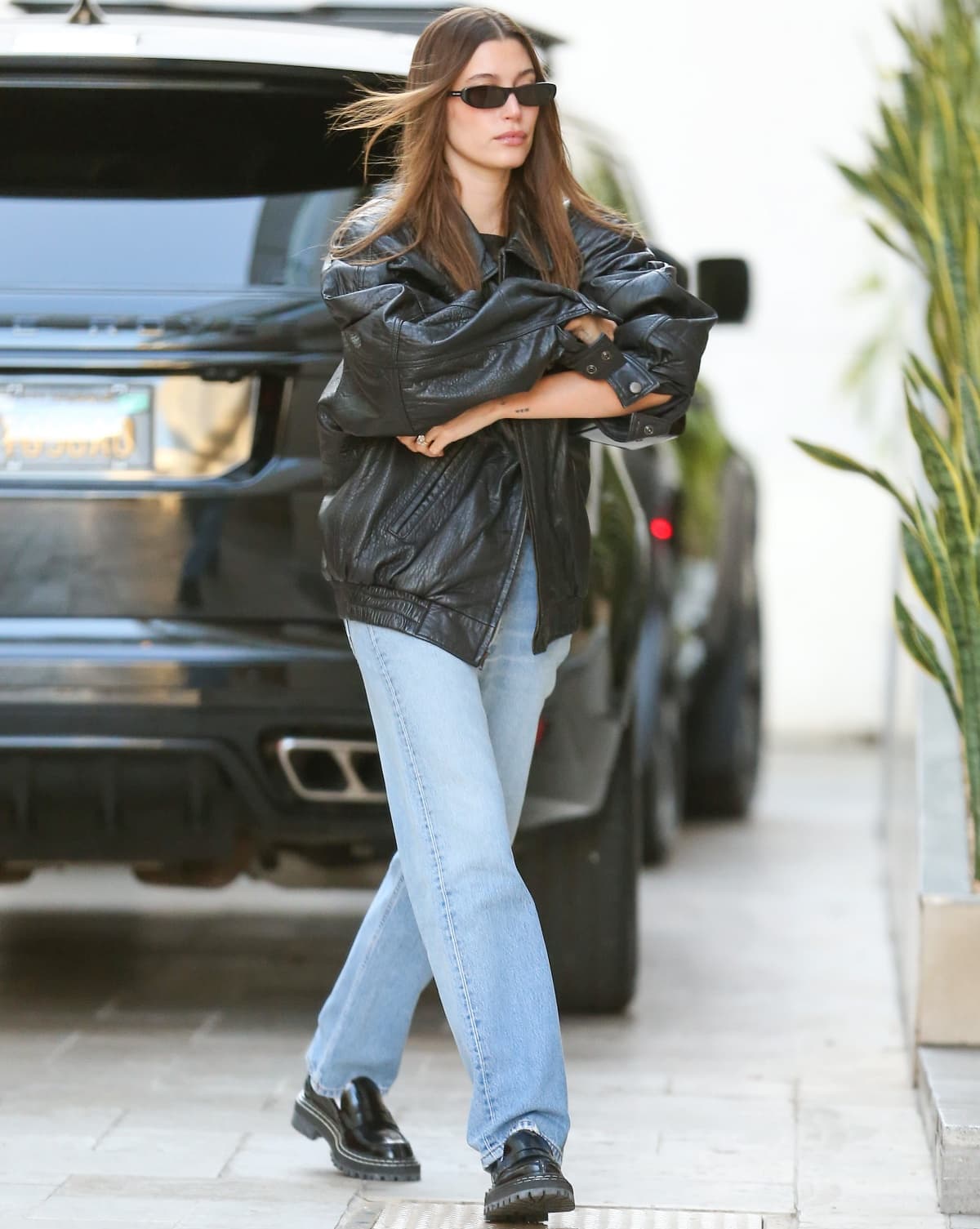 Hailey Bieber keeping herself warm in a black leather jacket while out and about in Los Angeles, California, on November 29, 2022 (Credit: BauerGriffin / INSTARimages / Cover Images)
Here is a look at 6 of Hailey Bieber's fashionable winter moments, from her stunning red carpet outfit to her casual chic off-duty looks while hanging out with hubby Justin Bieber.
1. Elegant and Timeless in Saint Laurent
Hailey Bieber looked chic and fashionable in a Saint Laurent jersey maxi dress on the red carpet for the Wall Street Journal Magazine 2022 Innovator Awards at the Museum of Modern Art in New York City.
The 26-year-old wife of pop superstar Justin Bieber was elegant and sophisticated in a black, figure-hugging floor-length dress and a pair of Saint Laurent Nuit crepe satin sandals at the annual WSJ Innovator Awards. Accessories-wise, Hailey showed off a collection of silver rings that sparkled against her edgy black manicure.
She chose minimal makeup to highlight her natural beauty and let her dirty blonde hair fall in waves down to her chest. Warm brown eyeshadow was powdered on her lids, and her entire face was painted a glossy nude color. A youthful flush of pink complemented her sun-kissed skin well.
Hailey Bieber at the WSJ Innovator Awards held at the Museum of Modern Art in New York City on November 2, 2022 (Credit: Janet Mayer / Startraksphoto / Cover Images)
2. Warm and Cozy in The North Face and Adidas
The Biebers were spotted out and about in Beverly Hills on a chilly day, dressed in hats and coats and holding hands as they shopped at the upscale organic grocery store Erewhon.
In the cool November weather, the supermodel sported a chocolate-toned Eterne Francis sweater to go with her Denim by Orlee Vintage Levis 501 jeans and Adidas Samba sneakers.
She wore a black The North Face '1996 Retro Nuptse' jacket, carried a Bottega Veneta Jodie bag, and let her long brown hair fall free from an Acne Studios rib-knit beanie.
Even more so than herself, her singer husband wore multiple layers of clothing. Justin sported a pair of baggy gray trousers, a forest green sweatshirt, and a black shearling jacket with a yellow accent. The "Yummy" singer completed his look with a pair of white kicks and a black hat.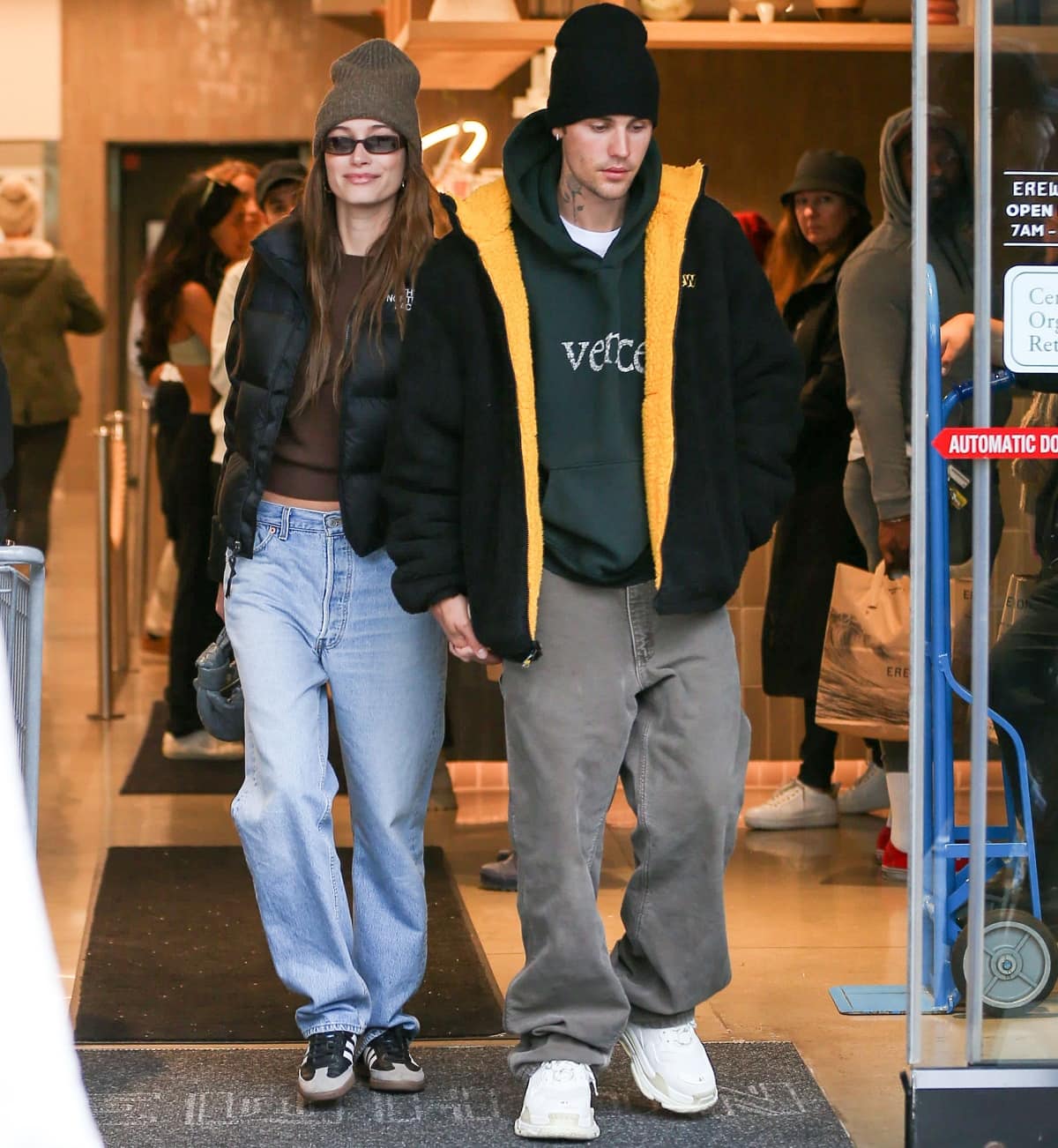 Hailey Bieber and Justin Bieber grocery shopping at Erewhon in Los Angeles, California on November 7, 2022 (Credit: BauerGriffin / INSTARimages / Cover Images)
3. Comfy and Sporty in Balenciaga
In her unique off-duty style, Hailey Bieber was one of the first models to wear clothing inspired by motorcycles and motocross.
The Rhode Beauty owner was spotted in Los Angeles, sporting an enormous Wilson vintage leather jacket with bright yellow shoulders, a black Balenciaga women's hand-drawn 3B Bal shrink T-shirt, and an Edikted Dasha micro mini skirt.
She slipped into Balenciaga Bulldozer boots and held a Prada Cleo shoulder bag for an athletic ensemble.
Hailey Bieber flaunts her legs in Balenciaga Bulldozer boots in Los Angeles, California, on November 10, 2022 (Credit: BauerGriffin / INSTARimages / Cover Images)
4. Laid-Back in a Warm Winter Sweater and Bike Shorts
The model looked like the ultimate It girl when she went out to lunch with friends Lori Harvey and Justine Skye in Los Angeles earlier in December.
Hailey teamed brown bike shorts with a Conner Ives Hudson River School quarter zip fleece in rich autumnal tones. She wore white ankle socks with a pair of clunky New Balance sneakers in grey, brown, and mustard hues.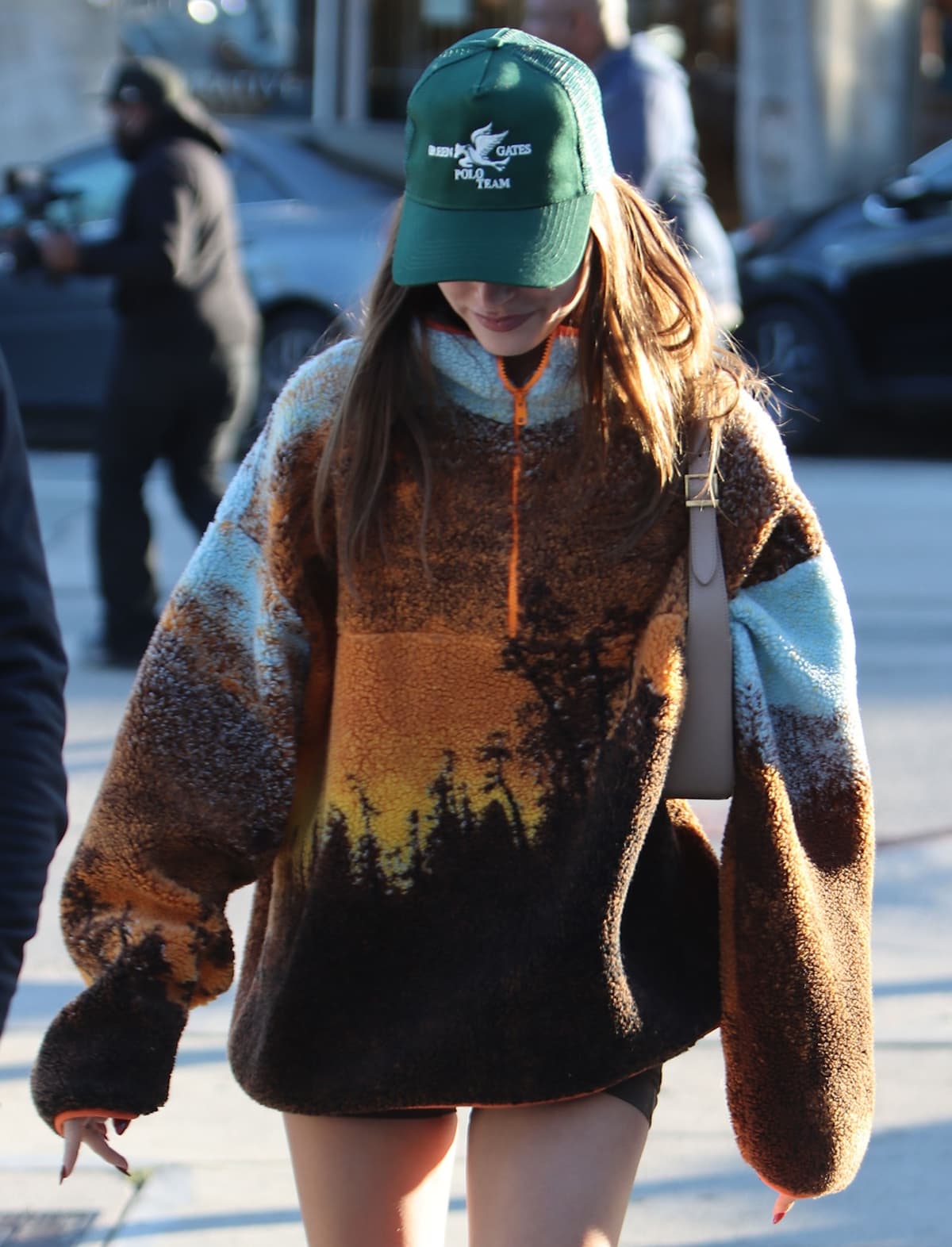 Hailey Bieber in an orange Conner Ives Hudson River School acrylic-blend sherpa fleece sweater (Credit: BG020 / BauerGriffin / INSTARimages / Cover Images)
Adding the signature Hailey Bieber touches, she topped off the ensemble with a green baseball cap, gold hoops, and little brown and gold sunglasses.
The media personality also carried a Saint Laurent Monogram leather hobo bag in a rose sand tone with gold hardware, giving her otherwise relaxed but carefully maintained street style an air of sophistication.
Hailey Bieber flaunts her legs in New Balance 1960 sneakers in Los Angeles, California, on December 12, 2022 (Credit: BG020 / BauerGriffin / INSTARimages / Cover Images)
5. Effortlessly Cool in a Puffy Jacket and Jeans
Hailey Bieber looked effortlessly cool as she was spotted in Los Angeles wearing a black version of a padded bomber jacket from Loewe's Fall/Winter 2022 ready-to-wear collection.
The relatively short model wore a pair of light-wash, straight-leg Denim by Orlee Jeans and olive green Bottega Veneta loafers to round out her outfit.
She wore bright green-framed, bombe round sunglasses by Bottega Veneta, massive gold hoop earrings, and a baby-pink Emi Jay claw clip.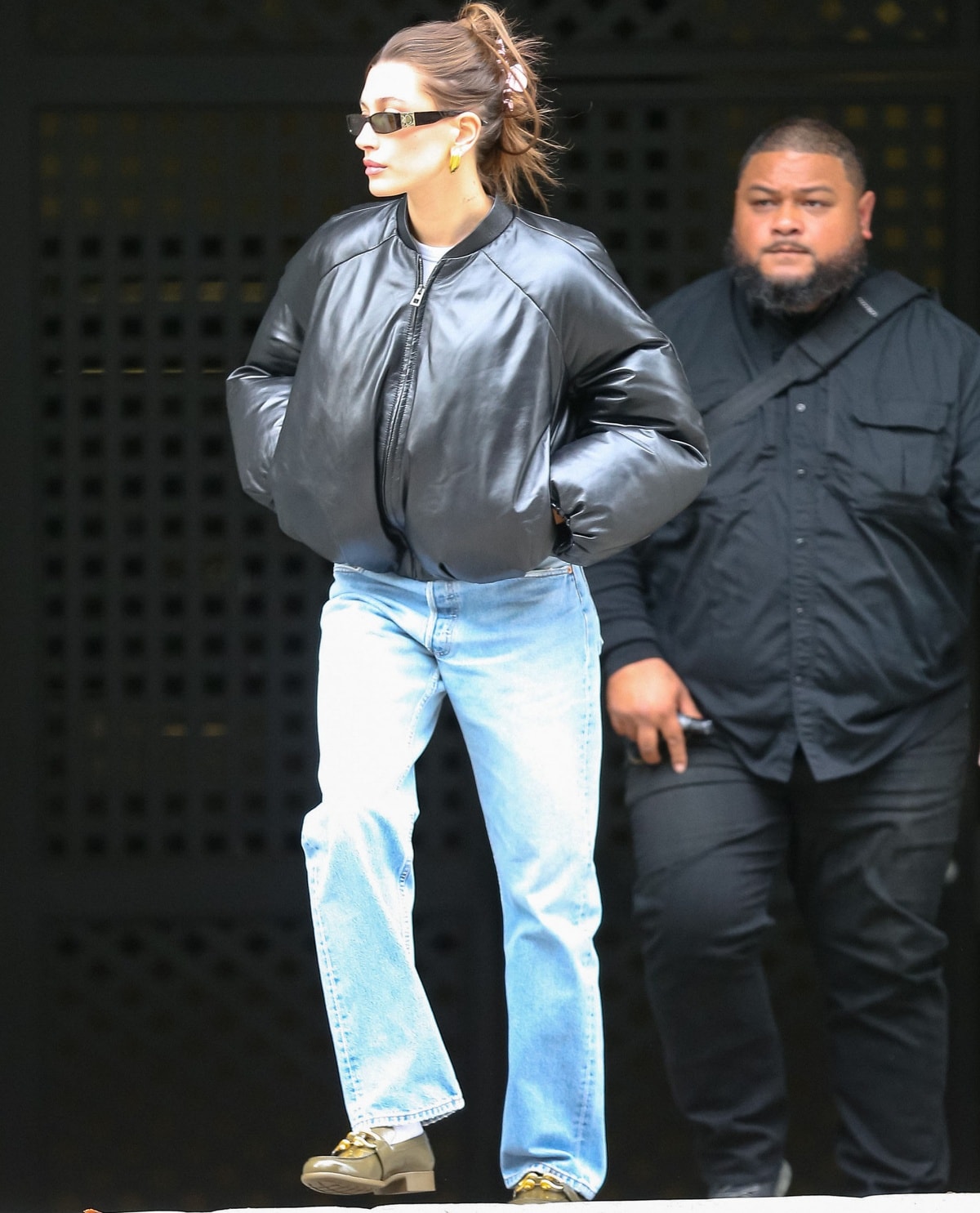 Hailey Bieber looking casual-cool in a bomber jacket with jeans and a pair of loafers in Los Angeles, California on December 15, 2022 (Credit: BauerGriffin / INSTARimages / Cover Images)
6. Charming and Vibrant in a Casual Blue Outfit
Hailey and Justin Bieber still look stylish when just hanging out. They were seen walking around Los Angeles, continuing their trend of matching outfits.
The model channeled her inner Princess Diana by donning an enormous dark blue Toronto Argonauts crewneck and barely-there gray bike shorts.
She sported a low ponytail, narrow oval-framed sunglasses from Gucci, and a Saint Laurent small black shoulder bag. To finish off her look, she accessorized her all-blue ensemble with a pair of Nike Air Max 97 QS "Obsidian" shoes and white ankle socks.
On the other hand, the "Justice" singer rocked a baby blue sweatshirt emblazoned with the Drew House happy face emblem over a white tee, loose light-wash denim, and white sneakers. He had his beige baseball cap and a white water bottle.
Justin Bieber and Hailey Bieber out and about in Los Angeles, California, on December 17, 2022 (Credit: BauerGriffin / INSTARimages / Cover Images)
Hailey Bieber wears everything from leather pants to quilted jackets, but one thing remains consistent: she looks great. The supermodel has been killing it with her fall/winter clothing choices—and we can't wait to see what she comes up with next!