It's not easy to start a business, and it is particularly difficult to start a fashion house, especially if you hope to become as relevant and revered as legendary brands such as Chanel, Givenchy, Louis Vuitton, Prada, Gucci, Fendi, and more.
But the fashion houses beginning in earnest in modern times are taking unique approaches to cement themselves as sought-after luxury brands, many selling pieces that are decidedly more runway than ready-to-wear.
One such brand is A.W.A.K.E. Mode. The London-based brand has been in operation since 2012, and it's established itself as a purveyor of groundbreaking fashion that's disrupting the industry, particularly its asymmetrical shoes.
A.W.A.K.E. Mode is a London-based label known for its avant-garde and innovative designs (Credit: Awake-Mode)
Asymmetrical shoes certainly aren't a new concept—they're defined by shoes that lack symmetry, whether between the two shoes that make a pair or within one shoe itself, and the lack of symmetry could be in color or structure (think heels with a strap that lays catty-cornered across the ankle or the mismatched bow sandals a la Jimmy Choo).
But A.W.A.K.E. Mode has taken asymmetrical shoes to a new level, boasting designs that are as mind-boggling as they are innovative.
Not everyone will want to purchase a pair (not everyone will be able to afford to), but fashion lovers will appreciate the brand's ingenuity. Let's take a look at the wildest pairs of A.W.A.K.E. Mode's asymmetrical shoes:
1. Geraldine Sandals
The "Geraldine" sandals, which are available for $695 at Net-a-Porter, are an A.W.A.K.E. Mode specialty. Coming in two-tone leather, the pair is designed to look like it's almost one singular shoe.
With a wooden block heel and beige and black straps that wrap around the ankle from the back, the Geraldine sandals look like a regular pair of shoes, albeit with some flair.
The A.W.A.K.E. Mode Geraldine sandals come in two-tone beige and black leather with a wooden block heel
It's from the front that the shoes really make their impact. When looking straight on, you can see the asymmetry employed in this shoe design.
The mostly beige sandal, which you'd wear on your right foot, covers most of your toes, only leaving your big toe on display. The mostly black sandal, however, which you'd wear on your left foot, covers your big toe and leaves the rest of your piggies to be seen.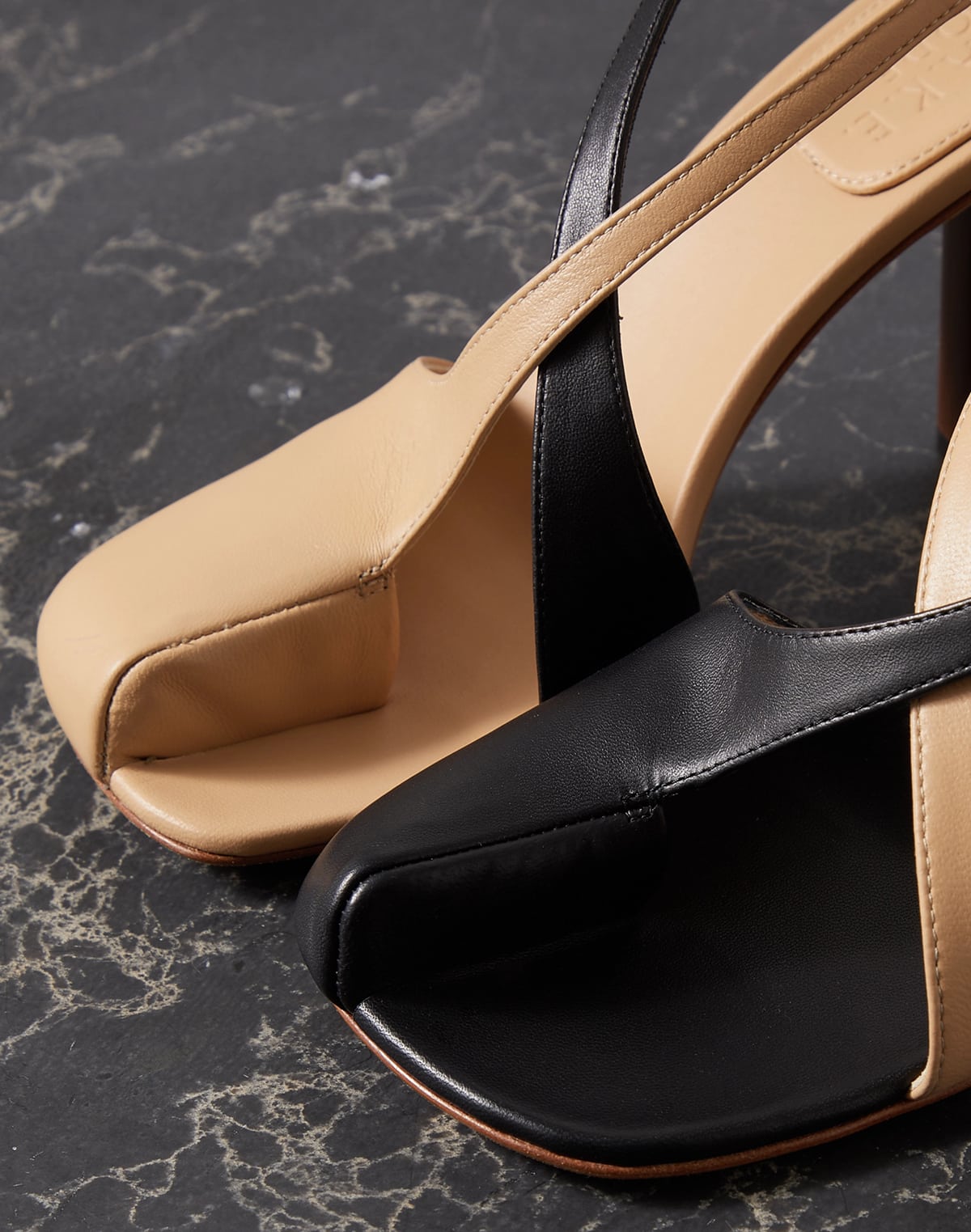 The right shoe covers most of the toes, leaving only the big toe on display, while the left shoe covers the big toe, exposing the rest of the toes
What's really neat about this sandal, from an artistic perspective, is that if looking at the sandals from one side, you might think the shoes are closed-toe.
The cutouts come from the same side, so at certain angles, you wouldn't know that there are any toes on display at all. But when looking at the shoes from virtually any other angle, there's no mistaking that they're totally unique.
From the side, the Geraldine sandals look like a closed-toe pump
The Geraldine sandals aren't going to trip everyone's trigger—that much is certain—but for those who want what they wear to be as interesting as what they have to say, these are a great buy.
2. Christine Sandals
We've noted enough that these A.W.A.K.E. Mode asymmetrical shoes won't make it into everyone's shopping cart, but if you're interested in a pair that's a little more toned down, check out the "Christine" sandals.
Now, be warned that these are only toned down in terms of the straps. And by that, we mean that they only have a few straps—one that runs around the ankle, one that runs up the back of the heel, and a couple that runs down the top of the foot—rather than the straps on the Geraldine sandals that wrap up around the leg.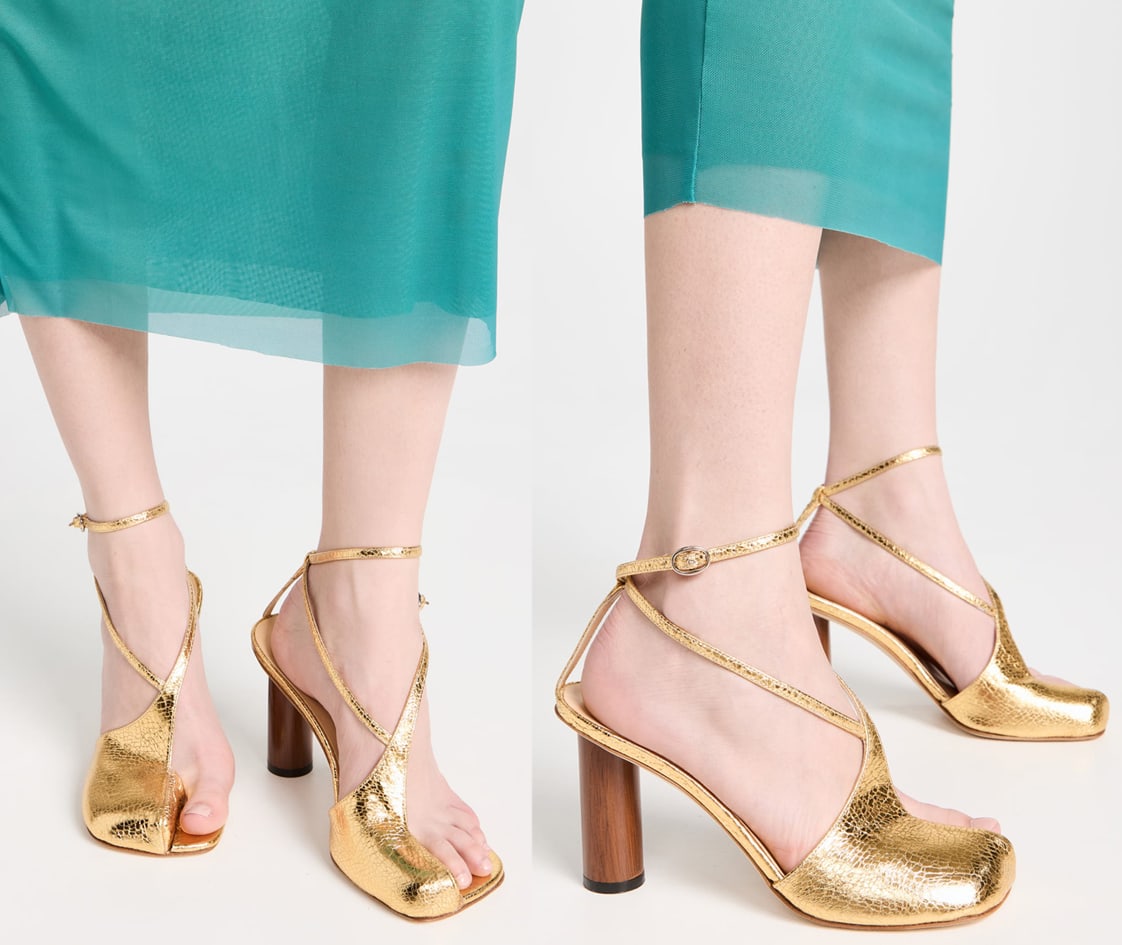 The A.W.A.K.E. Mode Christine sandals are similar to the Geraldine, sans the strappy wraparound ankle straps
Aside from the difference in straps, the Christine sandals and the Geraldine sandals are virtually the same in structure.
The Christine sandals also feature that signature A.W.A.K.E. Mode look of toes alternating between showing and hiding, almost creating an optical illusion. It's really a sight to behold.
Where the Christine sandals vary most starkly from the Geraldine sandals is color—the former has far more colorway options than the latter.
If you purchase a pair of the Christine sandals, you can choose from gold, turquoise, black, white, beige, brown, or brown check. The different colorways might not sell you on the shoes, but if you're already interested in a pair, the shade options are a welcome variance.
The Christine comes in a variety of colorways, including turquoise blue
You can check them out at Shopbop and Farfetch, retailing from $610 to $692.
Casual Carla Sock Boot
There's a lot to be said about the $558 "Casual Carla" sock boot. In terms of asymmetrical shoes, these boots are far less dramatic than anything else A.W.A.K.E. Mode makes.
But as far as regular pairs of shoes go, these are still flashier than what most of us are putting on our feet.
Replete with a thick yellow sole and the fabric top quintessential to a sock bootie, the Casual Carlas are effortlessly cool. That being said, it takes a decided effort in order to pull these off.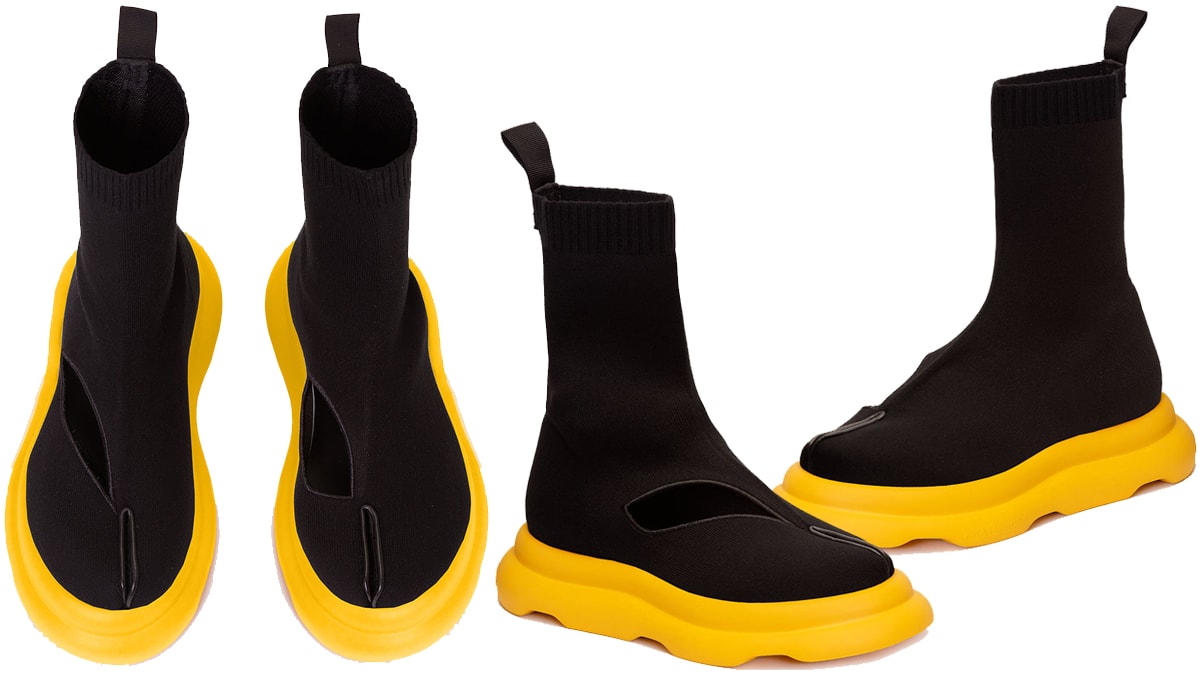 The A.W.A.K.E. Mode Casual Carla sock boots feature a fabric upper with the label's signature cutout detail and logo-stamped soles
As for the asymmetry on these boots, the imbalance comes by way of cutouts on the top of the foot.
They're subtle, and if you wore the right underpinnings, no one would even know that the cutouts exist. If you can make peace with the structure of the shoe, particularly the sole, and want to try an asymmetrical piece, this is the shoe for you.
A less dramatic A.W.A.K.E. Mode asymmetrical shoe, the Casual Carla's imbalance comes by way of cutouts on the top of the foot
Saks Fifth Avenue has the black and white combination for $660.
Other A.W.A.K.E. Mode Favorites
A.W.A.K.E. Mode isn't solely in the business of making asymmetrical shoes, though. The brand has several other options that are less loud (not quiet, just less loud).
Take, for instance, the "Iris" circle detail sandals, which are currently on sale for $189 (from $630 at Saks Fifth Avenue).
These A.W.A.K.E. Mode offerings come in a fun mustard yellow and feature, as the name suggests, circle details all across the top of the foot. A similar pair comes in black with a shorter heel, and there's a flat version available.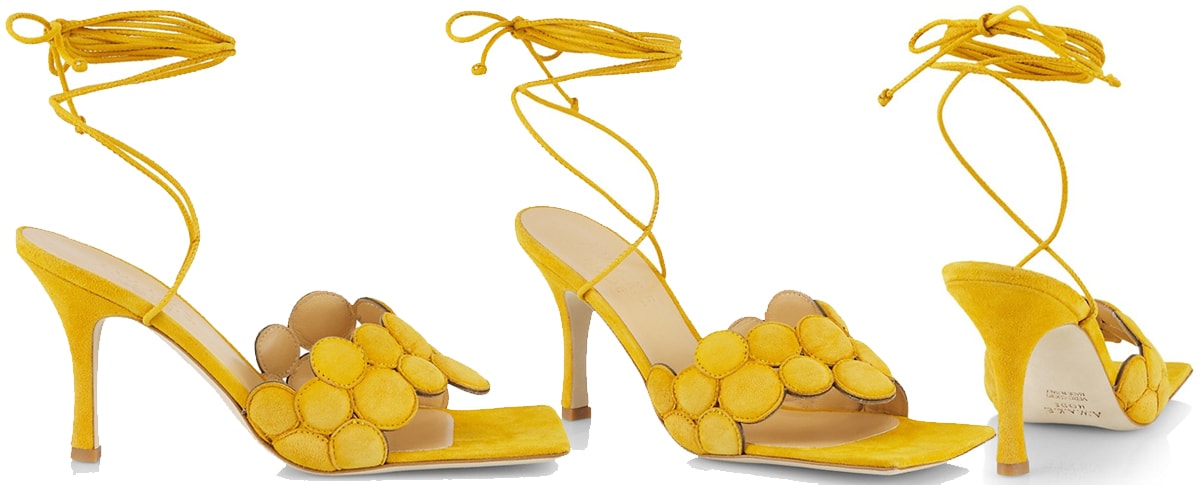 As the name suggests, the A.W.A.K.E. Mode Iris circle detail sandals boast circular appliques at the vamp and an ankle-tie closure
Then there are the $589 "Delta" high tassel sandals. This pair features leather tassels across the side of the shoes, bookending your feet in the poshest way possible. The tassels come in multiple sole styles, so take your pick.
The Delta high tassel sandals are another A.W.A.K.E. Mode favorite, thanks to the unique tassel detailing
A.W.A.K.E. Mode is doing what others aren't, and for that alone, it should be commended. Browse the cutting-edge brand's entire selection of startlingly artistic shoes, clothing, and jewelry for even more fashion fun.