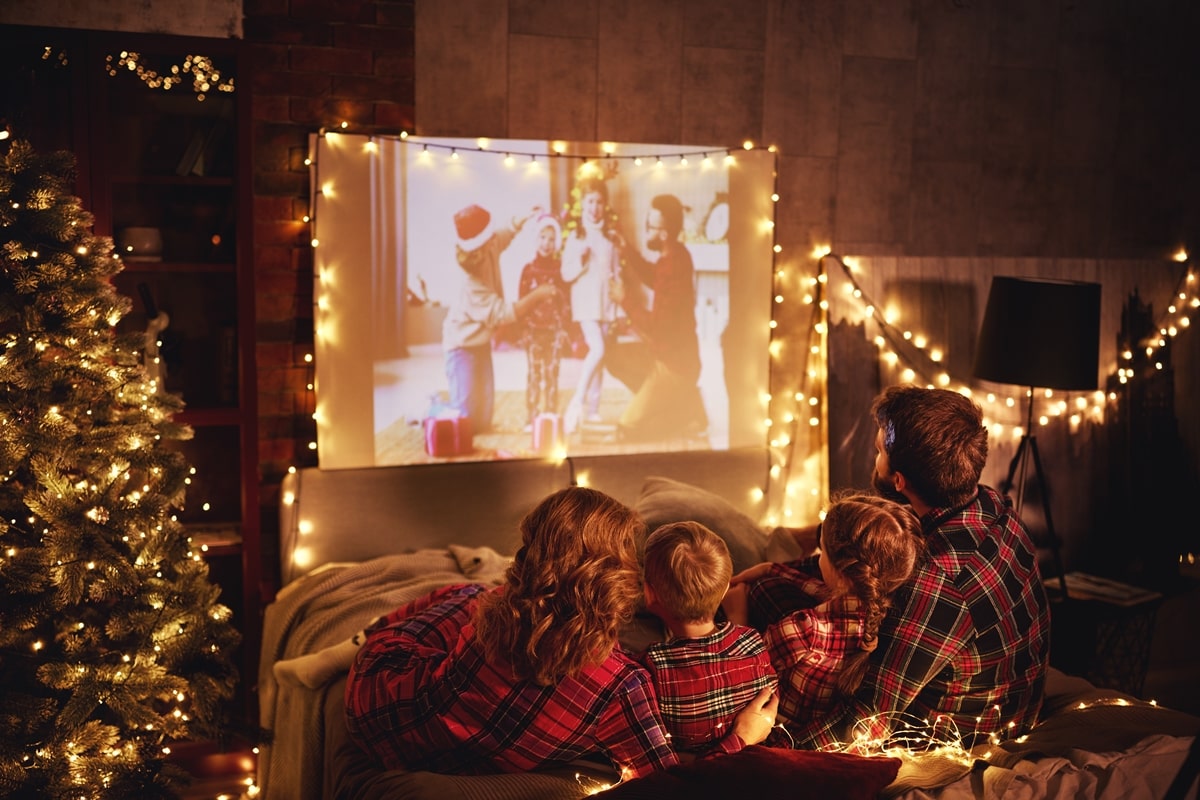 One interesting aspect of how Hollywood and the entertainment industry intersect with our own holidays and traditions is definitely the aspect of the [insert holiday here] movie.
From Christmas to Halloween, multiple American holidays have films dedicated to the theme of being in the holiday spirit.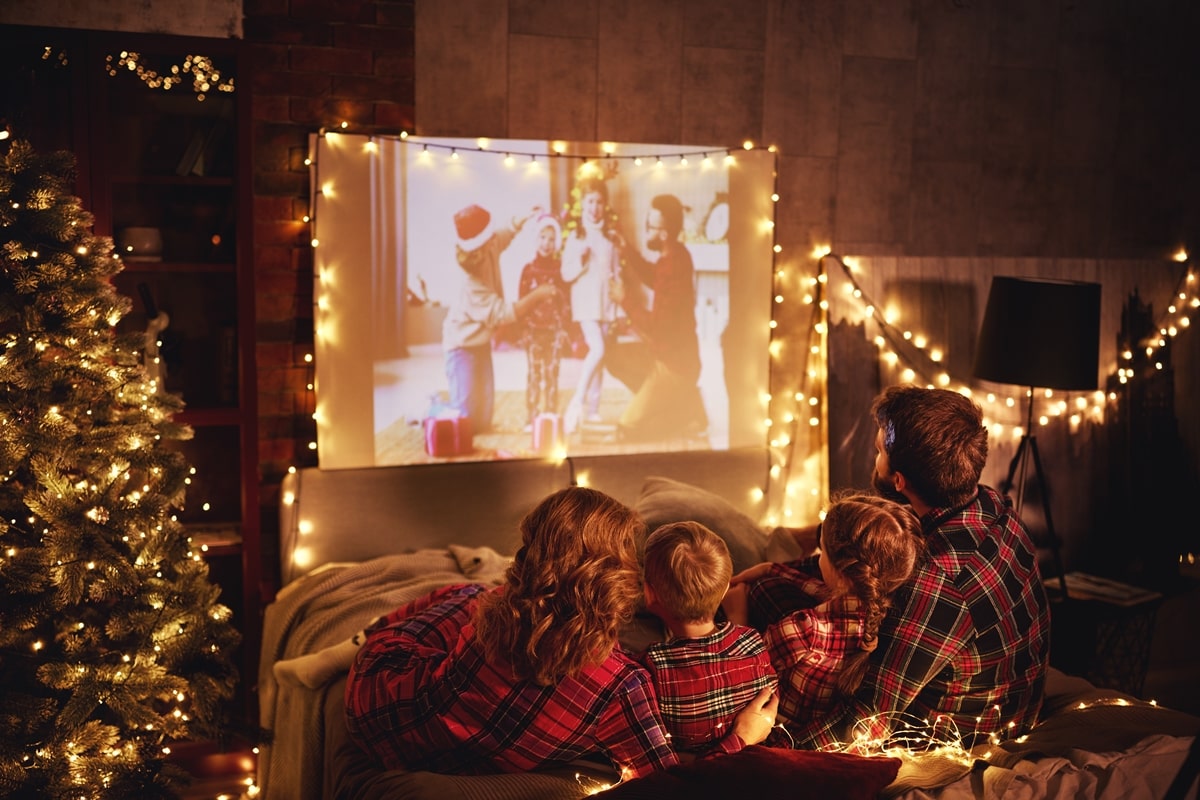 Staying in to watch movies together on Christmas is one of the most popular holiday traditions for families (Credit: Evgeny Atamanenko / Shutterstock)
Christmas staples are often long-established from decades prior, but Halloween movies operate in a different capacity in that some of them are actually quite recent in the grand scheme of things.
While most Halloween films definitely sit within the realm of the horror genre, Disney (eventually) struck gold when it opted to instead take a fantasy-comedy route. Its entry into the Hollywood canon was with Hocus Pocus, which was released in 1993.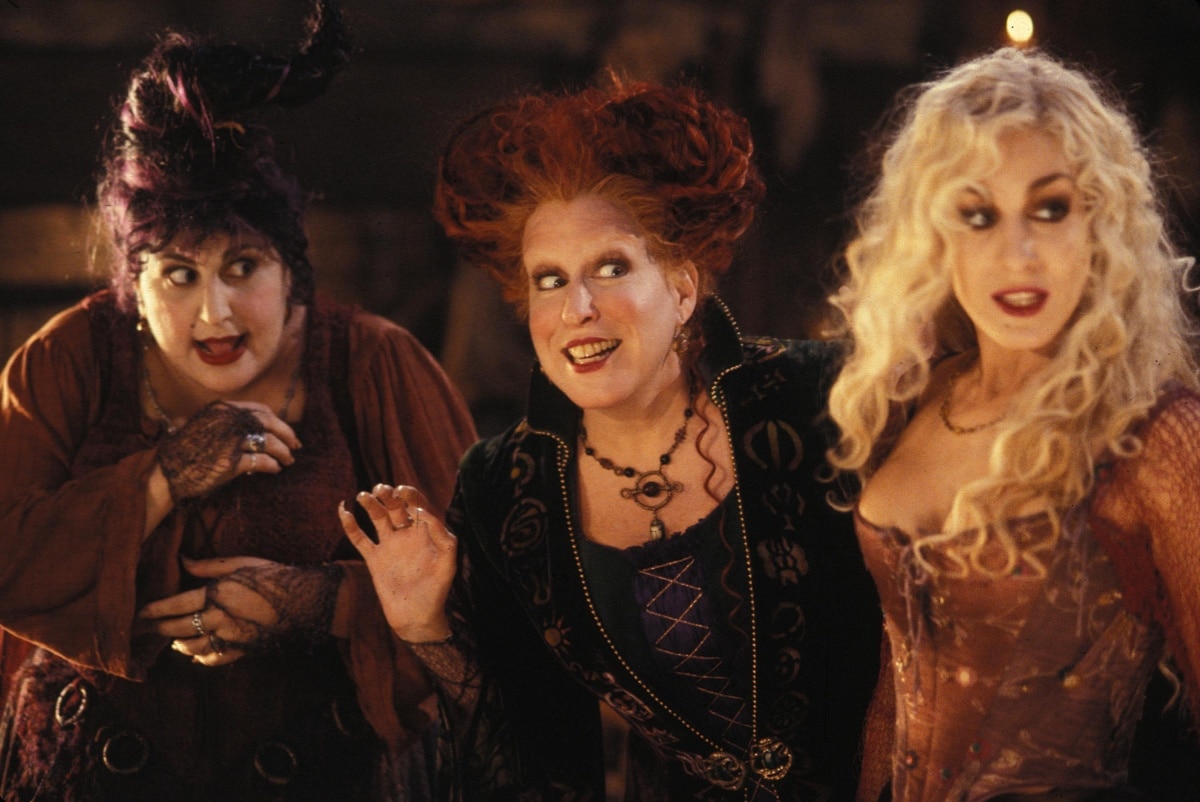 Kathy Najimy as Mary Sanderson, Bette Midler as Winnie Sanderson, and Sarah Jessica Parker as Sarah Sanderson in the 1993 fantasy comedy film Hocus Pocus (Credit: Walt Disney Pictures / Buena Vista Pictures)
The film was not a box office success during its initial run, as it only managed to gross $28 million against a budget of $45.4 million.
But it eventually garnered a cult following after being featured heavily during the Halloween season on the Disney Channel (Disney's long-running television channel). It introduced a new, younger generation to this charming tale of quirky middle-aged witches, helmed by bona fide stars of the 1990s – Bette Midler, Sarah Jessica Parker, and Kathy Najimy.
Let's take a look back at what these stars were up to in 1993, get a glimpse of the recent sequel to this fan-favorite film, and see how the newest addition to this cult-favorite series fared with the audience it was meant to appease.
How Old Was Sarah Jessica Parker in Hocus Pocus?
Sarah Jessica Parker was born in 1965 in the small town of Nelsonville, Ohio. From a young age, she had a flair for performing and was trained in both singing and ballet.
To further Sarah's career, her family relocated from Ohio to a suburb of New York City, so she could focus on developing her natural talents in the arts.
This move certainly paid off, as the young Sarah was cast in the Broadway production of the popular musical Annie, where she initially played the role of June in 1977. By 1979, she landed the role of the titular character, which she held for one year. She was 14 years old.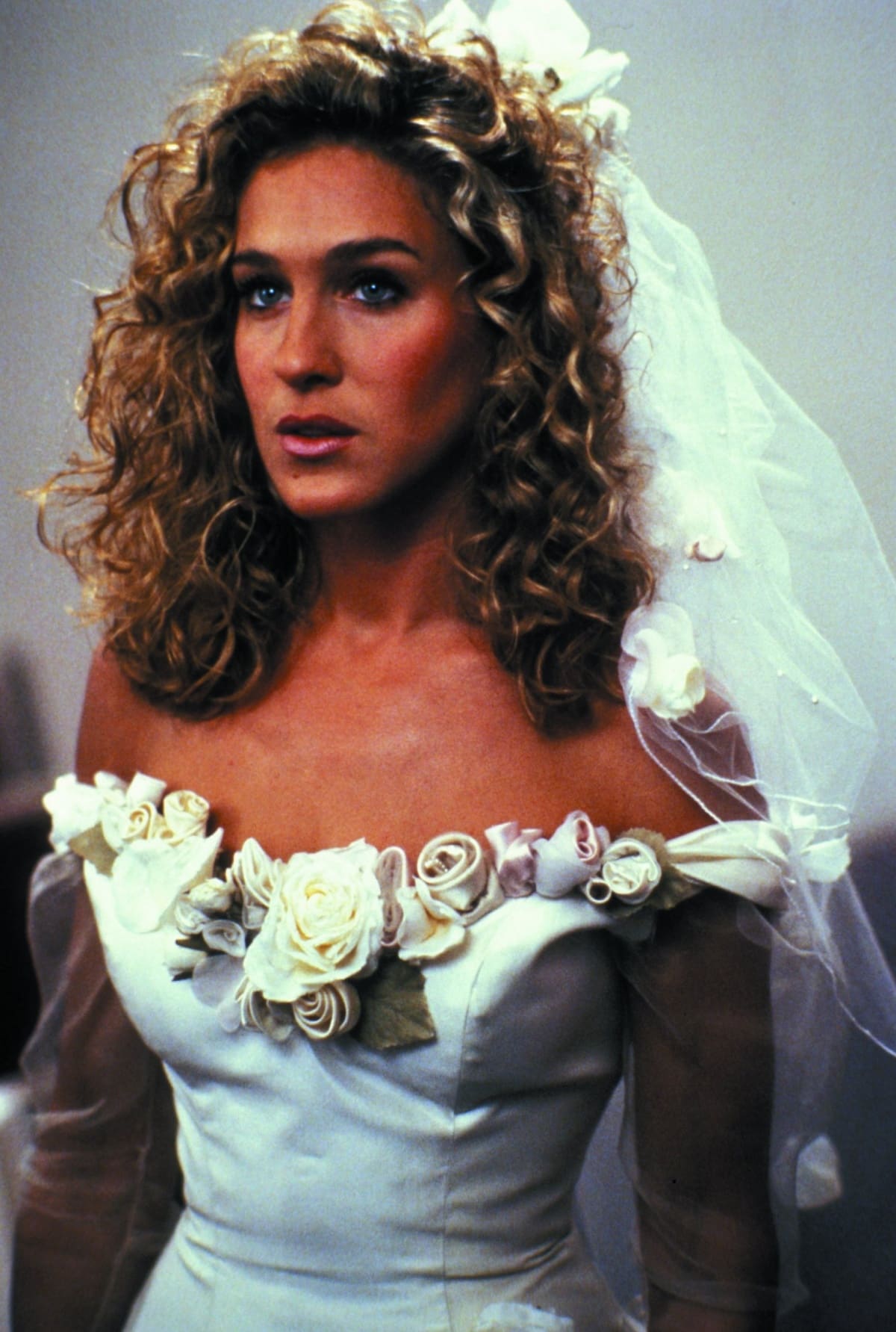 Sarah Jessica Parker as Betsy Nolan Singer / Donna Korman in the 1992 romantic comedy film Honeymoon in Vegas (Credit: Columbia Pictures)
Parker began appearing on television and in films such as Footloose (1984) and a Disney movie entitled Flight of the Navigator (1986).
She would begin starring in romantic comedies (the genre that made her famous) in the 90s, with roles in movies like L.A. Story (1991) and Honeymoon in Vegas (1992).
It was around this time that she was cast in the role of Sarah Sanderson in Hocus Pocus (1993) when she was 28 years old.
That was five years before Parker landed the role that turned her into a household name, columnist Carrie Bradshaw in the legendary television series Sex and the City.
Sarah Jessica Parker as Sarah Sanderson in the 1993 fantasy comedy film Hocus Pocus (Credit: Walt Disney Pictures / Buena Vista Pictures)
Much later, when appearing on the show Who Do You Think You Are in 2004, Sarah Jessica Parker discovered that one of her distant ancestors was arrested during the Salem Witch Trials in the 1600s! Talk about a spooky coincidence.
How Old Was Bette Midler in Hocus Pocus?
Bette Midler was born in 1945 in the sunny city of Honolulu, Hawaii, as her father worked at a Navy base at the time.
She spent most of her adolescent life there, attending the University of Hawaii at Manoa, before eventually relocating to New York City in 1965 when she was 20 years old.
It was during this time that she started her career in show business by appearing in small Broadway plays and eventually taking a job as a singer at a gay bathhouse, where she became familiar with her accompanying pianist, Barry Manilow.
She gained a following at the bathhouse, which led to her releasing her debut album, The Divine Miss M, in 1972. She was 27 years old.
Bette Midler as Mary Rose Foster in the 1979 drama film The Rose (Credit: 20th Century Fox)
The album went on to be a huge hit, and Midler won the Grammy Award for Best New Artist in 1973. By 1979, Midler made her first film, the rock 'n' roll epic The Rose, where she starred as a troubled rock star.
This role would land her a nomination for an Academy Award for Best Actress and would cement her status as a performer with serious acting chops.
She would continue her acting career by appearing in films like Beaches (1988), Stella (1990), and Scenes from a Mall (1991) before finally starring in Hocus Pocus in 1993. By that time, Midler was 47 years old.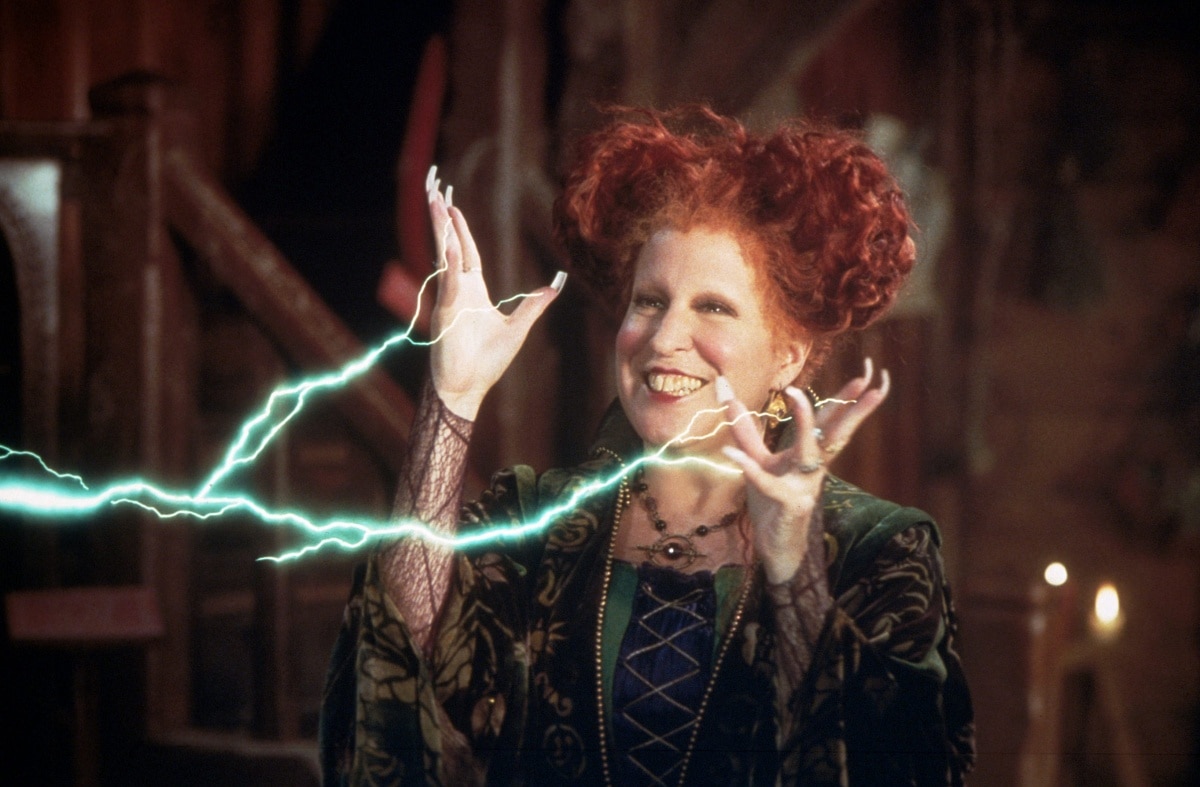 Bette Midler as Winifred "Winnie" Sanderson in the 1993 fantasy comedy film Hocus Pocus (Credit: Walt Disney Pictures / Buena Vista Pictures)
Midler seemingly enjoyed her time while filming Hocus Pocus, as she was, perhaps, the actress that was most vocal about wanting a sequel to be made. In an interview with Entertainment Weekly, Midler revealed that she'd "call the studio once a year to ask, 'How about it?'"
Even at 76 years old, it seems as though Midler hasn't missed a beat, reprising her role as Winnie Sanderson, the eldest of the three Sanderson sisters.
How Old Was Kathy Najimy in Hocus Pocus?
The middle child of the Sanderson siblings, Kathy Najimy portrays Mary Sanderson in the original film and sequel. Najimy hails from San Diego, California, where she was born in 1957.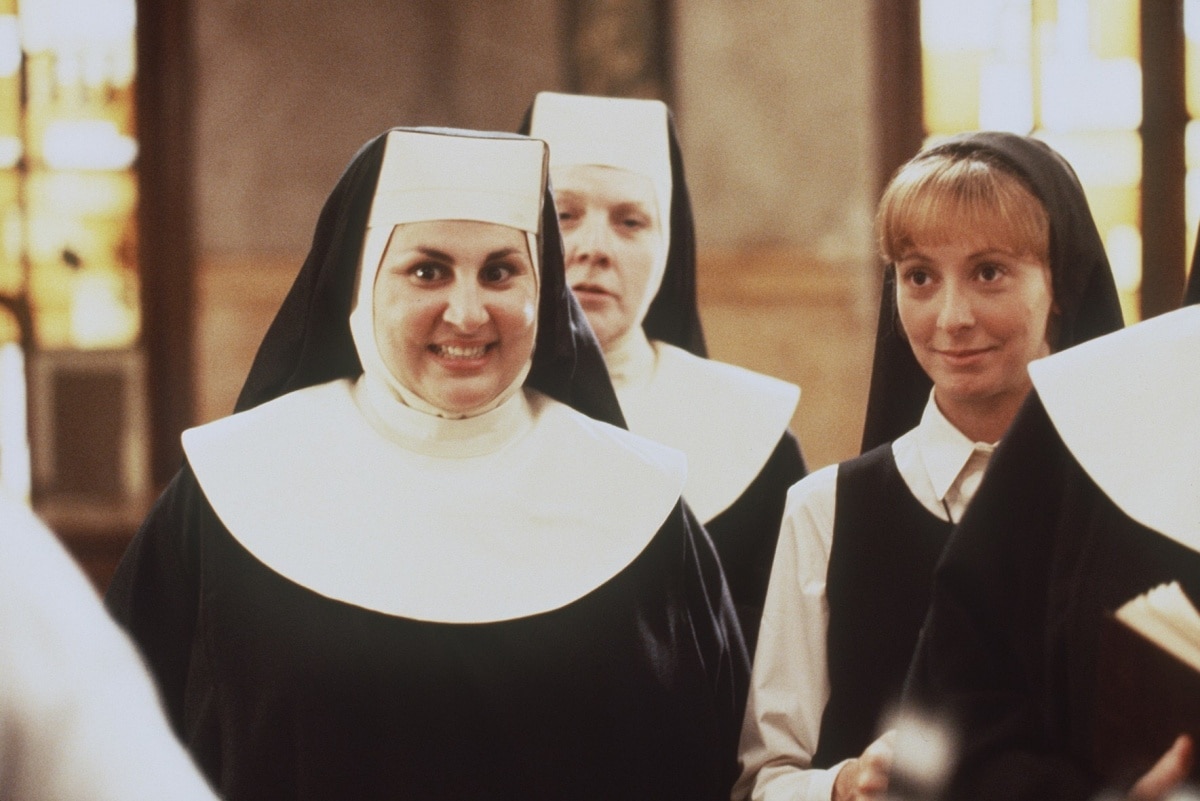 Kathy Najimy as Sister Mary Patrick and Wendy Makkena as Sister Mary Robert in the 1992 comedy film Sister Act (Credit: Buena Vista Pictures Distribution)
Her career started much later, however, as she didn't appear in any films until the early 1990s when she landed her first major role as Sister Mary Patrick in the Whoopi Goldberg-helmed film Sister Act. Here's a fun fact: Bette Midler was actually offered Goldberg's Sister Mary Clarence role first!
She followed it up with her role in Hocus Pocus when she was 35 years old. Since filming Hocus Pocus, Najimy has also tried her hand at voice acting in the popular Disney-Pixar film Wall-E in 2008.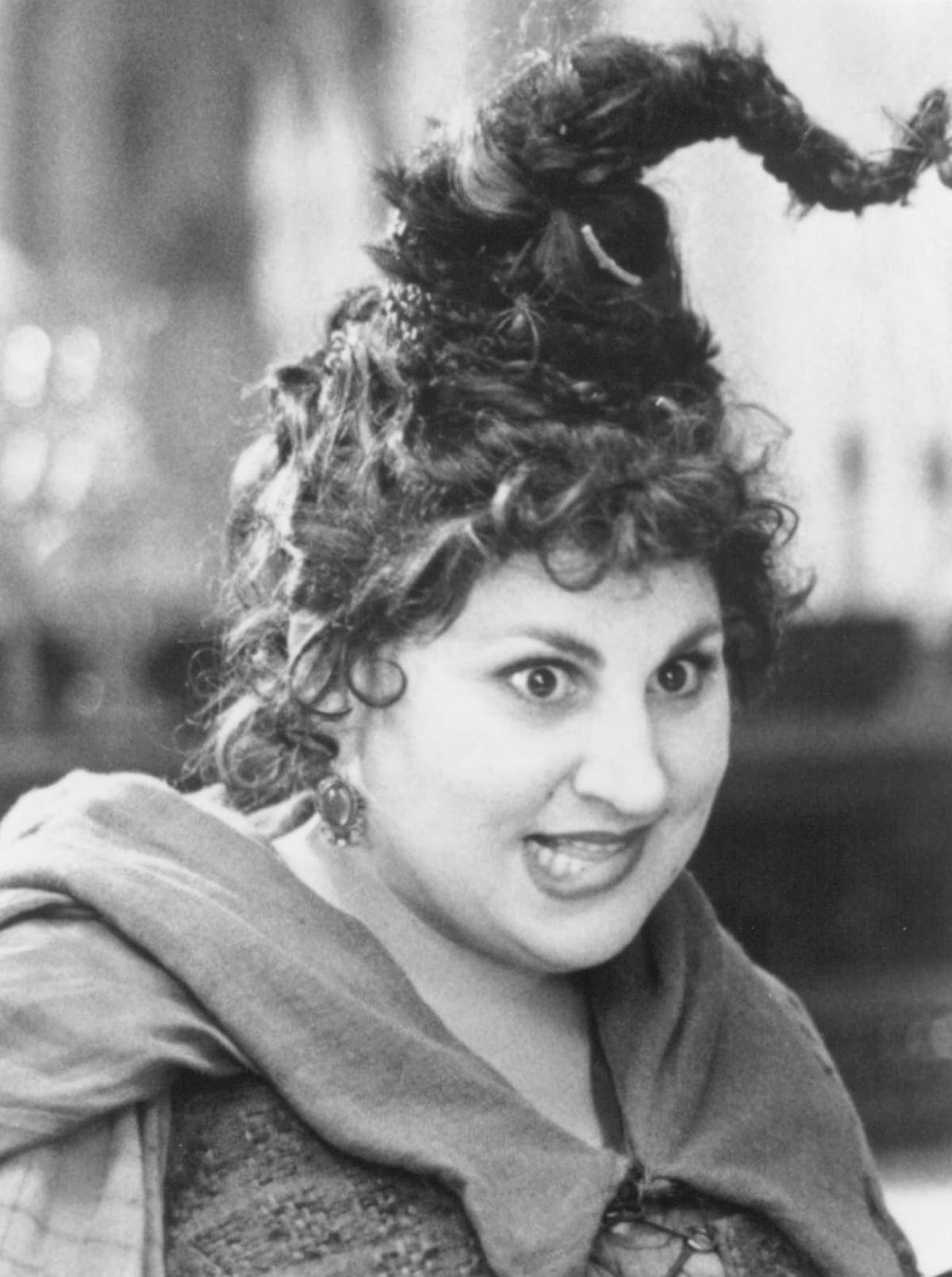 Kathy Najimy as Mary Sanderson in the 1993 fantasy comedy film Hocus Pocus (Credit: Walt Disney Pictures / Buena Vista Pictures)
Najimy enjoyed the experience of filming the original and sequel as well. In an interview with Vanity Fair, she stated: "It's really a lovely treat… We all do many projects, and we never know which ones are going to be a hit. So to come back and be with Bette and Sarah Jessica and laugh at the ridiculousness, singing, and flying, was so much fun."
Hocus Pocus 2 – Does It Reclaim the Magic?
After a lot of buzz and speculation due to the cult following of the first film, Hocus Pocus 2 was finally announced to be in production in December 2020, nearly 27 years after the original was released.
Kathy Najimy, Bette Midler, and Sarah Jessica Parker reprising their roles as the Sanderson sisters in Hocus Pocus 2 (Credit: Disney Platform Distribution)
Hocus Pocus 2 premiered on September 30, 2022. Unfortunately, critics and audiences alike agreed that the sequel failed to recapture the magic of the original, although critics did praise the performances of Parker, Midler, and Najimy.
The first film also wasn't critically acclaimed, so maybe time will tell to see if Hocus Pocus 2 will manage to gain a similar cult following that the original enjoyed after its release.
Only time will tell if Hocus Pocus 2 will gain its cult-favorite status just as the original film did following its release, but no one can deny the combined star power of its lead stars (Credit: Disney Platform Distribution)