Anne Hathaway served three striking looks to promote her latest film, Armageddon Time. She spent a whirlwind day of television interviews and a movie premiere while clad in retro chic outfits.
We've seen Anne Hathaway's style evolve from ingenue to bombshell since switching stylists from Law Roach to Erin Walsh. The Academy Award winner seems to be having a ball with fashion these days, and we're glad to witness every moment of it.
Here are three of the retro chic looks that Anne Hathaway wore in one day:
1. Valentino Fall 2022 Haute Couture Embellished Dress and Boots
For the premiere of Armageddon Time, Anne Hathaway wore a fully embellished look from Valentino's Fall 2022 Haute Couture collection.
Anne Hathaway wearing a Valentino Fall 2022 Haute Couture fully embellished look at the premiere of Armageddon Time during the 60th New York Film Festival held at the Alice Tully Hall on October 12, 2022 (Credit: ROGER WONG / INSTARimages / Cover Images)
She wore a silver long-sleeved dress and paired it with matching embellished boots. It's a fun look for fall, but we can't help but wish that she wore silver strappy heels instead.
Her hair was styled in a bouffant for that retro-chic vibe, which doesn't seem to go well with the rest of the outfit. Nevertheless, Anne couldn't look bad even if she wanted to, and she totally committed to this look.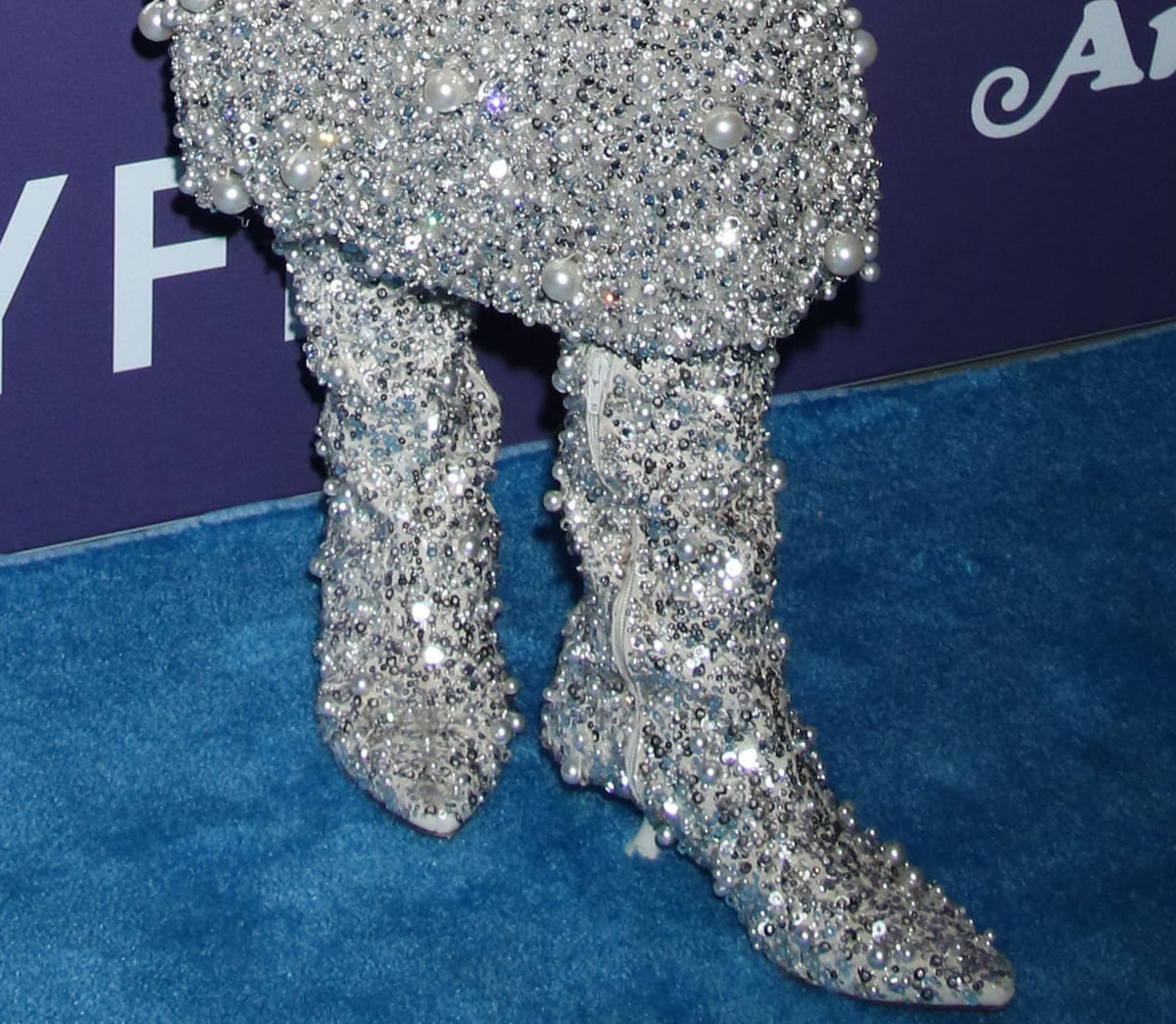 Anne Hathaway wore the matching Valentino fully embellished boots to round out her premiere look (Credit: ROGER WONG / INSTARimages / Cover Images)
2. Nili Lotan Resort 2023 Denim Suit, Sally LaPointe Crop Top, and Gianvito Rossi Heels
Earlier that day, Anne Hathaway was spotted outside The View studios for a guest appearance. She wore a double denim look from Nili Lotan's Resort 2023 collection, which consisted of the Valeri jacket and the Flora jeans.
Her Sally LaPointe embellished crop top added pops of color to her look, while her Victoria Beckham clutch added a touch of glamour. Glossy blue pointy-toe Gianvito Rossi heels finished off her daytime promo ensemble.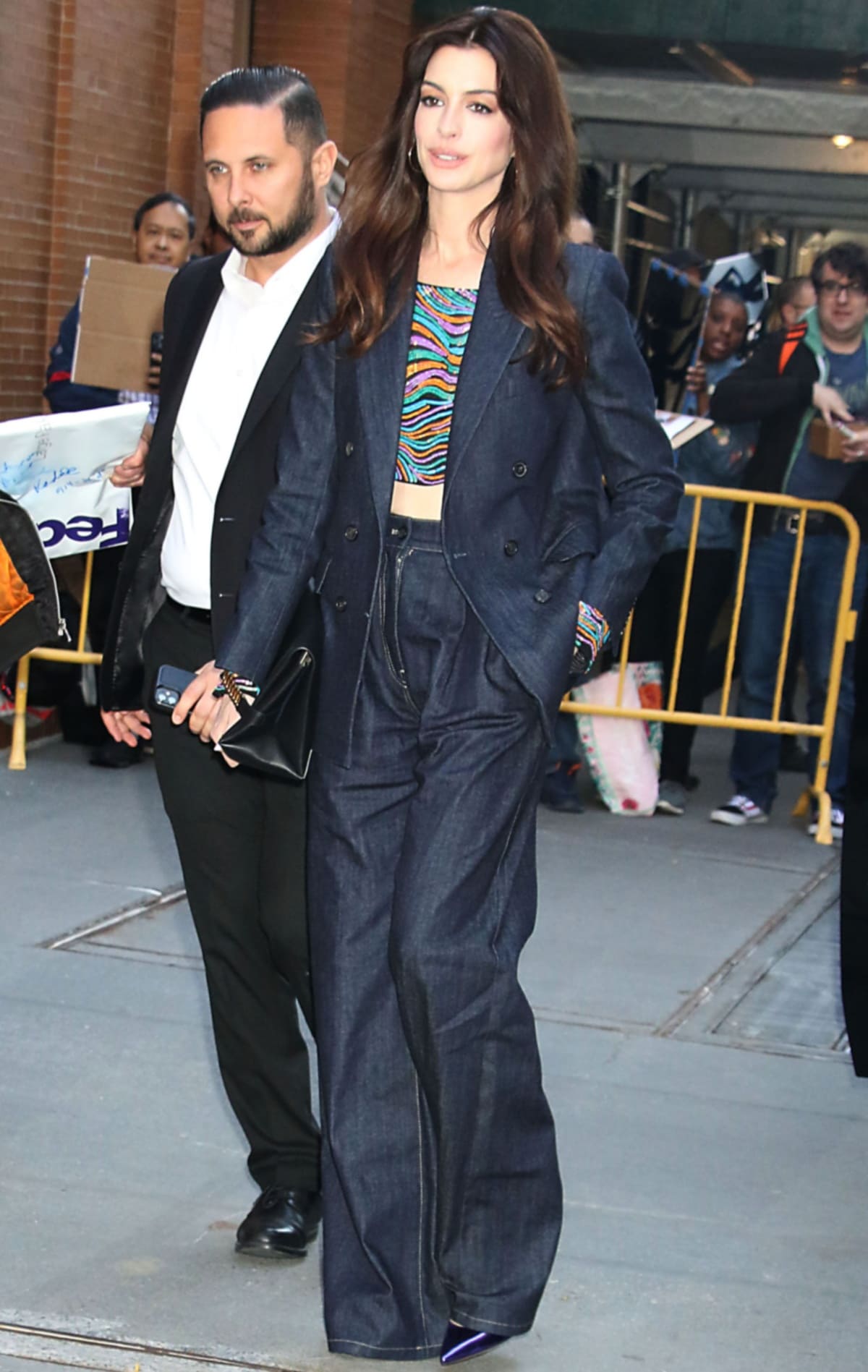 Anne Hathaway wearing a Nili Lotan Resort 2023 double denim look with a Sally LaPointe embellished crop top and pointy-toe heels outside The View studios in New York City on October 12, 2022 (Credit: ROGER WONG / INSTARimages / Cover Images)
3. Christopher John Rogers Resort 2023 Blazer, Valentino Shift Dress, and Isabel Marant Boots
You'll understand the retro-style bouffant hair at the premiere when you see this look. As it turns out, she wore the same hairstyle the entire day while doing the promotional circuit for Armageddon Time.
For this look, Anne Hathaway wore an oversized patterned blazer with a boxy silhouette and a 1980s vibe. She wore it over a white mini shift dress from Valentino for that 1960s mod style.
Anne totally committed to the vintage-chic aesthetic with oversized shades, Wolford black tights, and a pair of Isabel Marant black knee-high boots. The same Victoria Beckham chain-accented clutch from earlier provided a luxe finishing touch to her look.
On her Today guest stint, Anne removed the blazer while doing the interview. Aside from promoting Armageddon Time, she also talked about her accidental The Devil Wears Prada moment at last month's New York Fashion Week.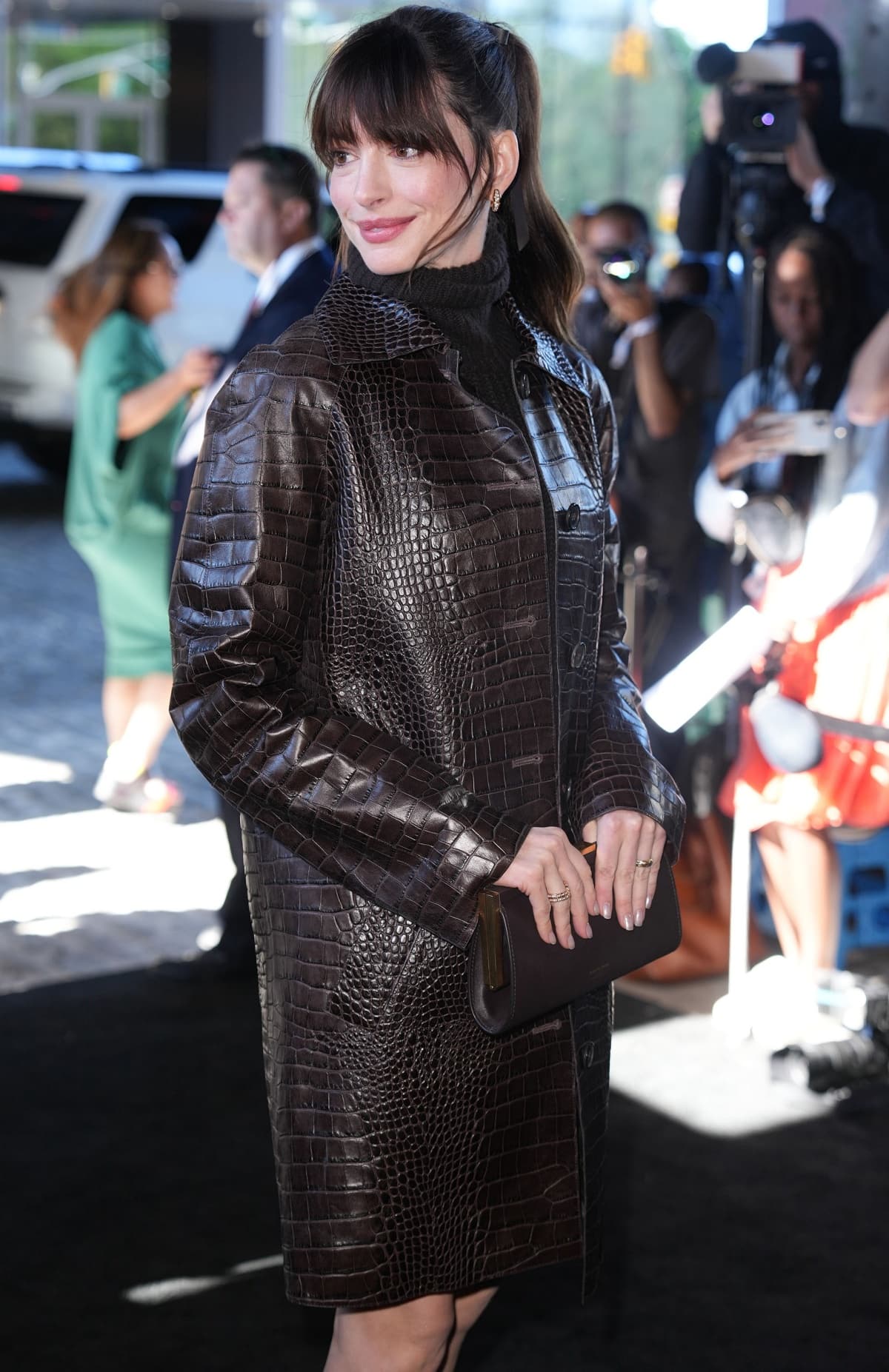 Anne Hathaway attending the Michael Kors Spring/Summer 2023 runway presentation during New York Fashion Week on September 14, 2022 (Credit: JOHN NACION / Startraksphoto / Cover Images)
The 39-year-old actress wore a dark brown croc-embossed coat over a black ribbed turtleneck and matching croc-embossed miniskirt.
While the look was somewhat similar to her character's outfit on The Devil Wears Prada, it was the hairstyle with bangs that sealed the deal.
Anne Hathaway as Andrea "Andy" Sachs in the 2006 comedy-drama film The Devil Wears Prada (Credit: 20th Century Fox)
Today host Savannah Guthrie asked Anne if the look was intentional, and she replied that it was totally "an accident."
"It was kind of nuts, wasn't it," Anne remarked. She went on to explain that she was "supposed to wear something else" and that nothing went as planned.
Even the hairstyle was a last-minute decision. "My hairstylist, who's so lovely, and I've never worked with him before, just said, 'Oh, I know what to do!' and he threw my hair up in a ponytail."
Anne then looked in the mirror and said to herself, "Oh, that's funny. I wonder if anybody will notice?" To which both Anne Hathaway and Savannah Guthrie said in unison, "We noticed."