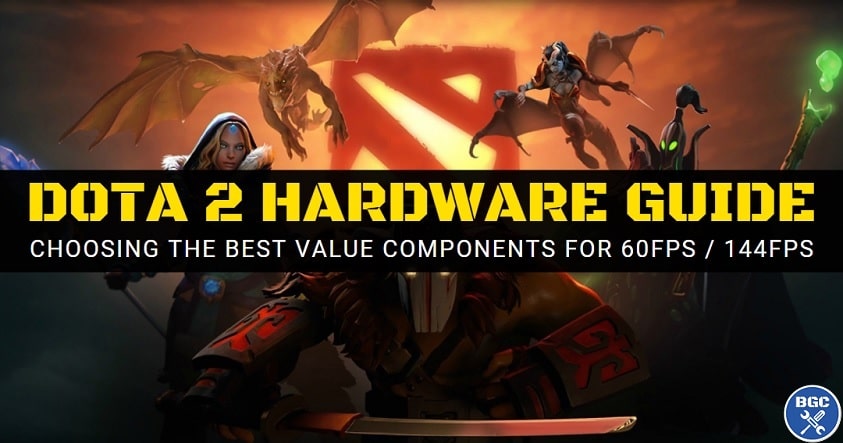 Home > Gaming PC Builds > Dota 2
Modern CPU and GPU Requirements for 60FPS or 144FPS (Low and Ultra Settings)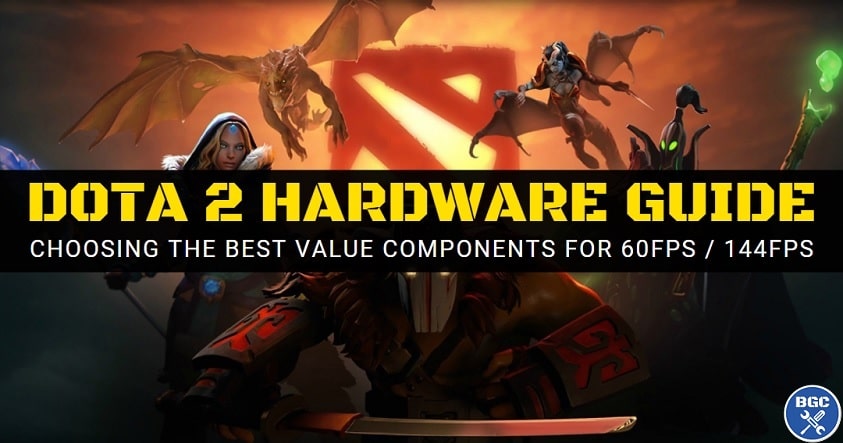 Last Updated: January 12, 2022
Dota 2 (Defence of the Ancients 2) is a massively popular free-to-play MOBA (Multiplayer Online Battle Arena). Created by Valve, many years on it's still one of the biggest competitive eSports on the planet with mind-boggling prize money being won at pro tournaments and a massive fanbase who tune in to watch their favorite pro teams go head to head.
Dota 2 is based on the now quite old Source engine that was used for good old Half Life 2, and these days is not a demanding game whatsoever. Especially not for modern day CPUs and GPUs, and so if you're building or upgrading a gaming PC for Dota 2 you can get away with choosing a cheap CPU and GPU combination and run the game nice and smoothly.
Related: Optimal Parts for League of Legends

But if you're a performance perfectionist and want to hit specific performance targets to run the game flawlessly at your particular resolution, refresh rate, and visual settings, I've analyzed a range of different performance benchmarks across the web from multiple sources and curated what you need to know to choose the best bang for buck PC components for the best Dota 2 setup.
Minimum Requirements for Dota 2
Before getting into which parts you'll need to get that super smooth 60FPS or 144FPS, let's quickly go over the bare minimum requirements to run the game as listed on Steam.
CPU: Dual core from Intel or AMD at 2.8 GHz
GPU: NVidia GeForce 8600/9600GT or AMD Radeon HD2600/3600
RAM: 4GB
Storage: 15GB
Operating System: Windows 7 or newer
Those are some super lightweight old specs right there, but the game is many years old now and these official requirements haven't been updated since launch (if I'm not mistaken). Anyway, any old potato will run Dota, but to guarantee a super smooth experience without hiccups during intense battles in order to both enjoy the game to its fullest and play at your highest potential, let's get into requirements for 60FPS or 144FPS at various graphical settings.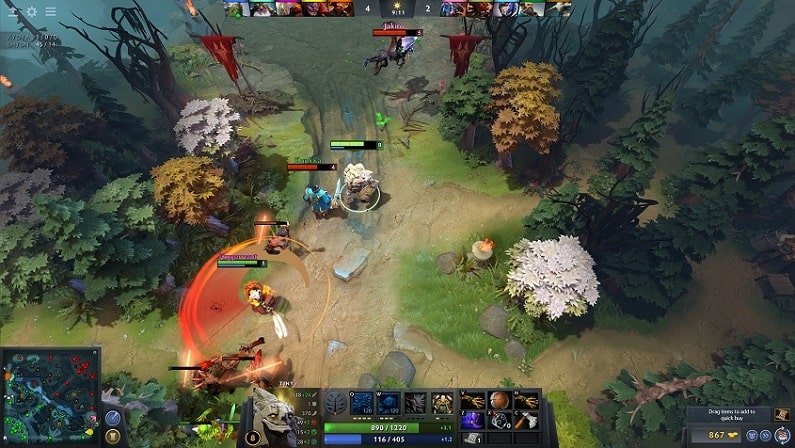 Dota 2 is not demanding on hardware, and any cheap modern PC should run it decently
Best Cheap PC Builds for Dota 2 (1080p 60Hz)
Starting with the standard resolution of 1080p, which the far majority of players both casual and competitive alike use for Dota 2, it doesn't take much to reach a super smooth 60FPS. To keep your frame rate above that mark at all times – even during hectic battles – based on the modern hardware market below are the specific processors and graphics cards I suggest if you want to get the job done without overspending on parts you don't need.
For RAM, a measly 8GB would be fine for such an old and non-demanding title, but these days there's no point recommending 8GB of RAM in a new PC build. 16GB is not much more money, and much preferable for general PC performance as well as for running other games that are more demanding.
Cheapest Specs for 1080p 60FPS (Low Settings)
CPU: AMD Ryzen 3 3200G (APU) / Ryzen 3 5300G (APU)
GPU: Integrated Vega Graphics (Comes Included With AMD APUs)
RAM: 8GB DDR4 (2x4GB, 2666MHz or faster)
Best Specs for 1080p 60FPS (Low or Ultra Settings)
CPU: Intel Core i3-12100 / i3-10100 or AMD Ryzen 3 3100 / Ryzen 3 3300X
GPU: NVidia GeForce RTX 3050 8GB / GTX 1650 4GB or AMD Radeon RX 6500 XT / 5600 XT 4GB
RAM: 16GB DDR4 (2x8GB, 3200MHz)
Best PC Builds for Dota 2 (1080p 144Hz)
Now onto 1080p 144Hz monitors, which do make the game smoother if your hardware can keep up and reach the 144FPS mark (or thereabouts). Getting a 144Hz monitor for Dota 2 isn't as crucial as it is for faster paced genres like First-Person Shooters or racing games where you are constantly turning the in-game camera very abruptly and will therefore benefit fairly significantly from a faster-updating 144Hz monitor (as it provides smoother quick movements of the camera than say 60Hz, which can be a bit blurry in comparison during fast movement). That said, if you want the best PC build for Dota 2, a 144Hz monitor is definitely still worth it – faster refresh rates are still a noticeable (albeit subtle) upgrade in MOBA titles like Dota 2 or League of Legends.
Best Value Specs for 1080p 144FPS (ANY SETTINGS)
CPU: Intel Core i5-12400 / i5-11400 / i5-10400 or AMD Ryzen 5 3600 / 3600X
GPU: NVidia GeForce RTX 3050 8GB / GTX 1650 Super 4GB / GTX 1660 6GB or AMD Radeon RX 6500 XT
RAM: 16GB DDR4 (2x8GB, 3000MHz or faster)
I've included recommendations for low graphics settings as well, given that's how most (good) competitive players run not just Dota but any competitive title in order to maximize frame rate and minimize the chances of frame rate dips during bigger battles. Plus, disabling advanced graphics settings in Dota 2 makes for less on-screen clutter, allowing you to focus more. Oh, and unlike for shooters like CSGO for instance, I'll leave out any suggestions for 240Hz displays since it's totally unnecessary for Dota (144Hz is absolutely plenty, and even then, 60Hz is really not that bad in Dota and totally fine for a casual player).
Best High-Res PC Builds for Dota 2 (1440p)
The far majority of pro Dota 2 players stick to 1080p (1920 x 1080), but many casual players enjoy the higher visual fidelity of a higher resolution monitor like 1440p. So if that's you, you will need a slightly stronger GPU if you want flawless performance, but since Dota 2 is not a graphically demanding game you still won't need much for a great 1440p experience.
Best Value Specs for 1440p 60FPS (Max/Ultra Settings)
CPU: Intel Core i3-12100 / i3-10100 or AMD Ryzen 3 3100 / Ryzen 3 3300X
GPU: NVidia GeForce RTX 3050 8GB / GTX 1650 Super 4GB / GTX 1660 6GB or AMD Radeon RX 6500 XT / RX 5600 XT 4GB
RAM: 16GB DDR4 (2x8GB, 3000MHz or faster)
Best Value Specs for 1440p 144FPS
CPU: Intel Core i5-12400 / i5-11400 / i5-10400 or AMD Ryzen 5 3600 / 3600X
GPU (Medium Settings): NVidia GeForce GTX 1660 Super 6GB or AMD Radeon RX 5600 XT 4GB
GPU (Ultra Settings): NVidia GeForce RTX 3060 / 2060 Super 8GB or AMD Radeon RX 6600 / 5700 XT 8GB
RAM: 16GB DDR4 (2x8GB, 3200MHz)
Sources
Dota 2 on Steam: Minimum System Requirements
DOTA 2 CPU Performance Benchmark
Free-to-Play Games Benchmarked: 4 Popular Titles Put to the Test
UserBenchmarks: FPS Estimates for DOTA 2
Using the Dota Performance Test
DOTA 2 Pro Settings and Gear List
+ A Ton of YouTube Benchmark Videos
---
Trusted Stores
The retailers I recommend most, for the regions that make up the majority of my readers.
USA:
Amazon US /
BestBuy /
B&H
Canada: Amazon CA
UK: Amazon UK
Australia: Amazon AU /
PLE /
Scorptec
Disclosure: As an Amazon Associate we earn from qualifying purchases. We may also earn a commission on sales made through other store links (Best Buy, B&H, PLE).
Most Shared
Search the Site
Trusted VPN
VPNs are fast becoming must-have software these days to improve the security and privacy of a PC when online. There's lots of VPNs but NordVPN is objectively one of the best and the one I use (edit: it's currently over 60% off in October 2022). VPNs can also help for online gaming as explained here.
About Me
Indie game dev currently working on my first public release after years of hobby projects, a story-driven VR FPS adventure built using Unreal Engine (to be announced once I'm ready here and here for anyone into VR FPS's). Also likes writing and updating these tech articles, which helps fund development of the game. 
My favs of all time are OOT, Perfect Dark, MGS1, MGS2, GE007, DKC2, THPS3, HL1, and HL2, with the most recent addition to my list of immortals being the VR masterpiece Alyx. If you want help with a new build or upgrade feel free to ask on the main PC builds guide. If you found the site real helpful and want to help support the work I do here, sharing an article with anyone you think might also benefit from it does help and is appreciated in advance. – Julz