Blac Chyna made headlines when she recently showed support for Kim Kardashian, a year after losing a defamation lawsuit against the Kardashian-Jenner family.
The 34-year-old model filed a $100 million lawsuit against Kim and the other family members for defamation, but the case was dismissed.
Blac Chyna making a guest appearance at the Tamron Hall show in New York City on March 30, 2023 (Credit: Roger Wong / INSTARimages)
Despite the legal battle, Chyna appeared to have moved on and even supported Kim's collaboration with Dolce & Gabbana.
In an interview posted by Hollywood Unlocked on Instagram on March 27, Chyna was seen wearing a T-shirt featuring a sultry image of Kim from Dolce & Gabbana's spring 2023 ad campaign.
When asked about her choice of attire, Chyna explained, "Well, I love Dolce & Gabbana but I wore this shirt today because I wanted to support Kim. She did a collaboration with Dolce and I respect it, and that's Dream's auntie."
Chyna was referring to her 6-year-old daughter, born on November 10, 2016, whom she shares with Rob Kardashian, Kim's brother.
Kim Kardashian for Dolce & Gabbana Spring/Summer 2023 (Credit: Mert & Marcus)
After their tumultuous relationship ended, Chyna filed a lawsuit against the Kardashian-Jenner family, claiming they were responsible for the cancellation of her Keeping Up With The Kardashians spinoff series, Rob & Chyna.
She sought $36,000,000 in damages for emotional distress and $109,635,021 in economic damages.
Before the case went to the jury, Kim, Kris Jenner, Khloé Kardashian, and Kylie Jenner requested that the Los Angeles Superior Court dismiss the lawsuit. In April 2022, Kim was found not guilty of defaming Chyna, and the case was dismissed in May.
The Kardashian family celebrated their court victory before the 2022 Met Gala in New York City.
Before the event, Kris told Variety, "I'm just happy it's through," adding that "going through it" in public was the most challenging part.
The momager said, "I live in my faith and just hope that's enough. I'm glad it's over for the girls. We're here to celebrate."
Meanwhile, Chyna's legal counsel informed the Associated Press that they intended to "appeal on the remaining questions" from the trial.
However, since the lawsuit was dismissed, Chyna has not publicly stated her relationship with the Kardashian-Jenner family.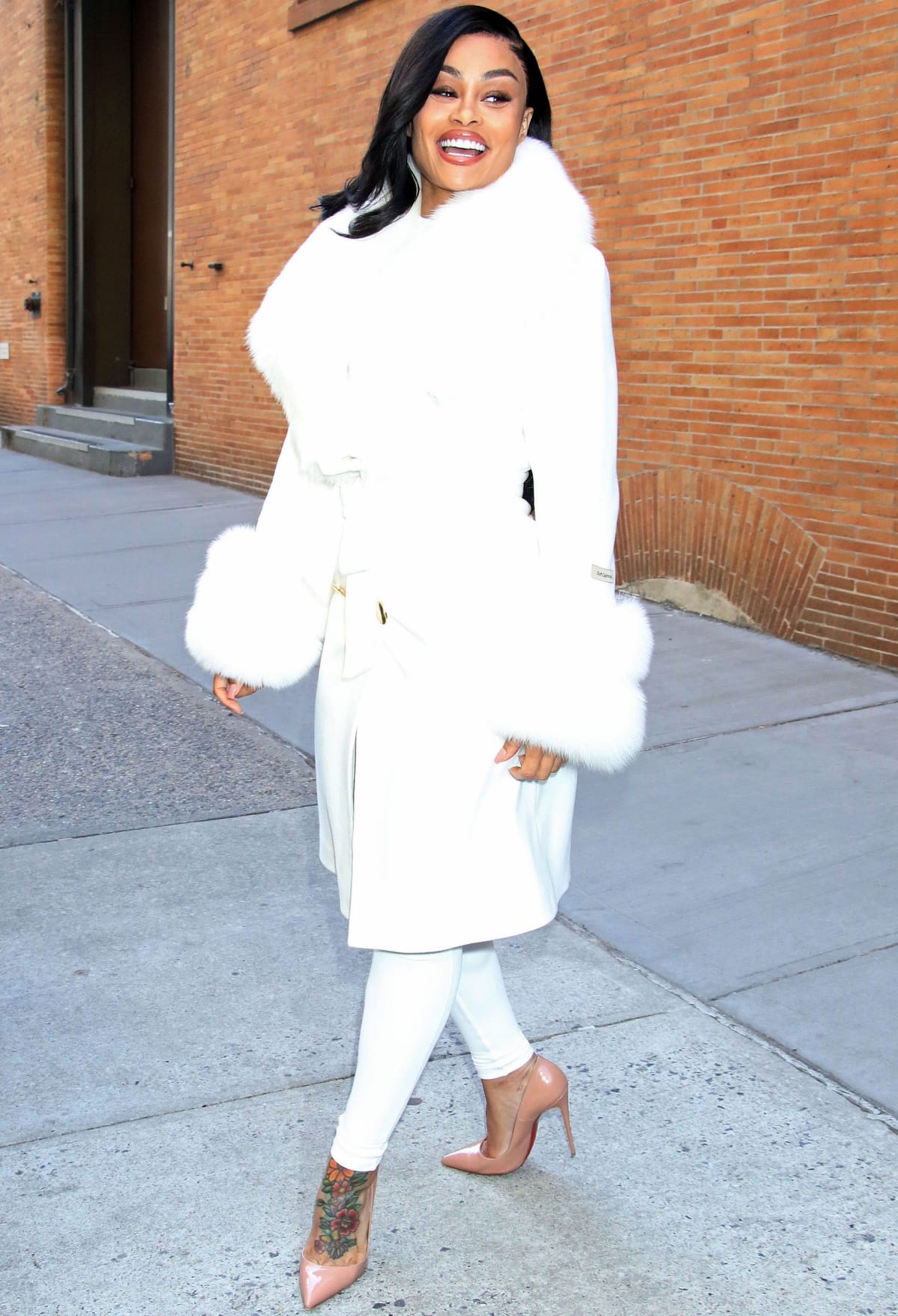 Blac Chyna donned an elegant fur-lined white overcoat over a matching blouse, paired with form-hugging leggings outside the Tamron Hall show in New York City (Credit: Roger Wong / INSTARimages)
Blac Chyna Reintroduces Herself as Angela White
In a move that surprised many of her fans, Blac Chyna announced on social media that she is reintroducing herself as Angela and returning to her birth name.
Angela White, Chyna's real name, had been pushed to the background since she became a reality star, but now she's ready to reclaim her identity.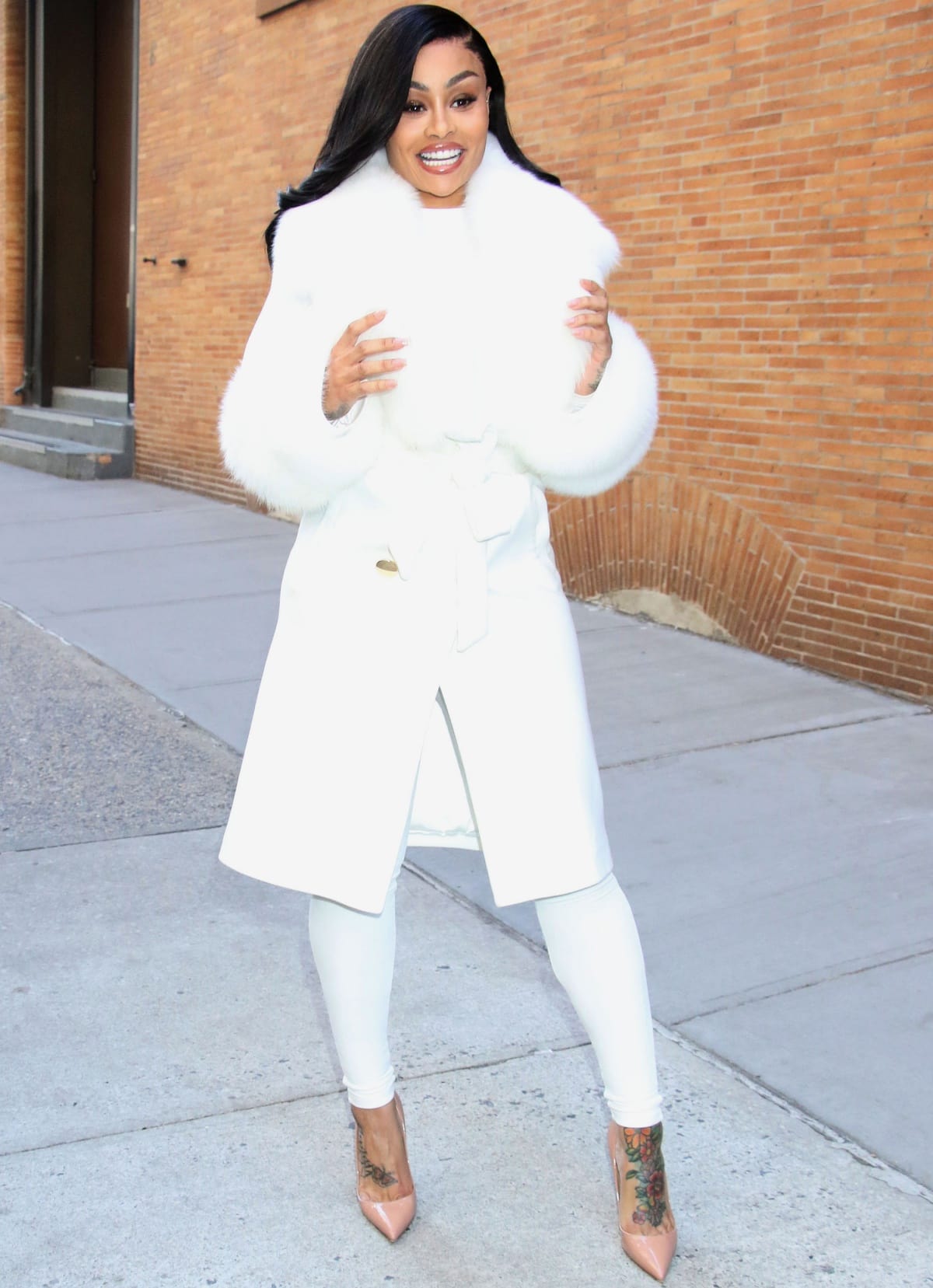 Blac Chyna, now Angela Renee White, shared that she has gone through a "life-changing journey" by removing many of her body augmentations and even discussed her decision to leave OnlyFans (Credit: Roger Wong / INSTARimages)
In a video Chyna shared, she said, "I am ready to get back to Angela [her birth name]. Blac Chyna is Blac Chyna and I feel like I've outgrown that and it's time for a change."
Her supporters applauded her decision, seeing it as a step in the right direction toward reclaiming who she is.
Last March, Chyna had many changes in her life, including removing her facial fillers and a breast and butt reduction before deciding to reintroduce herself.
In an Instagram video she posted earlier last month, Chyna shared, "It's not even worth it. I [got fillers] when I was so young, I didn't give my body time to fully develop. Trust me, it's going to come. You're going to get the snatched face that you need as you get older! Then when you get older, you're going to be like, 'Aw, I miss my baby face.'"
After taking her followers on a journey to the doctor, Chyna revealed that there are still a few more treatments for her fillers because she has been "getting fillers for years. It's like layers and layers and layers of it."
Aside from reclaiming her birth name and removing her facial fillers, Chyna also shared that she was baptized last year.
In an Instagram post earlier this week, she wrote, "I was reborn on my birthday 5-11-22 🙏🏽God is Good 🙌🏽"
One of her latest Instagram videos showed Chyna dressed in an all-white ensemble, submerged in a swimming pool during her baptism ceremony.
She wrote, "I got baptized on 5-11-22 ….. I was watching the video again and wanted to show you this because if you look closely at my mouth you can hear the spirits leaving my body. God is Good 🙌🏽."
Stunning in a Plunging Orange Gown
Blac Chyna arrived at the 54th NAACP Image Awards in Pasadena, California, in February after The Black Hamptons was nominated for Outstanding Television Movie, Limited Series, or Dramatic Special.
The socialite looked like a ray of sunshine in a striking orange dress paired with gold shoes, stealing the show with her vibrant burst of color.
Chyna's gown featured powerful boxy shoulders, and long sleeves, adorned with brilliant gilded details around her shoulders and abdomen, just below the plunging neckline.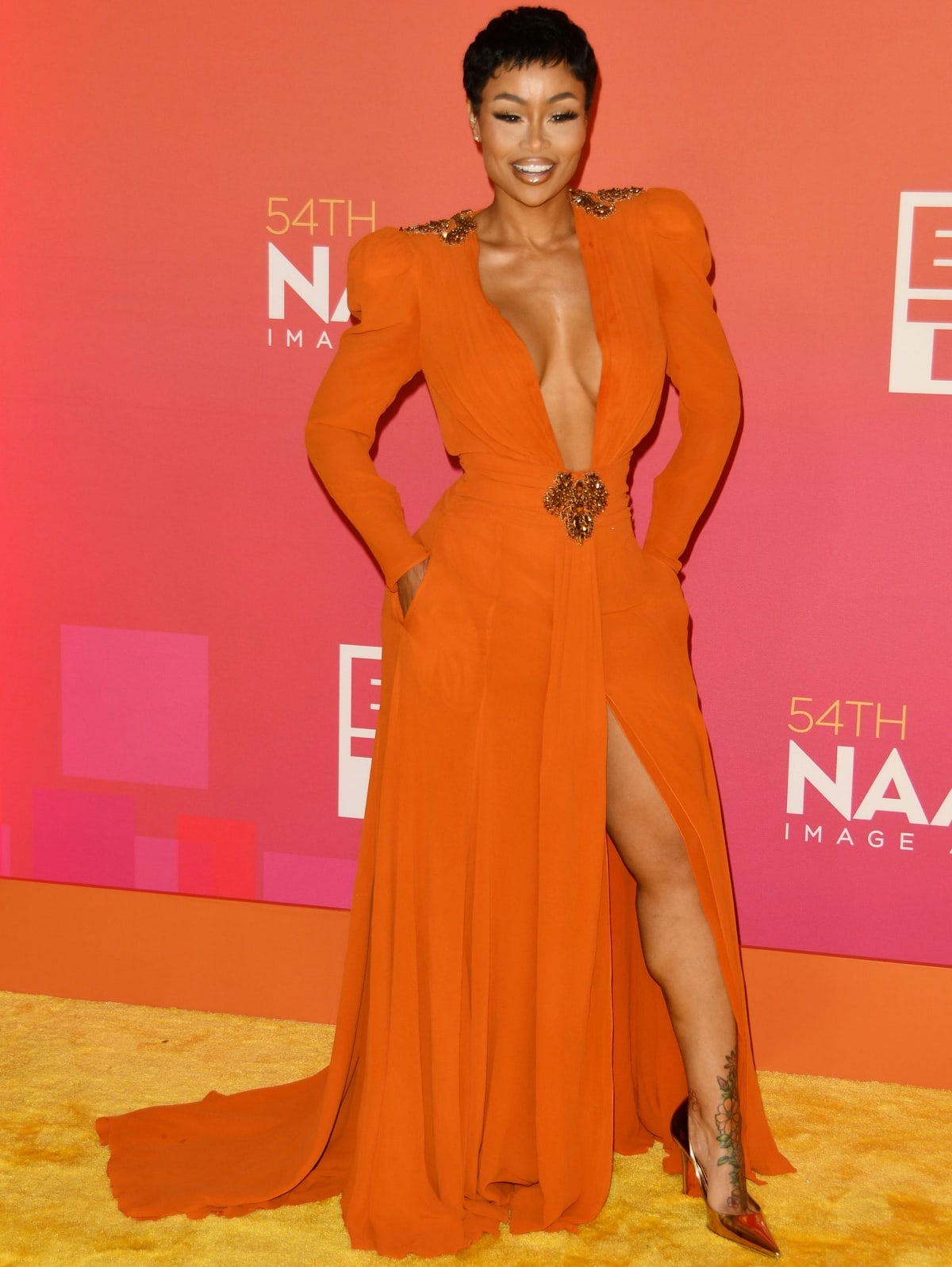 Blac Chyna was difficult to miss in her bright orange gown at the 54th NAACP Image Awards held at the Pasadena Civic Auditorium in Pasadena, California, on February 25, 2023 (Credit: KOI SOJER / Startraksphoto / Cover Images)
The top flowed casually while the skirt trailed a little behind her, and it featured two convenient large pockets on the hips and a front slit that drew attention to her stunning metallic gold pointed-toe shoes.
Completing her look, Chyna opted for a chic and playful curly pixie cut that complemented her features, paired with small diamond stud earrings.
The long manicure and impeccable makeup gave her a sophisticated and soft edge, and the rapper posed effortlessly with her leg peeking out from the high cut of the dress, revealing her foot tattoos.
Bold and Daring in a Feathery Ensemble
Blac Chyna appeared on the red carpet of the 2023 Grammys in February, decked up in a one-piece bodysuit made entirely of black feathers and embellished with stones.
The outfit's centerpiece was the jet-black feathers encircling and engulfing her head and upper body.
But it wasn't just the feathers that caught everyone's attention – raven skull pendants adorning the bodysuit's thighs added an extra touch of edge and mystique.
Blac Chyna in a black feathery ensemble at the 65th Annual Grammy Awards held at Crypto Arena in Los Angeles, California on February 5, 2023 (Credit: BauerGriffin / INSTARimages)
Chyna wore black gloves, stockings, and shoes to complete the all-black look. Her thick black eyeliner on her eyelids enhanced the dramatic effect of the outfit, making her look every bit the fierce and powerful queen she was.
However, her mother, Tokyo Toni, whose real name is Shalana Jones-Hunter, disapproved of her outfit and even criticized it, as reported by TMZ, saying, "It was terrible, and I just wish that whole day could just rewind and bring her back and put a nice gold dress on her with some blonde hair. We'd been happenin'. It was horrible."
The 51-year-old continued criticizing her daughter while making amusing comparisons, saying, "She looked like Black Adam's wife fell outta the sky. Like a fallen angel. It was disgusting."
Blac Chyna's mom, Tokyo Toni, was not too happy with her outfit at the 2023 Grammy Awards (Credit: BauerGriffin / INSTARimages)