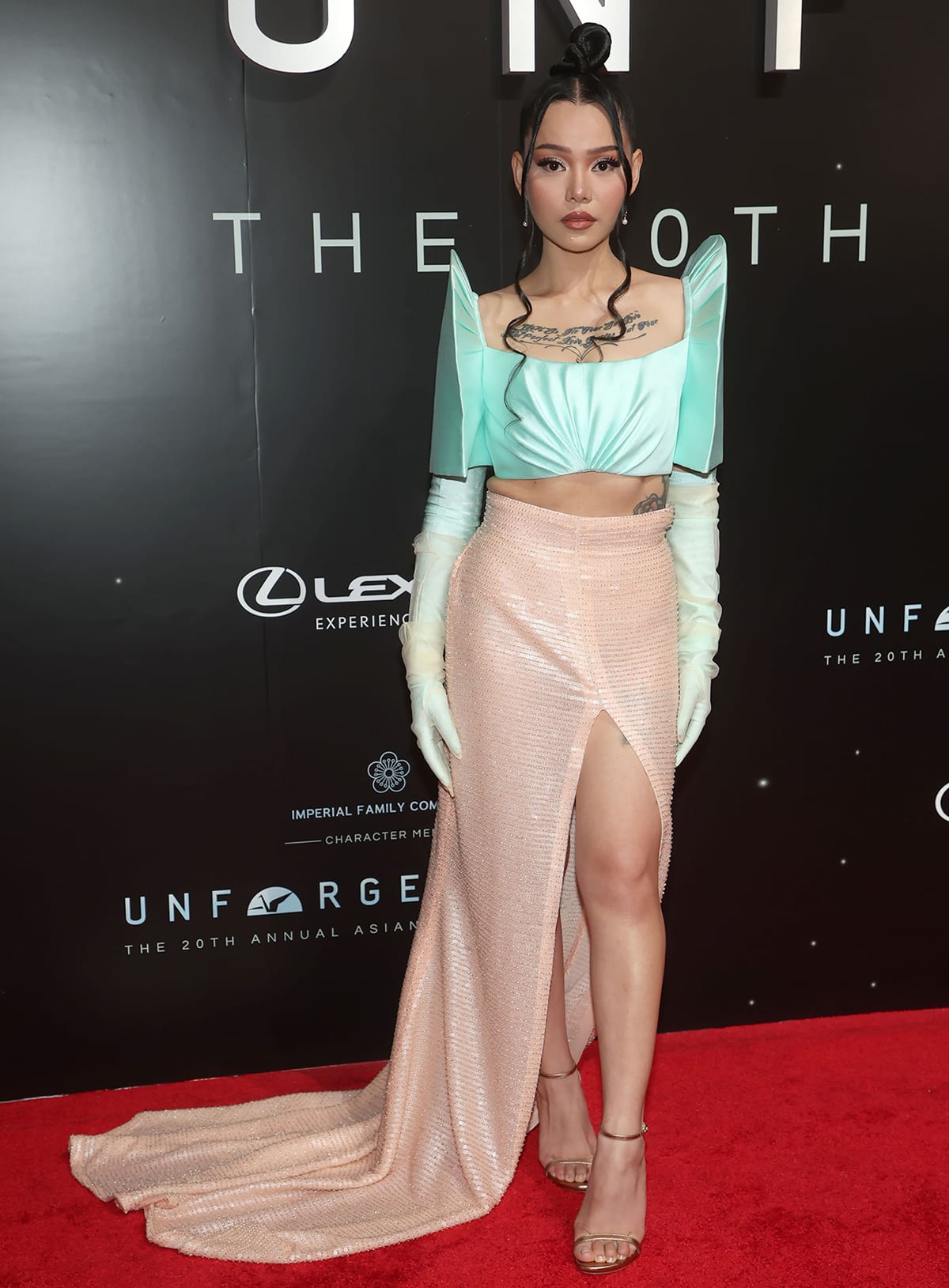 A month after filing for divorce from her husband of nearly four years, TikTok star Bella Poarch was pictured oozing with confidence as she posed on the red carpet at the 20th Annual Unforgettable Gala Asian American Awards.
Presented by Character Media at the Beverly Hilton Hotel, the gala, also known as UNFO, celebrated the achievements of Asian and Pacific Islander luminaries in entertainment, arts, and culture.
Although she wasn't honored at the event, the 25-year-old social media personality took to the stage to co-present the Digital Influencer Award to fellow Filipino Bretman Rock.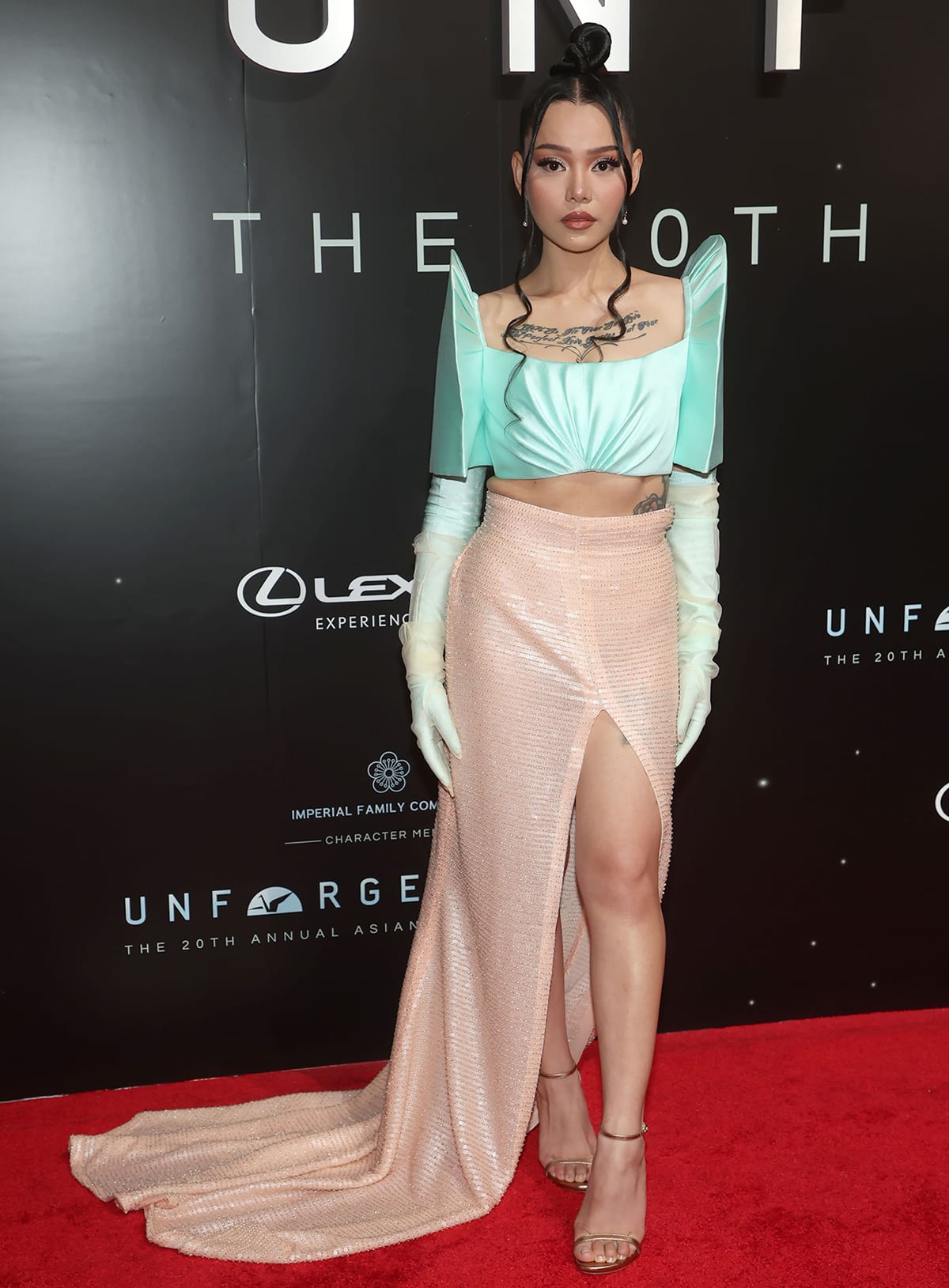 Bella Poarch attends the 20th Annual Unforgettable Gala Asian American Awards in Beverly Hills on December 17, 2022 (Credit: FAYES VISION / Startraksphoto / Cover Images)
Tapping into her roots, the Build a Bitch singer wore a modern rendition of traditional Filipino clothing.
She flaunted her body tattoos in a seafoam green crop top with flattened pleated sleeves, creating a semi-round shape above the shoulders. Also known as butterfly sleeves, this detail is one of the key signatures in a Filipiniana, a traditional dress worn by Filipino women.
Adding a sexy twist to the look, Bella paired her top with a high-waisted crystal-embellished pink maxi skirt that had a thigh-high slit and a floor-sweeping train.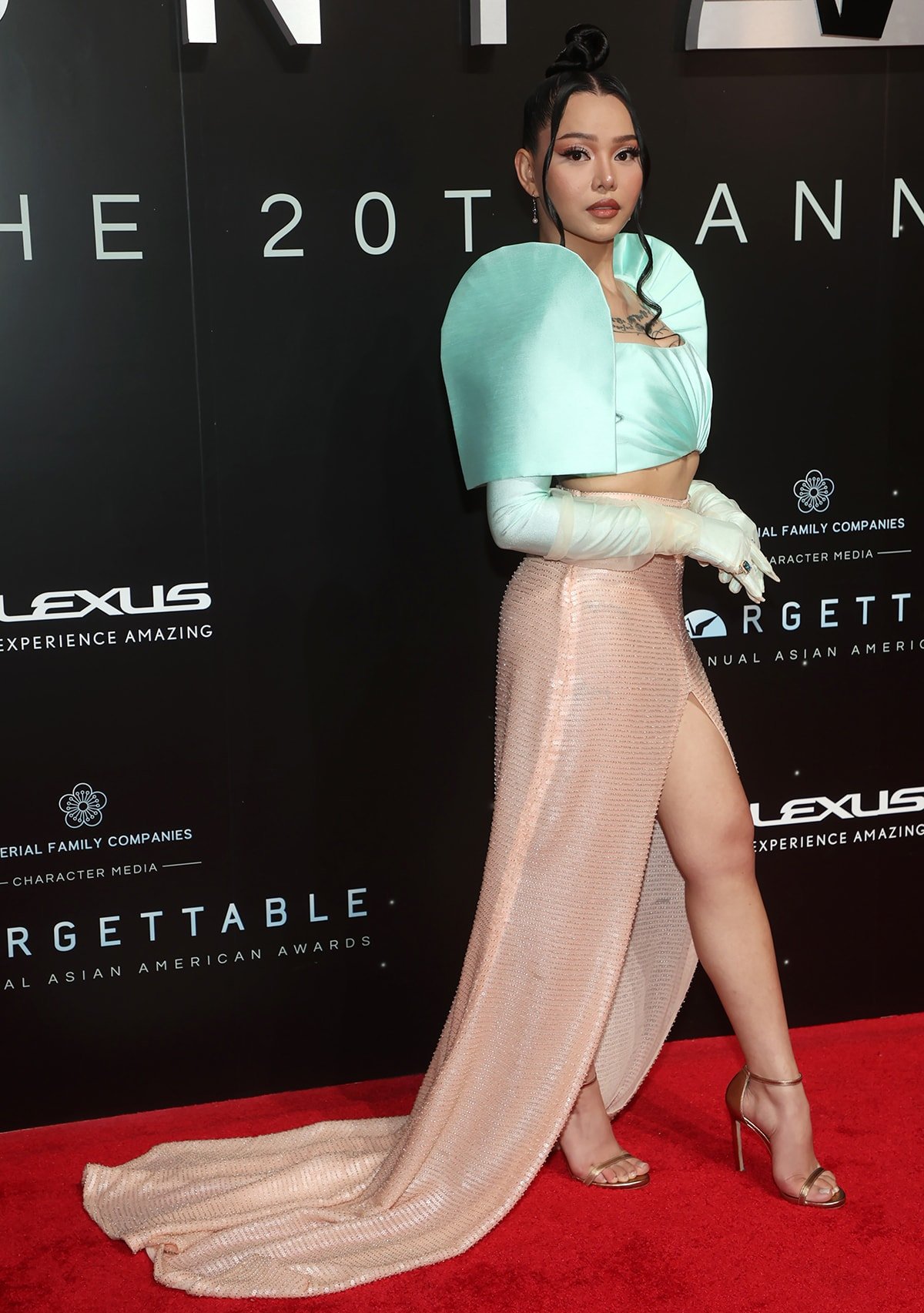 Bella Poarch parades her legs in a modern Filipino dress with a seafoam green crop top and an embellished pink maxi skirt (Credit: Faye's Vision / Cover Images)
One of the hottest female celebrities today, Bella added a dramatic finish to the ensemble with green opera gloves.
The third most-followed person on TikTok further accessorized with pearl drop earrings, several diamond rings, and a pair of dainty gold sandals.
She then pulled her tresses into a chic center-parted top knot with curled tendrils framing either side of her face and completed her glam with a full face of makeup featuring auburn smokey eye-makeup, winged eyeliner, and long eyelashes.
Bella Poarch showcases her chest tattoo and wears her tresses in a top knot with curled tendrils framing her face (Credit: FAYES VISION / Startraksphoto / Cover Images)
Bella Poarch Shocks Fans With Divorce Reports
Although she has over 92.4 million followers on TikTok, 14 million followers on Instagram, and 6.36 million subscribers on YouTube, Bella Poarch has managed to keep her private life away from the limelight.
Apparently, the Filipino-born American singer has been married for almost four years, and this information came as a surprise to many after TMZ reported that she has filed for divorce in Los Angeles County Court last month.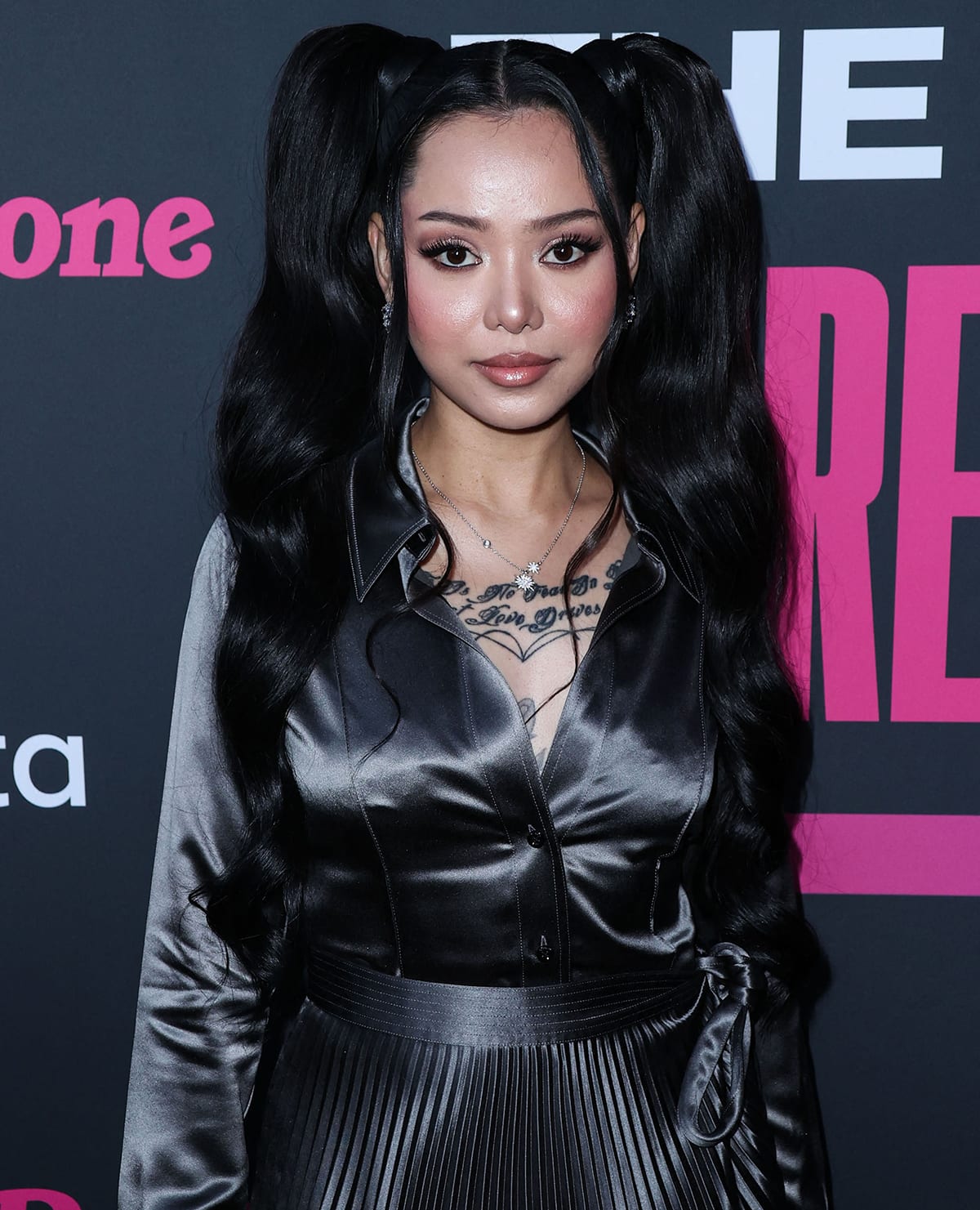 Bella Poarch shocks fans as she filed for divorce from her secret husband last month, nearly four years after marriage (Credit: Xavier Collin / Image Press Agency)
Fans were confused as Bella never mentioned anything about being in a relationship, and in a serious one at that. She was never even photographed with a man or with a wedding band.
"My jaw dropped, bella poarch married for four years?! She master keeping a secret," one tweeted.
Another pointed out Bella's real name, saying, "Aside from Bella Poarch being married secretly, I'm also shocked her surname's not Poarch it's her husband's. Her name is also NOT Bella, it's Denarie. Ms. Gurl or should I say Mrs. Girl was Denarie Bautista Taylor."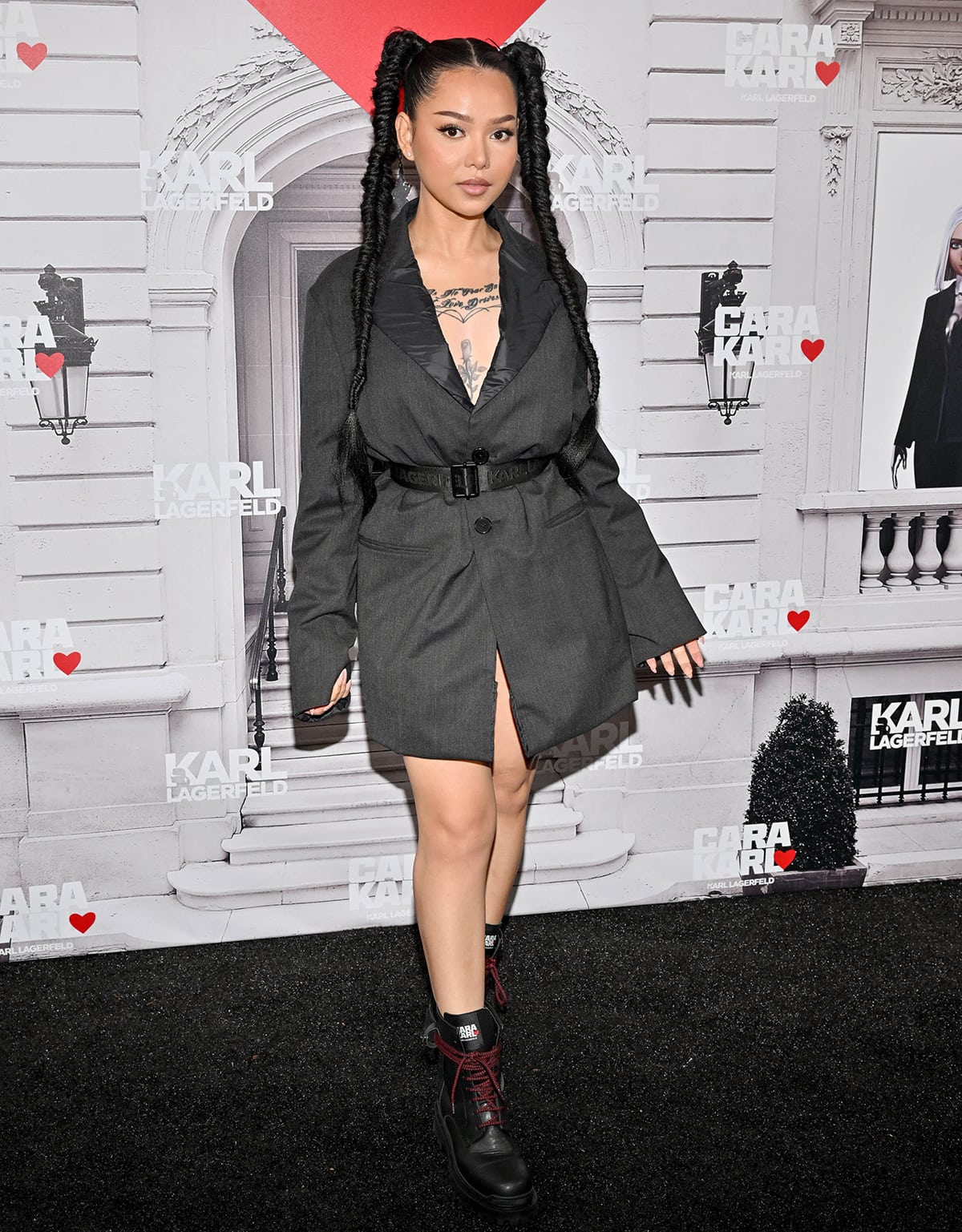 Bella Poarch's real name is Denarie Bautista Taylor (Credit: Julien Reynaud / ABACA / INSTARimages / Cover Images)
As per court documents obtained by E! News, Bella married a man named Tyler Poarch in January 2019, with their date of separation listed as undetermined.
Bella cited "irreconcilable differences" as grounds for the dissolution of their marriage and added that she does not want to pay nor receive any spousal support.
Bella Poarch Addresses Divorce Issue
Following TMZ's report, Bella Poarch broke her silence and apologized to her fans for keeping her nearly four-year marriage a secret.
"I am sorry if everyone thinks I've been keeping a secret. I will address my divorce when I am ready to speak about it. In the meantime please respect mine and Tyler's privacy."
She also announced taking a social media break, saying, "My team will be taking over my socials and posting certain obligations that need to be fulfilled. I will be taking a break from social media."