When we think of designers who have shaped the fashion world, European names usually come to mind—Coco Chanel, Yves Saint Laurent, or Louis Vuitton. On a similar level, few American designers have risen to global success. Oscar de la Renta is one of the few to make the cut.
The Dominican American fashion designer is famous for dressing everyone from America's First Ladies to British royalties and Hollywood icons. You'll rarely find a red-carpet event without an Oscar de la Renta dress.
Oscar de la Renta was famous for blending European fashion heritage with laidback American style (Credit: Humberto Carreno / startraksphoto)
De la Renta made a name for himself by bringing American and European fashion together, blending the fashion heritage of Europe with a laidback American approach that would define the idea of modern elegance.
Oscar de la Renta's career spanned over 50 years and includes the creation of his eponymous fashion label.
We're sharing everything you need to know about Oscar de la Renta and answering the most popular questions about the brand that rules the red carpet.
Who was Oscar de la Renta?
Oscar de la Renta grew up with six sisters in the Dominican Republic, where he was an unofficial ambassador, before moving to Madrid at 18 to study at the San Fernando Royal Academy of Fine Arts.
His early career focused on working as an illustrator for various fashion houses before he started working as Cristobal Balenciaga's assistant.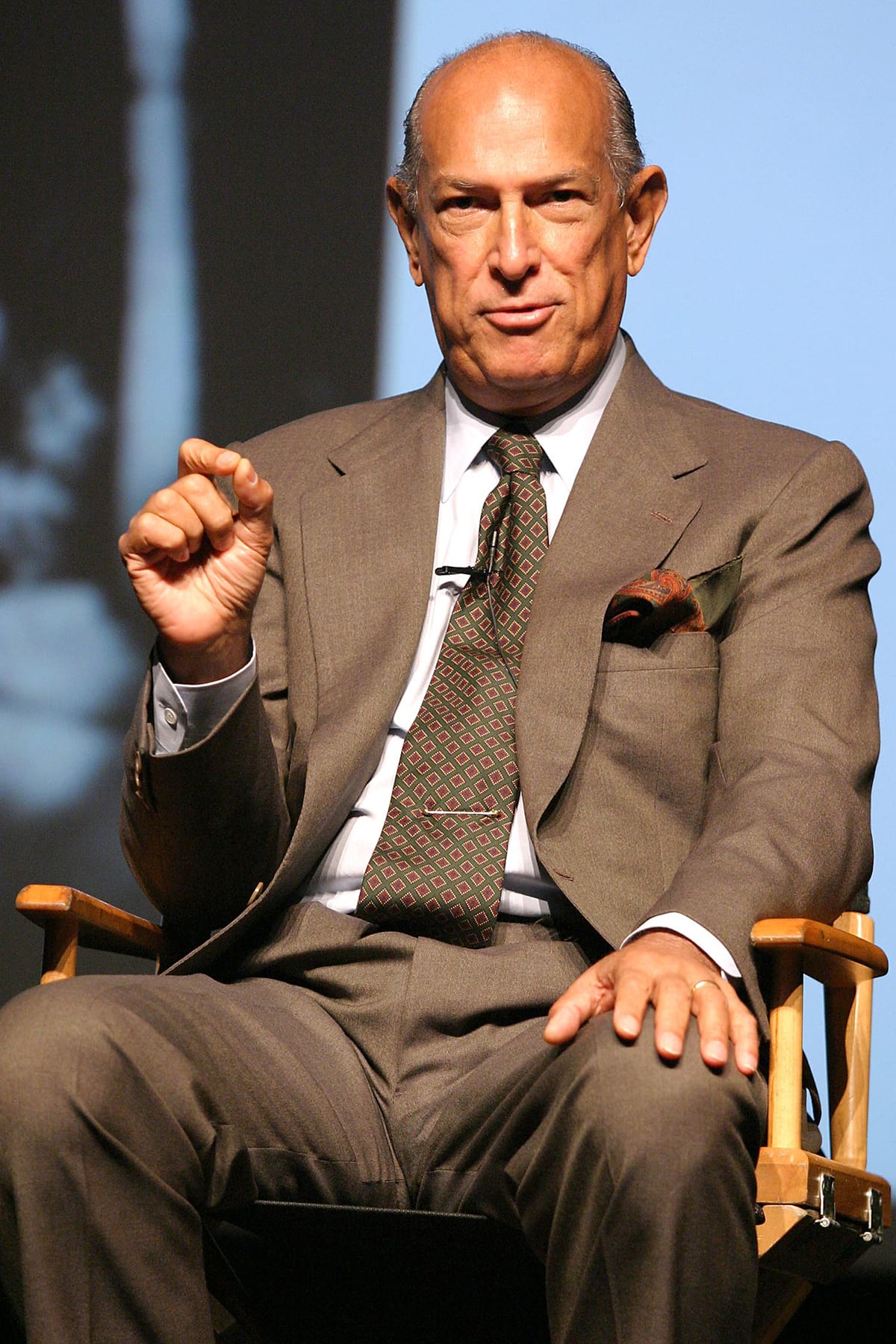 Oscar de la Renta was a Dominican-American fashion designer who began his career as an illustrator for several fashion houses (Credit: Alex Oliveira / startraksphoto)
He settled in Paris in 1961, working as an assistant to Antonio del Castillo at Lanvin. His time in Europe gave him a unique insight into its traditional ready-to-wear and concepts of female elegance.
De la Renta moved to New York in 1963 and began designing for Elizabeth Arden before launching his eponymous label in 1965.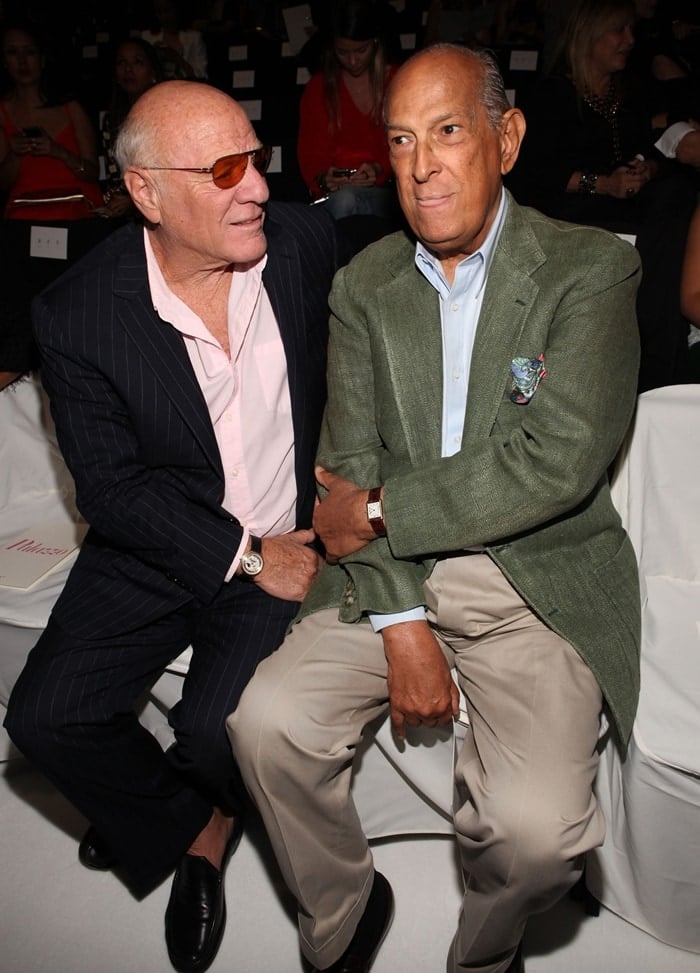 Designer Oscar de la Renta and Barry Diller attend the Diane Von Furstenberg Spring 2012 fashion show during Mercedes-Benz Fashion Week at The Theater at Lincoln Center on September 11, 2011, in New York City (Credit: B.Dowling/WENN)
The brand found an instant following amongst the jet-set who desired casual luxury clothing that was effortlessly chic with a distinctive European feel.
Cosmopolitan sophistication would become the backbone of his design DNA. His early collections blended European couture with American sportswear with soft silhouettes, vibrant color schemes, and luxurious textiles.
Karlie Kloss, Oscar De La Renta, and Daria Strokous during the Mercedes-Benz Fashion Week Spring 2015 (Credit: Gerardo Somoza / startraksphoto)
While de la Renta became one of the definitive giants of American fashion, his work was also widely popular in Latin America. Oscar was awarded the Juan Pablo Duarte Order of Merit and the Order of Cristobal Colon.
He was given a Lifetime Achievement Award from the Council of Fashion Designers of America after serving as its president on two occasions from 1973 to 1988.
Who is Oscar de la Renta?
He was one of the world's leading fashion designers and known for his feminine dresses, perfume, sunglasses and shoes.
What did Oscar de la Renta die from?
He was diagnosed with cancer in 2006 and died from complications from the disease on October 20, 2014, at his home in Kent, Connecticut, at the age of 82.
How much is Oscar de la Renta worth?
At the time of his death, he had an estimated net worth of $100 million.
Where is Oscar de la Renta buried?
A private funeral for family and close friends was be held on November 3, 2014, at the Church of St. Ignatius Loyola at Park Avenue in Manhattan, New York City. He was cremated and his ashes were given to his family.
How much is an Oscar de la Renta wedding dress?
Oscar de la Renta wedding dresses usually retail from around $5,000 to $25,000.
Who did Oscar de la Renta marry?
He was married to Françoise de Langlade, a magazine editor with Conde Nast Publications, from 1967 until her death from bone cancer in 1983.

He was married to Annette de la Renta, an American philanthropist and socialite, from 1989 until his death in 2014.

Who owns Oscar de la Renta?
The American brand is still family-owned.
Who is the creative director of Oscar de la Renta?
The co-creative directors of Oscar de la Renta are Monse founders Fernando Garcia and Laura Kim.
Where can i buy Oscar de la Renta perfume?
You can find his fragrances and body lotions on Amazon.
De la Renta's success wasn't limited to his own fashion label. He became the first American to take a senior position at a French couture brand in 1993 when he became Balmain's head designer.
Oscar de la Renta holding his Designer of the Year award at Accessories Council's 9th Annual ACE Awards on November 8, 2005 (Credit: Albert Ferreira / startraksphoto)
What is Oscar de la Renta Known For?
De la Renta was named the CFDA Womenswear Designer of the Year in 2000. In 2006, he launched his first bridal collection.
Throughout his collections, de la Renta is famous for his use of romantic silhouettes inspired by Spanish and Caribbean fashion.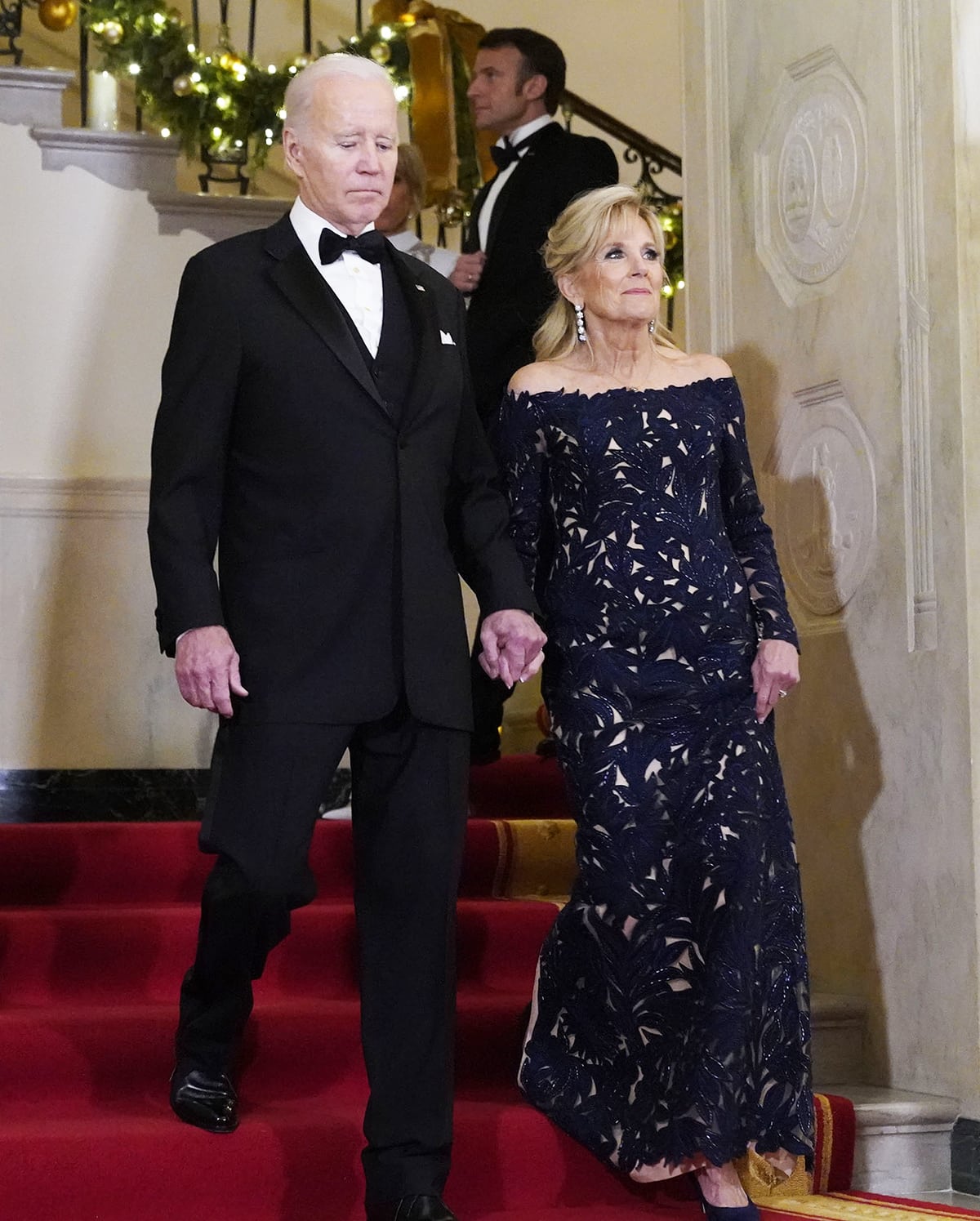 First Lady Dr. Jill Biden wearing a custom hand-beaded Oscar de la Renta gown for the first White House State Dinner of the Biden administration on December 2, 2022 (Credit: Chris Kleponis / Pool / CNP / startrak / Cover Images)
Oscar de la Renta is best known for its luxury ready-to-wear and evening wear.
While the brand is a frequent sight on the red carpet, de la Renta personally designed dresses for several of America's First Ladies, including Jackie Kennedy, Nancy Reagan, Hillary Clinton, and Michelle Obama. His designs have been worn to inaugural balls, state functions, and everywhere in between.
In addition, his designs became synonymous with Hollywood royalty. De la Renta developed a close relationship with actresses like Emma Watson and Nicole Kidman. George Clooney's wife, Amal Alamuddin, famously wore an Oscar de la Renta dress to her 2014 wedding.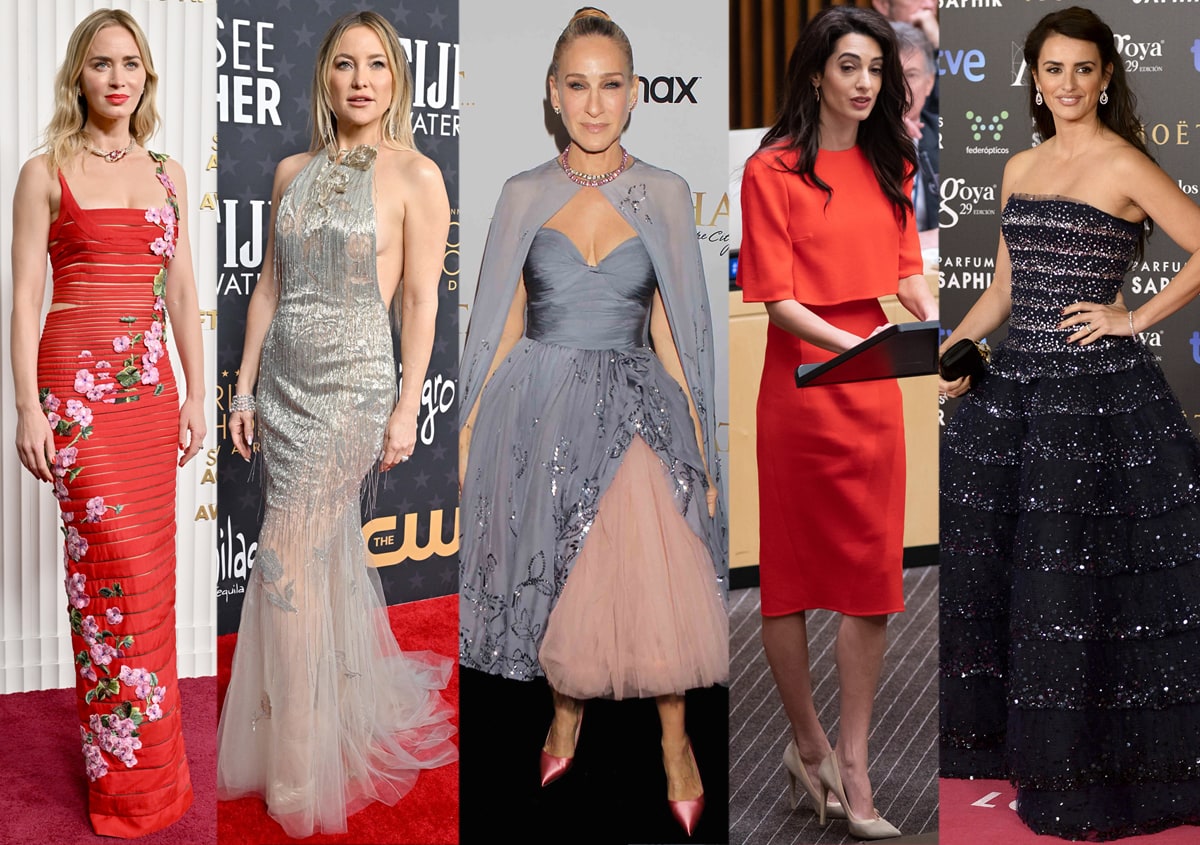 Emily Blunt, Kate Hudson, Sarah Jessica Parker, Amal Clooney, and Penelope Cruz wearing Oscar de la Renta gowns and dresses (Credit: BauerGriffin / INSTARimages / Cover Images / Dave Allocca / StarPix for HBOmax / Startraksphoto / Janet Mayer / Marta Gonzalez / DyD Fotografos)
His tenure at the head of the brand saw it expand into several other categories, including the launch of the Oscar de la Renta home line in 2002 and the brand's range of fragrances. While Oscar de la Renta passed away in 2014, his eponymous fashion brand lives on.
Ownership of Oscar de la Renta
Oscar de la Renta stands out in the fashion industry for several reasons. Its products continue to be made in the United States, and the company is privately owned and backed by private equity.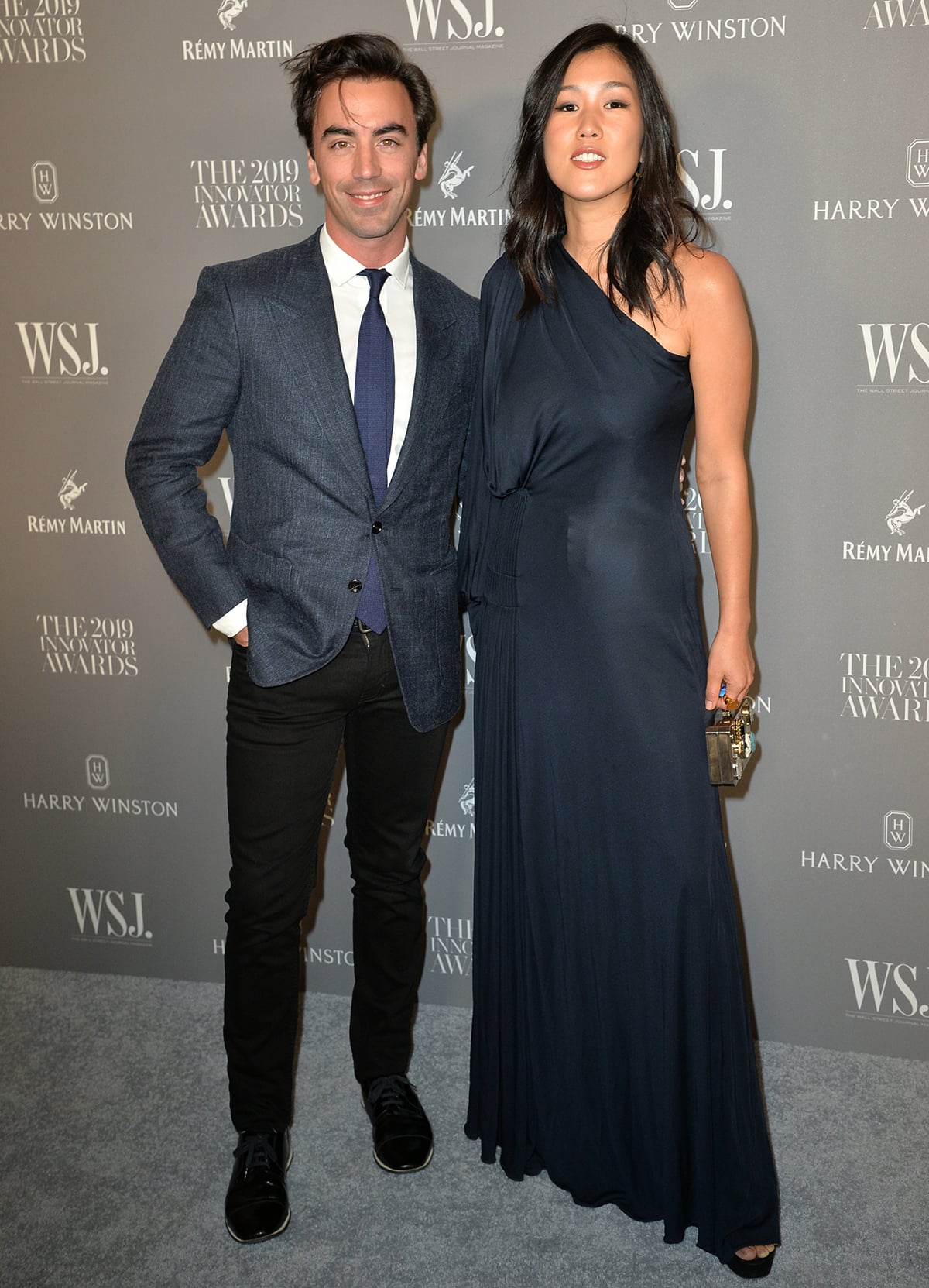 Fernando Garcia and Laura Kim, founders of NYC-based label Monse, serve as Creative Directors at Oscar de la Renta after the late designer passed away in 2014 (Credit: Kristin Callahan / ACE / INSTARimages)
After the passing of Oscar de la Renta, the brand appointed Fernando Garcia and Laura Kim as its Creative Directors. Vogue described the appointment as "keeping it in the family"as both designers began their careers at the fashion house.
Where to Find Oscar de la Renta Stores
Oscar de la Renta has several boutiques across the world and is available in-store and online through luxury department stores. Oscar de la Renta's flagship store is located on Madison Avenue in New York, with international stores in London and Paris.
You can purchase Oscar de la Renta from department stores like Bergdorf Goodman and Nordstrom and luxury e-commerce stores like Amazon, Farfetch, and Mytheresa.
How to Pronounce Oscar de la Renta
Oscar de la Renta is pronounced as "os-car de la rent-a".
Where Are Oscar de la Renta Products Made?
While most designers have begun to export their production to Asia, Oscar de la Renta is remaining true to its American roots.
Most Oscar de la Renta products continue to be made in the United States, including their best-selling ready-to-wear. You can check the manufacturing location of Oscar de la Renta items by viewing the product descriptions on the brand's official website.
How Expensive is Oscar de la Renta?
Oscar de la Renta sits firmly in the luxury price bracket. You can expect to pay anywhere from $700 for a simple silk tank top to $17,000 for an evening gown. Most everyday ready-to-wear from Oscar de la Renta sits around the $2,000 price mark.
Many of the most expensive items by Oscar de la Renta come from the brand's bridal collection. The average Oscar de la Renta handbag will set you back $2,500, while Oscar de la Renta's beauty range sits at a more accessible price point of $90 to $415.
Oscar de la Renta creations—from its gowns and dresses to bags, accessories, and shoes—sit in the luxury price bracket
Oscar de la Renta is a brand that every fashionista wants in their closet. Few brands have linked celebrity and royalty with fashion history like Oscar de la Renta.