Heidi Klum, a renowned fashion icon, once again proved her style prowess at the 2023 Nickelodeon Kids' Choice Awards, showcasing her fashion-forward looks and leaving no room for disappointment.
The 49-year-old German-American star stepped onto the orange carpet in an eye-catching ensemble that showed off her toned figure.
Heidi, one of the most successful models in the world, wore a heart-embellished Moschino outfit designed by the label's creative director Jeremy Scott for the event held at the Microsoft Theater in Los Angeles.
Heidi Klum got the whimsical memo and showed up in a heart print ensemble with inflatable red hearts at the 2023 Nickelodeon Kids' Choice Awards held at the Microsoft Theater in Los Angeles, California on March 4, 2023 (Credit: Dave Bedrosian / DDP / INSTArimages)
Her outfit, which is available at Luisaviaroma, features red hearts with nozzles that are all inflatable. "Everybody's talking about inflation," Jeremy Scott told Vogue.
"The cost of everything's going up: housing, food, life. So I took inflation into the collection."
"Sometimes we feel like we're drowning," Scott added about all the negative news stories. "I'm sure you do. I know I do. But no matter what is going on, we have to save space for joy, right? The darker it is, the lighter I have to be."
Her ensemble was from the brand's Spring 2023 collection and consisted of a black, gathered skirt and a strapless crop top with a red and white heart print. The outfit's glossy, inflatable red hearts added a playful touch, resembling pool floaties.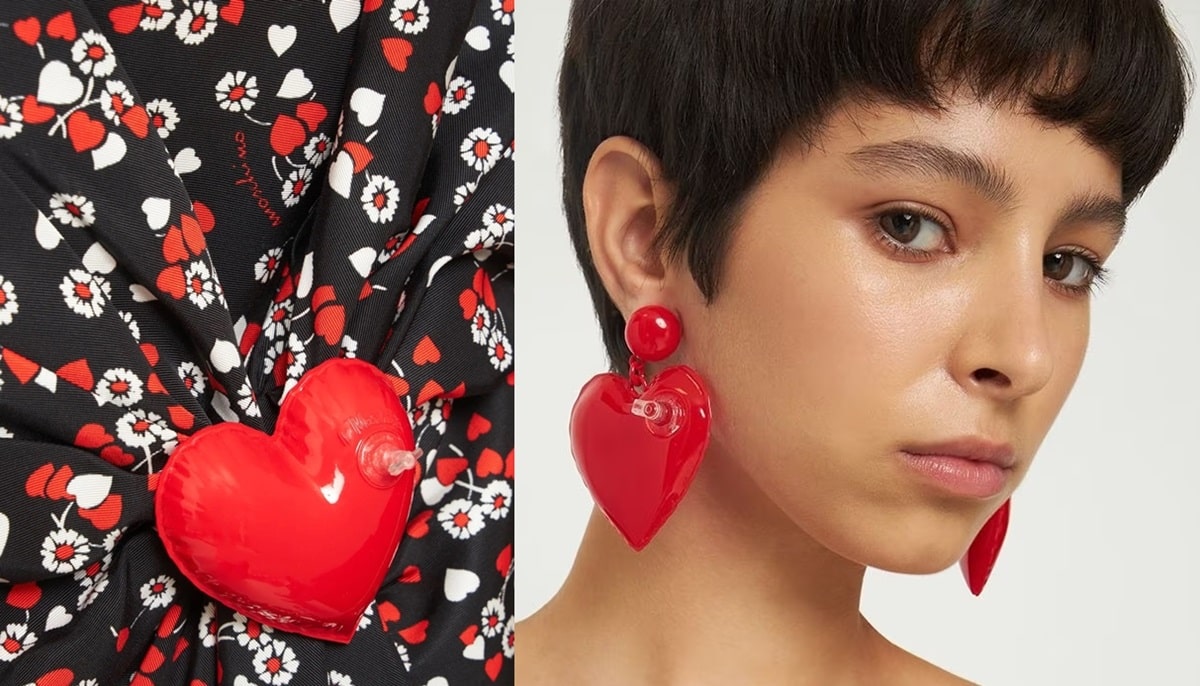 Jeremy Scott embraced the theme of inflation in his latest collection for Moschino by incorporating inflatable red hearts into the collection
The celebrated Queen of Halloween sure knows how to accessorize her outfit, wearing matching red heart-shaped drop earrings by Moschino and a black leather handbag with a heart embellishment.
Heidi's footwear was equally whimsical, as she opted for a pair of black Moschino pumps with a sculpted triangular toe. Her toes were topped with a rounded, inflatable red heart that coordinated perfectly with the rest of her outfit.
The sliming of the stars may be the night's main attraction, but Heidi's flash of abs in a mesh miniskirt and crop top on the orange carpet was the real showstopper.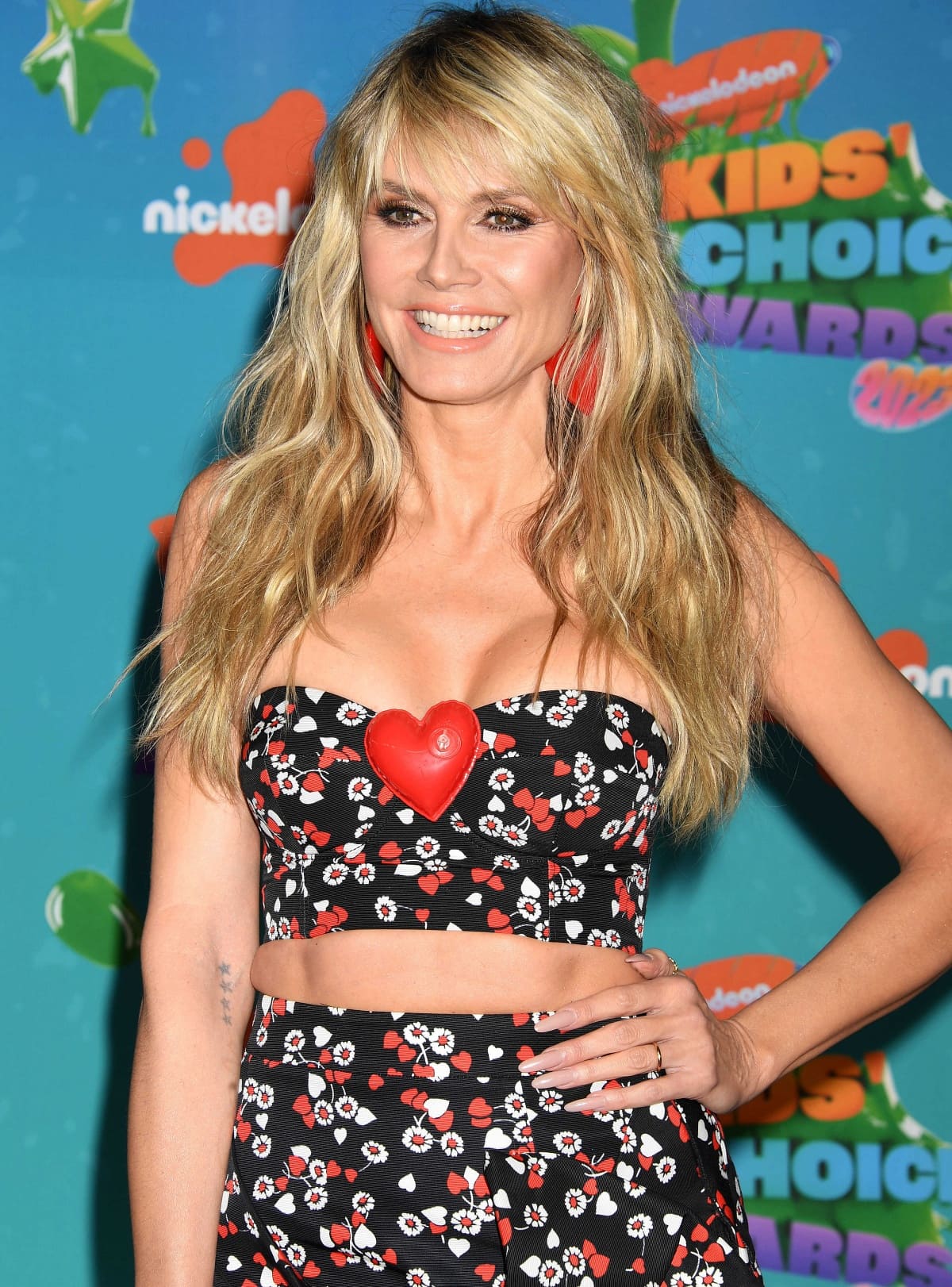 Heidi Klum's Ottoman all-over print heart crop top with an inflatable red heart showed off her enviable abs and stole the spotlight on the orange carpet (Credit: PAPIX INSTARimages)
Heidi was nominated for a Favorite Reality Show award for America's Got Talent, which unfortunately lost out to MasterChef Junior. However, her outfit certainly made her a winner of the event.
The whimsically romantic ensemble was perfect for the fun and playful atmosphere of the Nickelodeon Kids' Choice Awards, and Heidi stood out among the crowd.
Heidi Klum on Being a Proud Mom to Daughter Leni
The former Victoria's Secret Angel has always been one of the most renowned models in the fashion industry. However, her 18-year-old nepotism daughter, Leni Olumi, now follows in her mother's footsteps as she establishes her modeling career.
Leni is presently attending interior design in college while juggling her modeling career.
In a recent interview with People at the 36th Nickelodeon Kids' Choice Awards, Heidi Klum expressed her pride in her daughter's accomplishments. She said, "I'm very proud of my daughter and her modeling. And she's studying at the same time, she's juggling already."
Leni Klum attending the Michael Kors Fall/Winter 2023 show during New York Fashion Week on February 15, 2023 (Credit: Janet Mayer / Startraksphoto / Cover Images)
Following her breakup with Italian businessman Flavio Briatore in May 2004, Heidi gave birth to Leni. Seal, Heidi's 60-year-old ex-husband, adopted Leni in December 2009.
Along with Leni, Heidi and Seal are parents to Lou Sulola, 13; Johan Riley, 16; and Henry Günther, 17.
Leni's modeling debut was alongside her mother on the cover of Vogue Germany.
In an exclusive interview with People in October 2022, the young model said, "I've always gone to work with my mom and thought, 'This looks so fun.' She looks so happy while she's working. I'd jump in sometimes, and I'd play around with the makeup that her makeup artist would bring."
Leni remarked about the mother-daughter cover: "That's like, insane that I did that as my first job, and my mom was with me, which made it so much fun. It was just such a good day. I wasn't nervous at all. I was just so excited. I was like, 'I'm finally modeling, and it's Vogue.' It was just so many things to be excited about."
Heidi Stuns in Miss Sohee at Billboard Women in Music Awards
The 2023 Billboard Women in Music Awards, held at the YouTube Theater in Inglewood, California, was an unforgettable night for music industry trailblazers who have made significant contributions to the field.
However, even though she isn't a musician, Heidi Klum made a big impression at the event. The supermodel contributed her star power as she attended the occasion as a prominent presenter.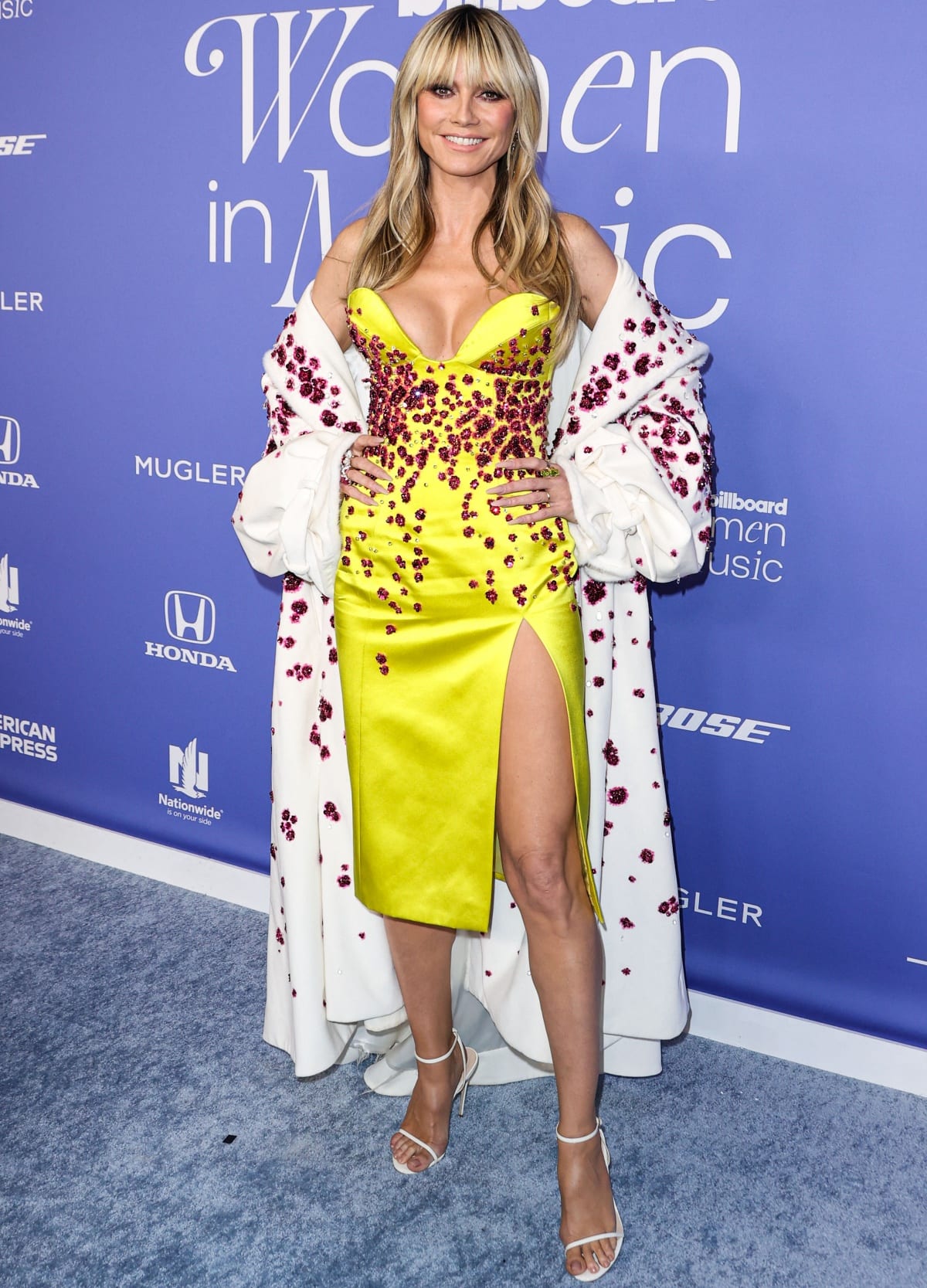 Heidi Klum wearing a yellow Miss Sohee Spring 2023 gown at the 2023 Billboard Women in Music Awards held at the YouTube Theater in Los Angeles, California on March 1, 2023 (Credit: Abaca Press / INSTARimages)
Heidi's fashion choice at the awards show was a gorgeous yellow gown from Miss Sohee's Spring 2023 collection. The dress featured a plunging sweetheart neckline and a skirt that ended just below the knee, emphasizing her chiseled body and appealing curves.
It also had stunning red appliqué accents and a dramatic high slit, which showcased the TV personality's toned legs.
Tom Kaulitz's wife layered a chic white overcoat with sparkling red embroidered accents over the dress, making a bold fashion statement.
To complete her look, Heidi wore Stuart Weitzman's slinky Nudistcurve sandals (available at Zappos) paired with the glittering Anabela Chan rose Cinderella ring, Anabela Chan ruby blossom ring, and clarity gold ring from Shine Like Me.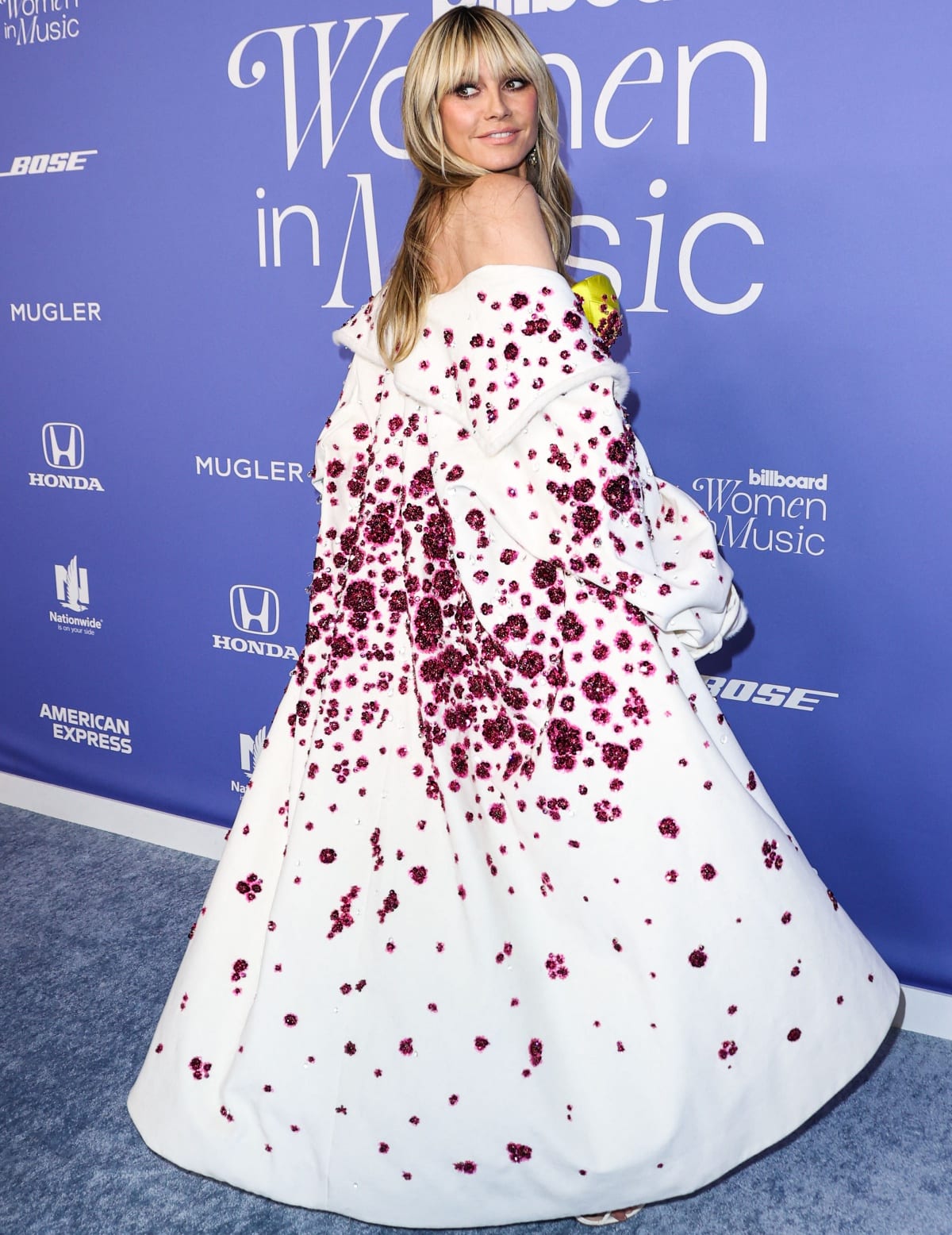 Heidi Klum showing off her glittering overcoat at the 2023 Billboard Women in Music Awards (Credit: Abaca Press / INSTARimages)
Her trademark long blonde hair was styled down in loosely curled waves with eyebrow-grazing fringe, adding a touch of glamour to her overall look.
As for her makeup, Heidi opted for a classic smokey eyeshadow, long lashes, rosy dewy blush, and a glossy pink lip, which complemented her dress perfectly, adding a touch of elegance and sophistication.
Heidi Klum undoubtedly stole the 2023 Billboard Women in Music Awards show. Her presence at the ceremony was a reminder that fashion and music go hand in hand, and she left everyone in awe of her beauty and style.