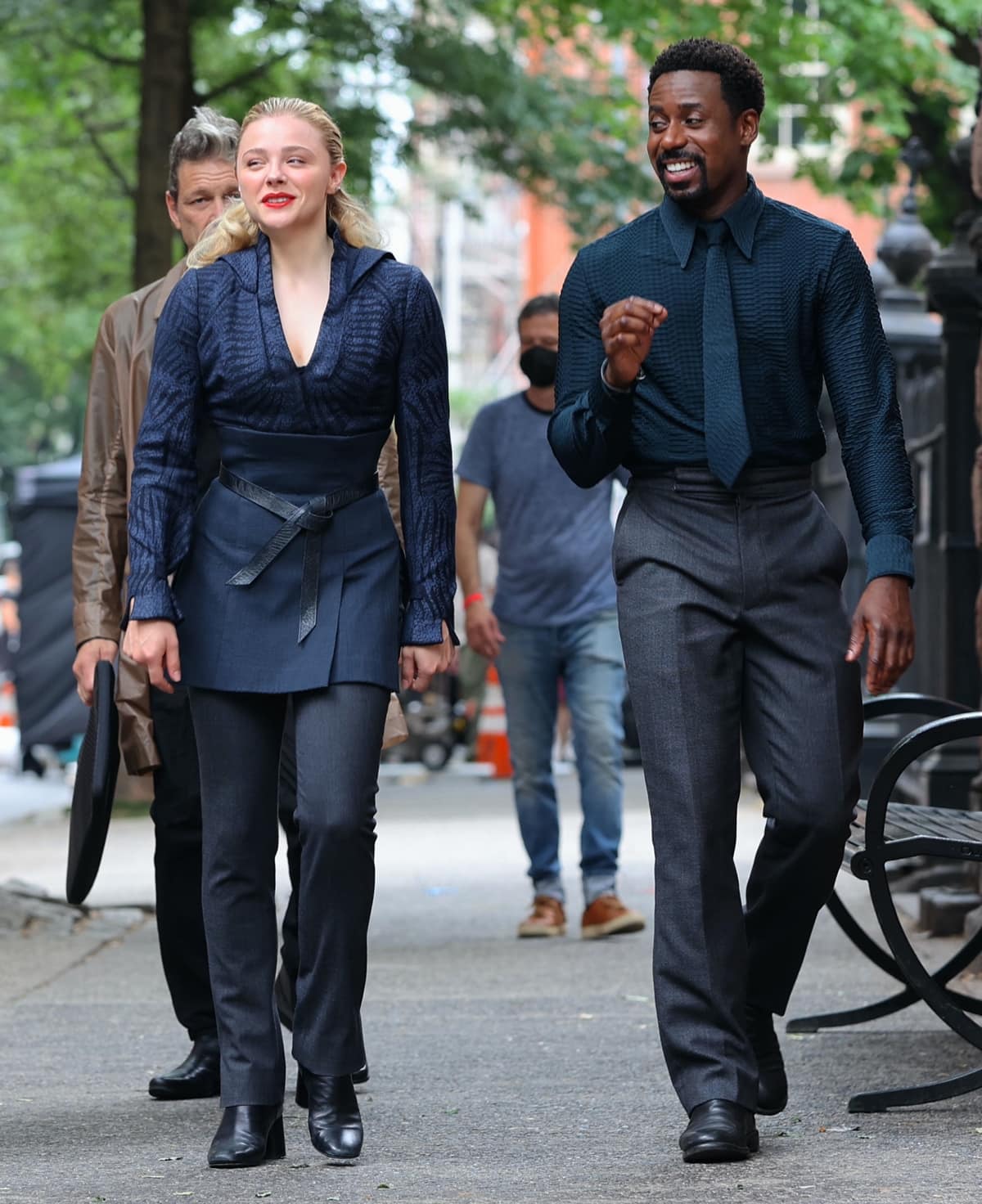 Have you been able to catch any episodes of The Peripheral yet?
In a television world dominated by fantasy juggernauts (Amazon's Rings of Power and HBO's spinoff of GOT – House of the Dragon), The Peripheral has managed to gain some hype ahead of its premiere date of October 21, 2022, due to its unique brand of grounded science fiction – something sorely lacking in the television space at the moment.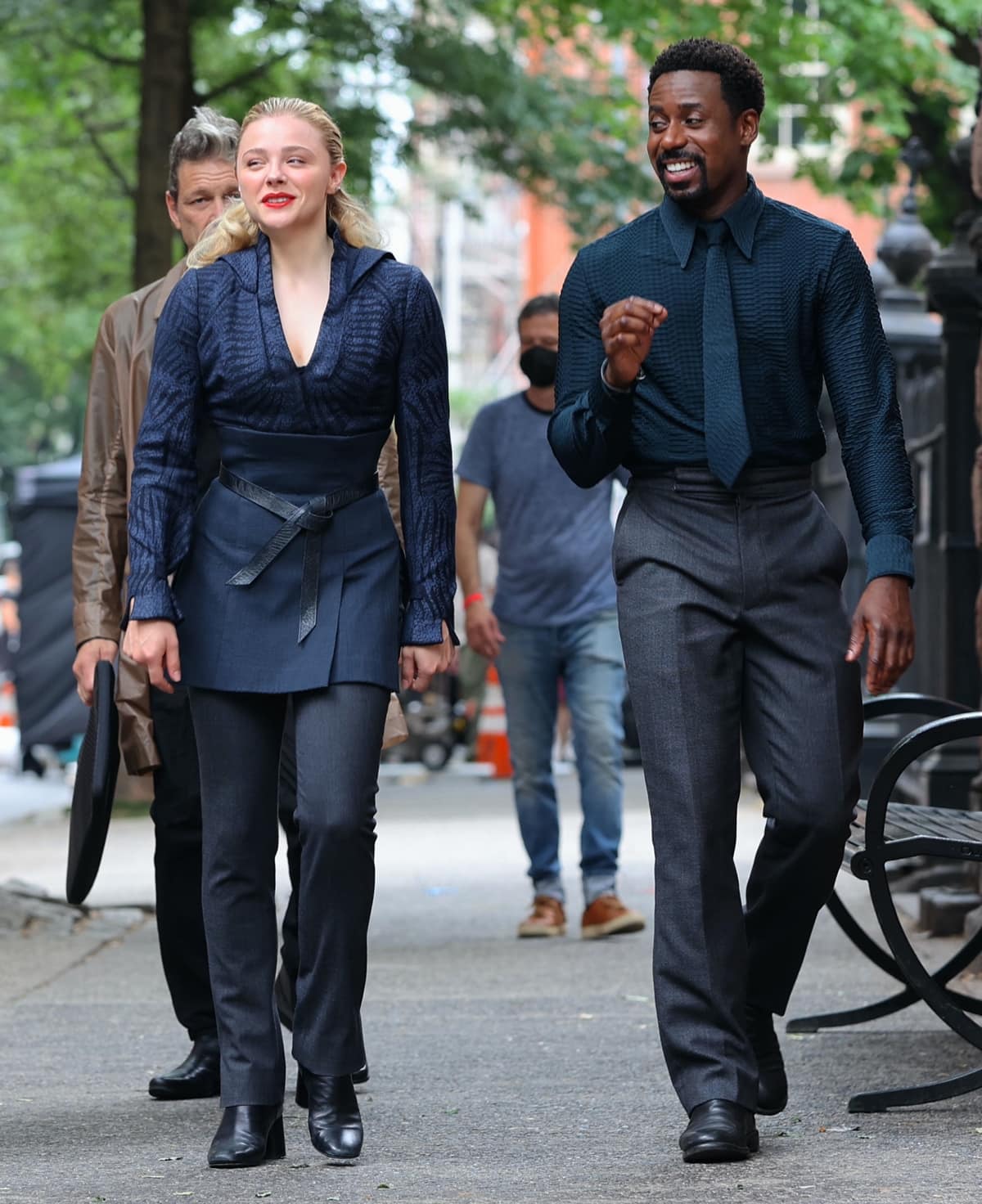 Chloe Grace Moretz and Gary Carr in utilitarian looks seem to have a good time on the set of The Peripheral while filming in New York City on July 18, 2022 (Credit: Jose Perez / INSTARimages / Cover Images)
The show is based on a novel by author William Gibson, which was originally published in 2014. The book is not surprisingly an editor's pick on Amazon, which first announced that it had purchased the rights to adapt the novel into a show back in 2019, and that's when they initially began to search for young stars to fill out the cast.
The series showrunner is Scott B. Smith, who is perhaps most renowned for his novel A Simple Plan, which was itself turned into a film directed by Sam Raimi in 1998.
Gary Carr, Chloë Grace Moretz, and Jack Reynor attend "The Peripheral" red carpet premiere and screening at The Theatre at Ace Hotel on October 11, 2022, in Los Angeles, California (Credit: Jeffrey Mayer / Media Punch / INSTARimages / Cover Images)
The show centers around Flynne Fisher, a young woman who lives in the Southern United States. In an alternative version of the near future, Fisher works in her small town at a 3-D print shop but makes additional income by playing virtual reality games for mysterious wealthy clients.
She begins to slowly realize that one of the video games she plays is actually the real future – 70 years into the future, in fact.
1. How Chloe Grace Moretz Was Cast as Flynne Fisher
Flynne Fisher is portrayed by Chloe Grace Moretz, a young star who (up until this point) is perhaps most renowned for her work in the late 2000s to 2010s. She was born in 1997 and hails from Atlanta, Georgia.
She began her acting career very young, after being inspired by her older brother Trevor, whose acting ambitions caused the family to relocate to New York City in 2002.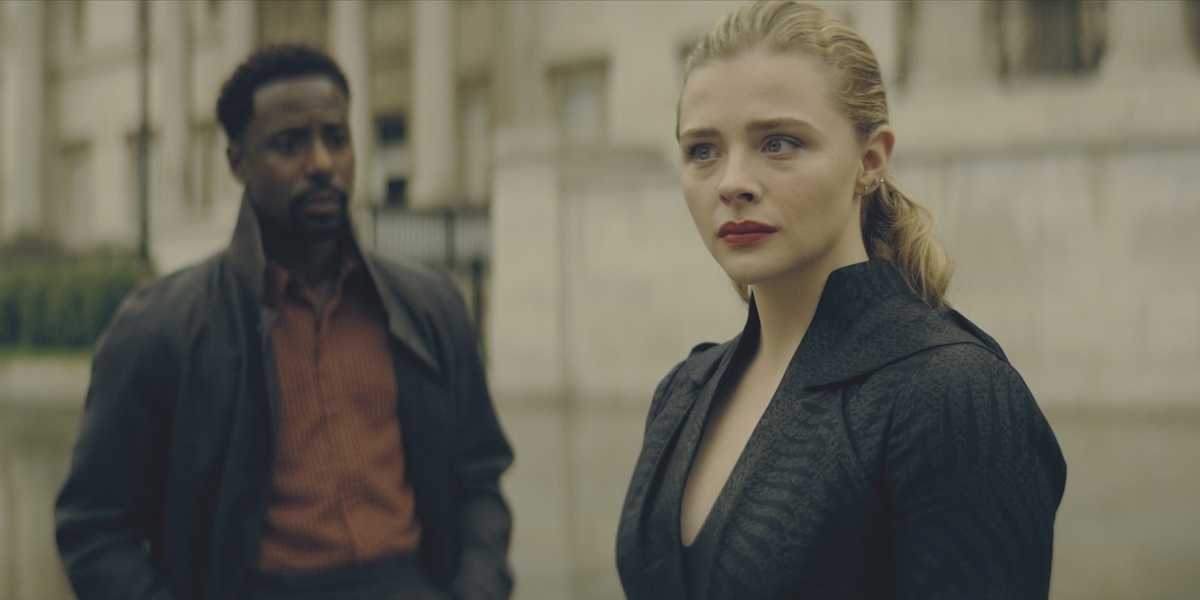 Chloë Grace Moretz as Flynne Fisher and Gary Carr as Wilf Netherton in the American science fiction streaming television series The Peripheral (Credit: Amazon)
Her first major acting role came in 2005 at the age of eight when she appeared in the 2005 remake of The Amityville Horror. Her next major role (and perhaps her most famous) came as the vigilante Hit-Girl in 2010's Kick-Ass.
This role garnered controversy due to Moretz's young age, coupled with the violence and profanity that the role commanded. In the same year, she starred as the vampire Abby in Let Me In, which was another role she became synonymous with.
In 2011 she famously starred in Martin Scorsese's Hugo, where she played the adored role of Isabelle.
Female cast members Alexandra Billings, Chloë Grace Moretz, T'Nia Miller, and Adelind Horan promote their new Amazon series, The Peripheral (Credit: Jeffrey Mayer / Media Punch / INSTARimages / Cover Images)
Since that time, however, she has appeared in smaller Hollywood productions that have failed to gain as much traction as her earlier work.
The casting directors of The Peripheral definitely noticed her talent onscreen, which is why they decided to give her a chance and give her the role of Flynne in The Peripheral. At the premiere of her new show held at the Ace Hotel in Los Angeles, she looked stunning in Louis Vuitton.
2. How Jack Reynor Was Cast as Burton Fischer
Jack Reynor stars opposite Chloe Grace Moretz as Burton Fischer, Flynne's older brother. Burton originally works as a virtual video game player but gives the job up to his younger sister as he leaves their small town to protest a religious extremist group.
Born in 1992 in Longmont, Colorado, he relocated to Ireland at the age of 2. Jack Reynor initially found success in the Irish cinema industry when he starred as Richard Karlsen in What Richard Did, which was released in 2012.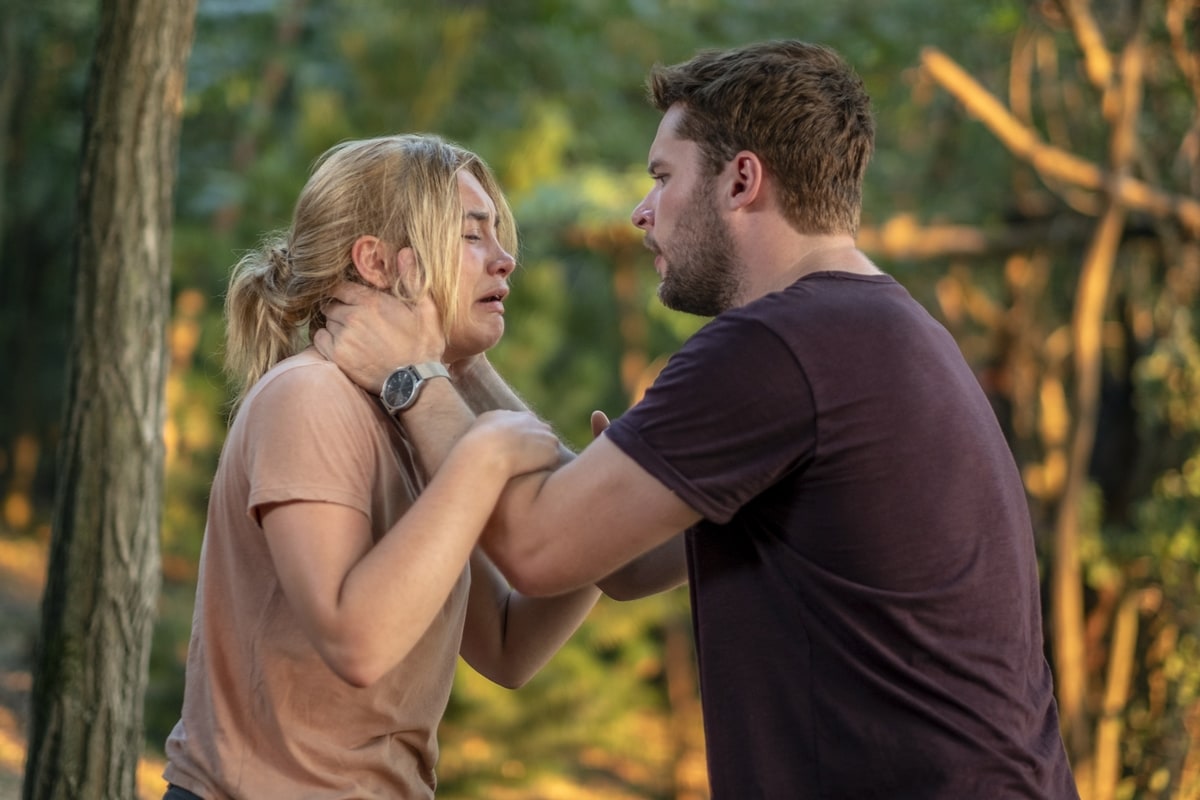 Florence Pugh as Dani Ardor and Jack Reynor as Christian Hughes in the 2019 folk horror film Midsommar (Credit: A24)
He followed up this success by appearing in multiple high-profile Hollywood films. The American-Irish actor starred as an Irish race car driver in the 2014 American science fiction action film Transformers: Age of Extinction and went fully nude as Ari Aster in the 2019 psychological horror film Midsommar.
We're sure this recent string of successful roles caught the eyes of The Peripheral's casting directors, who decided to cast Reynor in the main role of Burton Fisher.
3. How Gary Carr Was Cast as Wilf Netherton
English actor Gary Carr portrays the role of Wilf Netherton in The Peripheral, an English publicist who lives in London during the 22nd century.
Carr was born in London in 1986 and seemed destined to pursue a career in performance after training at the London Academy of Music and Dramatic Art from 2005 to 2008.
Gary Carr as American Jazz singer Jack Ross, Lily James Rose MacClare, and Allen Leech Tom Branson in the ITV historical drama Downton Abbey (Credit: ITV)
Up until this point, Carr has only managed to act in British production for the BBC and ITV, as well as acting on stage for the Royal National Theatre. He is best known for his performance as police officer Fidel Best in the BBC television series Death in Paradise, in which he starred from 2011 to 2014.
Although audiences stateside are sure to have limited exposure to Mr. Carr up until this point, the casting directors of The Peripheral were definitely looking in the right place when they stumbled across the promising British actor.
We believe that this role will certainly be a breakthrough role for Gary Carr, and we're sure to see him in even more American productions in the future.
4. How Eli Goree Was Cast as Conner
How about a Canadian to round out the cast of this hot new show? Eli Goree was born in Halifax, Nova Scotia, in 1994 and began his acting career as a child starring in Sesame Park (the Canadian version of Sesame Street).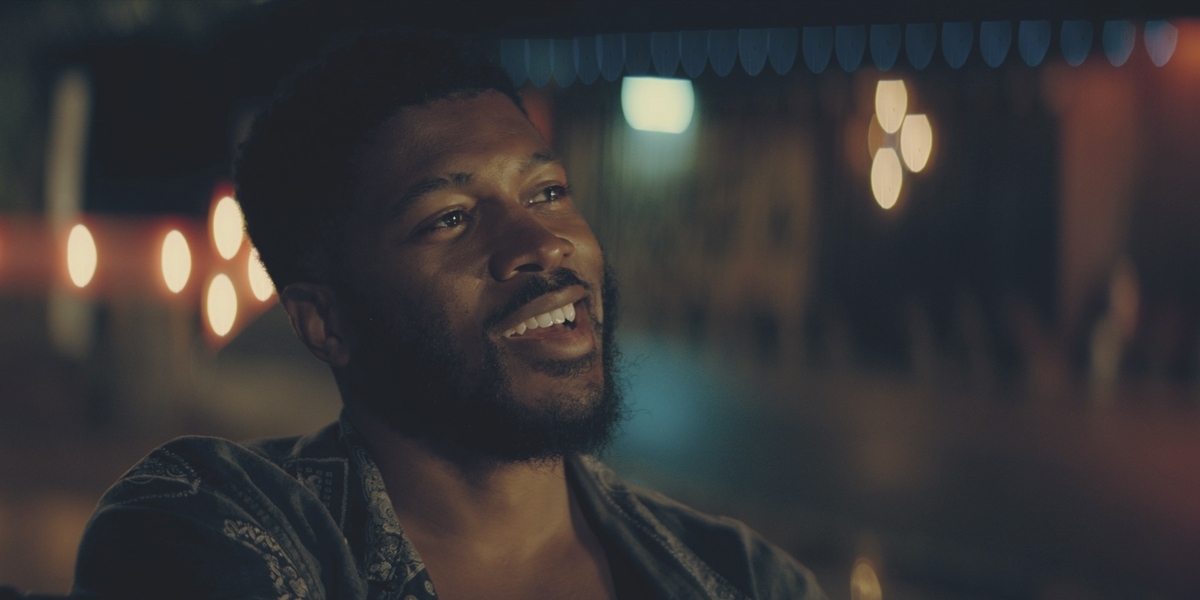 Eli Goree portrays Conner, a man recruited to help with the situation within the peripheral world, in Amazon's The Peripheral (Credit: Amazon)
After pursuing a brief career as a freelance journalist, he returned to acting when he was cast as Malik in the Global TV series Da Kink in My Hair.
This kickstarted his career, as he gained consistent work in the television industry, with his most notable role being Wells Jaha in The CW's science fiction show The 100.
Eli Goree starred as Cassius Clay in Regina King's biographical drama film 2020 American drama film One Night in Miami… (Credit: Amazon Studios)
Eli is set to portray the character of Conner, a close friend of Flynne's brother, Burton. This young Canadian star's best days are definitely ahead of him and were certain that this role will help to propel his already solid career even further.
In conclusion, we're excited to see what twists and turns this show has in store for us, and we can't wait to see it finally premiere on Amazon Prime on October 21st, 2022. This young cast looks very promising, and we're optimistic that with their talents combined, this show is a surefire hit.