No matter what era we seem to find ourselves in, one of the biggest money-makers for the Hollywood film industry is always nostalgia.
From new shows set in the 80s (like Stranger Things) to reboots of multiple dormant IPs (Saved by the Bell, The Fresh Prince of Bel-Air, Animaniacs, etc.) – nostalgia has been an area of focus for the Hollywood industry for as long as we can remember.
Most recently, however, it seems as though nostalgia from the 1980s and 1990s is the variety that is reigning king in the 2020s. Hollywood has recognized this and decided to reboot the IP of Willow, a big-budget 1988 fantasy film directed by George Lucas and starring Warwick Davis, Val Kilmer, and Johanne Walley.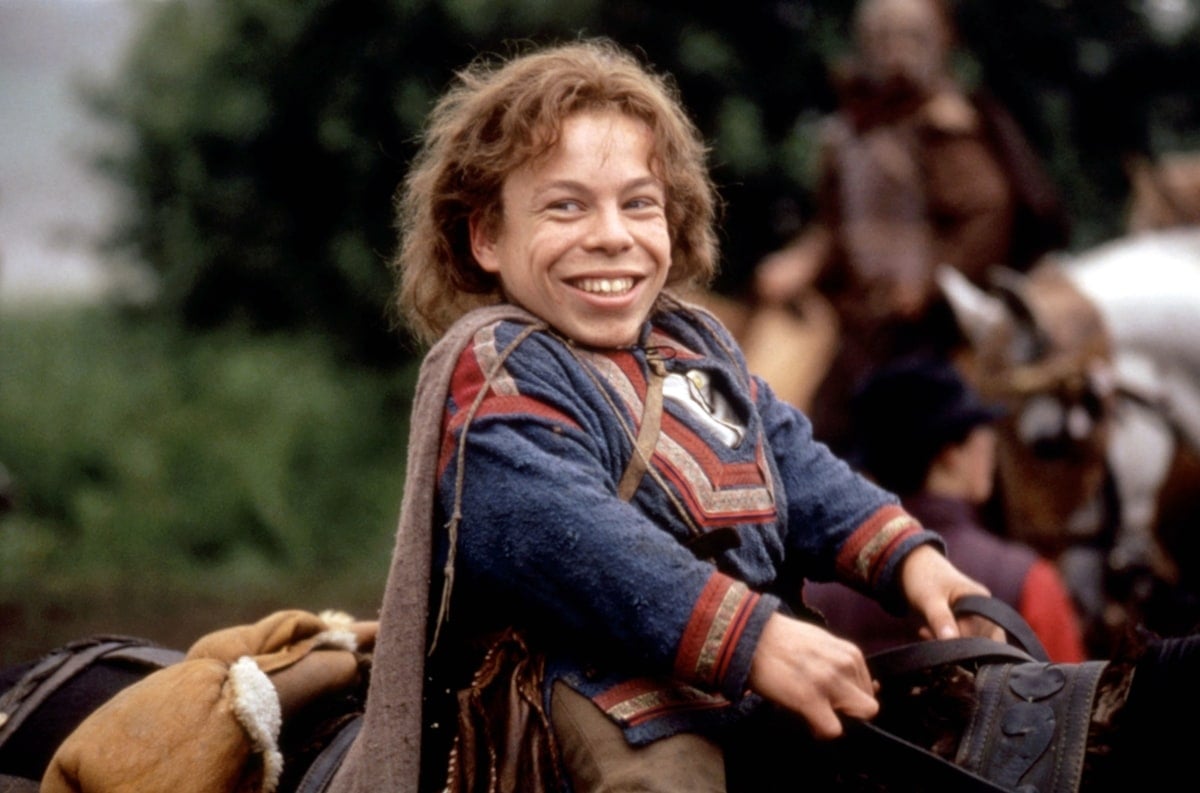 Warwick Davis as Willow Ufgood in the 1988 American dark fantasy adventure film Willow (Credit: Metro-Goldwyn-Mayer / Lucasfilm Ltd. / Imagine Entertainment)
The original Willow was only a modest box-office success, as the original film's gross of $137.6 million USD (against its budget of $35 million) was somewhat of a disappointment for Lucas, who wanted the film to rival the box office of E.T. the Extra-Terrestrial, directed by Steven Spielberg in 1982.
Nevertheless, Willow developed somewhat of a cult following despite its lukewarm critical and audience reception, and this following was seemingly large enough to warrant Hollywood producing a television show to bring new fans to the Willow universe, along with the diehard fans as well.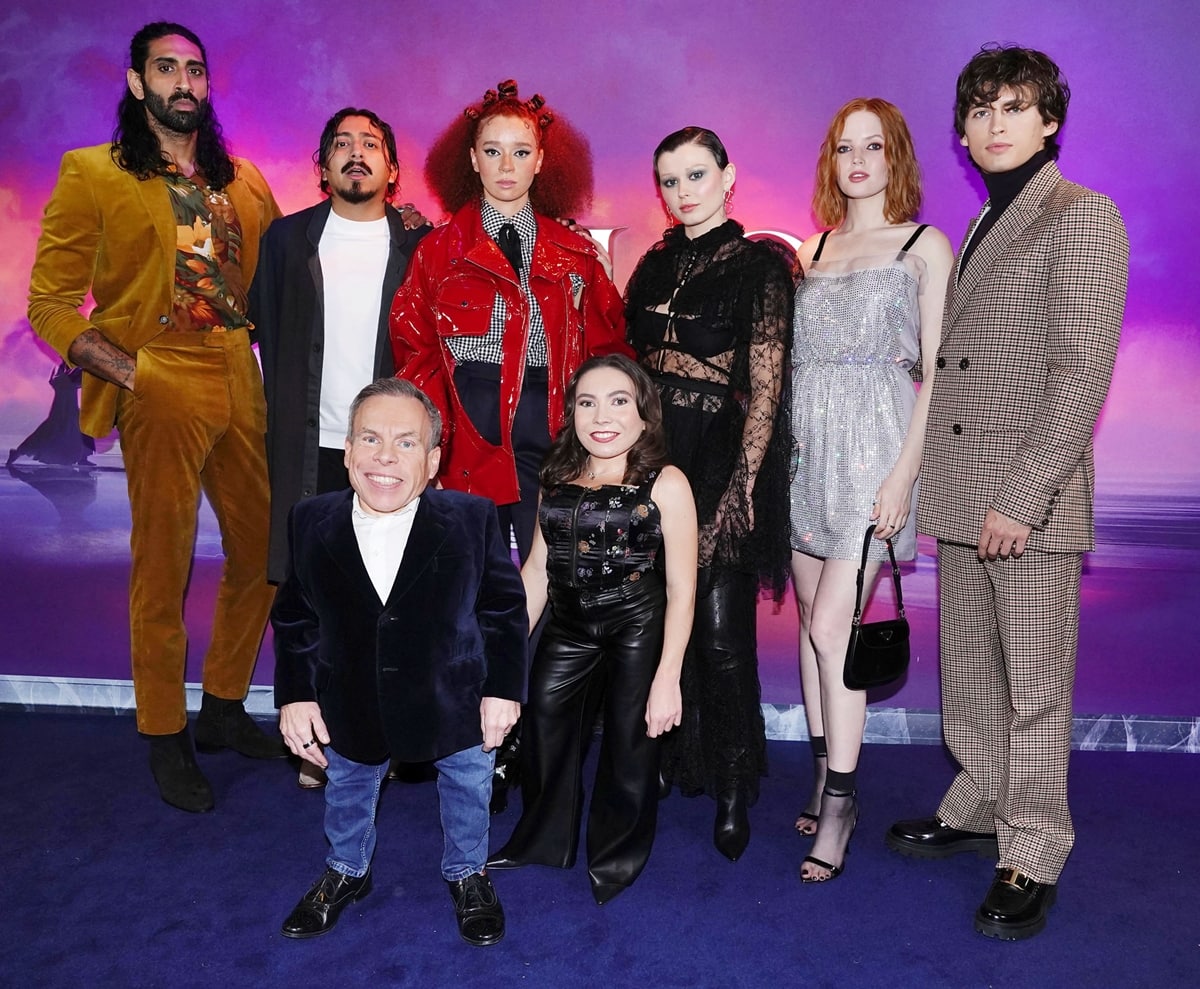 Amar Chadha-Patel, Tony Revolori, Erin Kellyman, Ruby Cruz, Ellie Bamber, Dempsey Bryk, Warwick Davis, and Annabelle Davis attend the UK Special Screening of Lucasfilm original series "Willow" at the Curzon Soho Cinema on November 16, 2022, in London, England (Credit: Aaron Chown / PA Images / INSTARimages / Cover Images)
The plot of the original film follows Willow Ufgood, a Nelwyn (dwarf) who is thrust into a protector role to save the fate of the kingdom from the evil queen Bavmorda, who believes that a child marked with a special rune will bring about her downfall – the child ends up being Elora Dannan, an infant princess.
Ellie Bamber in an ivory pearl-embellished Vivienne Westwood cropped corset paired with an ivory satin skirt at The Fashion Awards 2022 at the Royal Albert Hall on December 5, 2022, in London, England (Credit: Doug Peters / PA Images / INSTARimages / Cover Images)
In the new series, a now adult Elora (who is introduced in the show as Dove, a simple kitchen maid) is played by Ellie Bamber, a young British star.
But what did Bamber's career look like before this role? How was she cast in Willow? Let's find out.
How did Ellie Bamber Get Her Start in Hollywood?
Ellie Bamber hails from Surrey, England, where she was born in 1997. Bamber's acting career was a huge success from an early stage, as she was the youngest member to join the esteemed Players' Theatre Club in London at age 12.
When commenting on her early career in stage acting, Bamber said, "I always enjoyed it when I was on stage or acting. I had an amazing acting teacher who really got me inspired to act. There is an immediate feeling with theatre."
Ellie Bamber with red hair in a silver sequined mini dress by Prada at a special screening of the Disney+ series Willow at The Curzon Soho in London (Aaron Chown / PA Images / INSTARimages / Cover Images)
She continued her career in theatre with a role in the stage production of Andrew Lloyd Webber's Aspects of Love when she was 13 years old.
Bamber would enjoy her feature film debut in the British drama film The Falling (2014), which was also the feature film debut of Florence Pugh, a fellow young British starlet.
She followed this role up with the role of Lydia Bennet (youngest of the Bennet sisters) in Pride and Prejudice and Zombies in 2016.
Ellie Bamber as Lydia Bennet, Lily James as Elizabeth Bennet, and Suki Waterhouse as Kitty Bennet in the 2016 action comedy horror film Pride and Prejudice and Zombies (Credit: Lionsgate / Sony Pictures Releasing)
That same year, she also starred in Nocturnal Animals, which was directed by famous fashion designer Tom Ford, playing the role of India Hastings, a character in a novel within the film's universe.
She is also recognizable for appearing in films like The Nutcracker and the Four Realms (2018).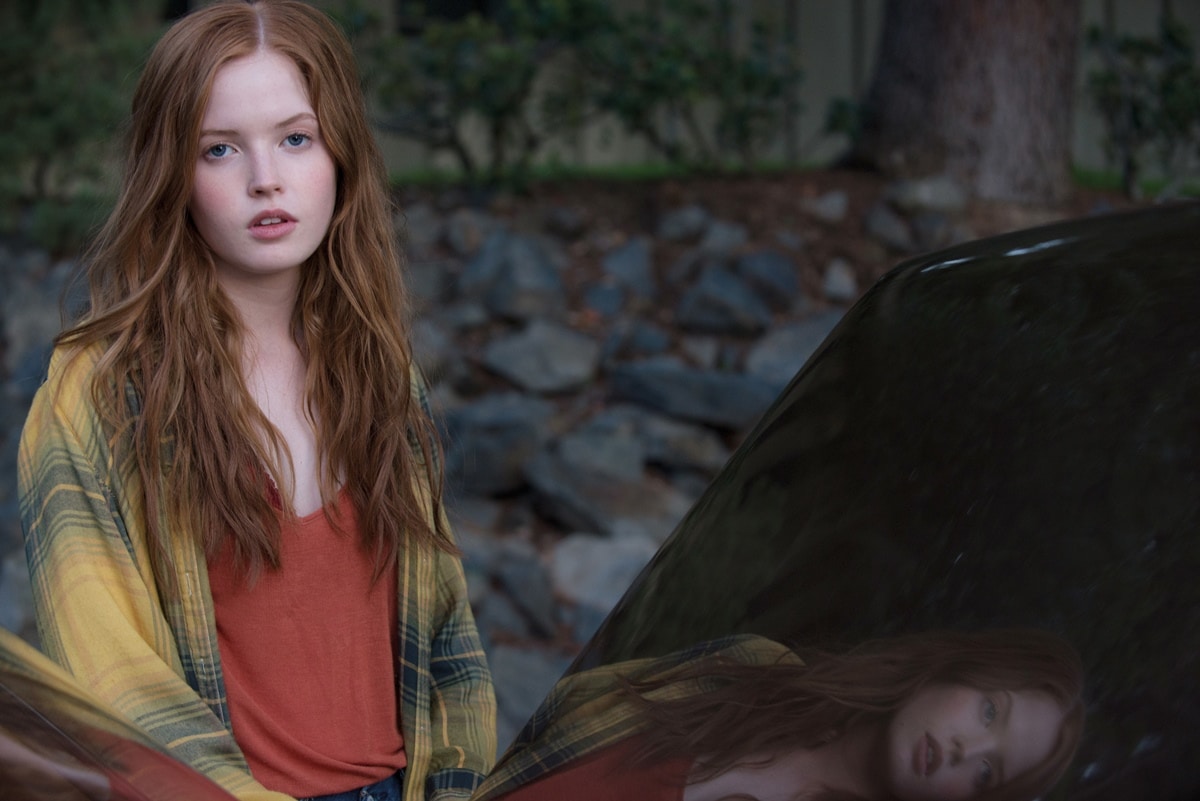 Ellie Bamber as India Hastings in the 2016 American neo-noir psychological thriller Nocturnal Animals (Credit: Focus Features)
Perhaps her most notable appearance before Willow was in the BBC television series The Trial of Christine Keeler, which was released in 2019.
In the series, Bamber played the role of Mandy Rice-Davies, a young, attractive socialite involved in the extra-marital affairs of some of Britain's most powerful politicians.
Bamber was confirmed to be cast in the new Willow television series as early as November 2020.
How Was Ellie Bamber Cast in Willow?
While we don't have much information about how Ellie Bamber was able to land the role of Elora Dannan, it's obvious that she had a lot of promise as a young actress with plenty of experience under her belt, despite her young age.
Ellie Bamber in a chocolate brown Standing Ground Spring 2023 dress at the Lucasfilm and Imagine Entertainment's New Series "Willow" Premiere at Regency Village Theatre on November 29, 2022, in Los Angeles, California (Credit: BauerGriffin / INSTARimages / Cover Images)
Additionally, she shares a physical resemblance to the infant Elora Dannan from the original 1988 film, which helped her case.
Ellie Bamber as Dove / Brünhilde / Elora Danan in the American fantasy adventure television series Willow (Credit: Lucasfilm / Imagine Television Studios)
Both the infant and the adult Elora Dannan have fair skin and hair, which helps the audience believe that Bamber is truly the adult version of the character they fell in love with over 30 years ago.
How Old is Ellie Bamber?
Ellie Bamber is 25 years old. She was born on February 2, 1997.
How Tall is Ellie Bamber?
Ellie Bamber stands tall at 5ft 4 ½ inches, or 163.8cm. She wears a shoe size 8 (US).
Is Willow Worth Watching?
Diehard cult fans of the original film have no doubt already had the chance to watch the two released episodes of the show, which debuted on November 30, 2022.
Just as the original film received a lukewarm reception from audiences and critics, it seems the television show is meeting a similar fate thus far.
Critic reviews of the released episodes currently sit at 83% positive; however, the audience reviews are abysmally low (28%), indicating a poor-quality show. But don't be too quick to judge the show just yet!
Audience members seem to take issue with the dialogue and tone of the show, which many describe as being jarring when compared to the original film.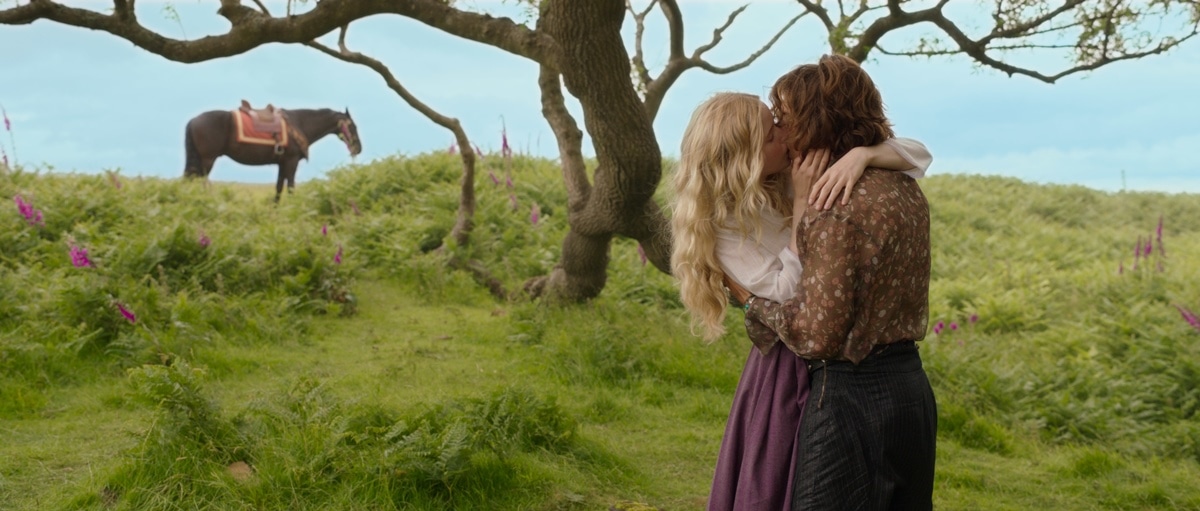 Ellie Bamber, as Elora Danan (Dove), kisses Dempsey Bryk as Airk Tanthalosin the American fantasy adventure television series Willow (Credit: Lucasfilm / Imagine Television Studios)
However, much of the criticism of the new show seems to be from smear tactics due to the fact that the protagonists of the new series are SPOILER ALERT – involved in a lesbian relationship.
This alone is enough for many trolls on the internet to drown the series in negative reviews, with many complaining that the new show is tainted by "wokeness." Obviously, this is not a legitimate criticism of the show and shouldn't be respected as such.
Ellie Bamber flashes her boobs in a black Arami leotard paired with a see-through embellished skirt at the Harper's Bazaar Women of the Year Awards 2022, in partnership with Armani Beauty, at Claridge's Hotel on November 10, 2022, in London, England (Credit: Ian West / PA Images / INSTARimages / Cover Images)
However, many negative reviews do have legitimate complaints regarding the strength of the young cast and the writing of the show in general, so it's hard to determine whether the show is worth a watch. We're sure only time will tell to see if this recent television series was even worth rebooting in the first place!
Regardless, we'll be watching to see Ellie Bamber take on the starring role of Elora Dannan. Maybe the show will be able to recapture the magic of Willow in subsequent episodes.