Fashion and anonymity don't often go hand in hand, but it was Martin Margiela's elusive design approach that catapulted his brand to fame.
The Parisian luxury fashion house is acclaimed for its cutting-edge designs, often featuring elements of deconstruction and androgyny.
The brand logo of French luxury label Maison Margiela (formerly Maison Martin Margiela) (Credit: Robert Way / Shutterstock)
Maison Margiela's garments are innovative, experimental, and undeniably chic.
Fashion's 'invisible man' built an enigmatic empire by pushing all of fashion's boundaries; find out all about Maison Margiela below!
Fashion's Most Mysterious Designer
Not much is known about Martin Margiela's personal life aside from the basics.
He grew up in Genk, Belgium, studied at the prestigious Antwerp Royal Academy of Fine Arts and worked as a design assistant for Jean Paul Gaultier in the 80s before launching his eponymous label in 1988. And that's pretty much all that he wanted to share.
Martin Margiela instantly stood apart from other designers through his unconventional design techniques and his non-existent media presence.
Mads Mikkelsen with Kirsten Dunst in a custom Maison Margiela by John Galliano marigold satin and tulle overlay gown featuring leaf detailing at 'The Neon Demon' premiere during the 69th annual Cannes Film Festival at the Palais des Festivals on May 20, 2016, in Cannes, France (Credit: Magicinfoto / Shutterstock)
The Belgian designer wanted the public to focus on his clothing rather than his persona. He was never photographed, all interviews were taken collectively with the rest of his design team, and he avoided bows after runway shows.
This mysterious strategy to publicity slightly backfired; the media was intrigued with the man behind the designs, and Martin Margiela quickly became a renowned fashion designer.
Maison Margiela luxury store storefront on San Francisco's Maiden Lane (Credit: Michael Vi)
Margiela's secrecy extended to the label's branding. The clothing was void of flashy logos, instead showcasing its origins with four distinct white stitches attached to a simple tag with the numbers 0-23.
Each number represented the collection the garment belonged to, and the tag could easily be removed if the customer wanted an unmarked item.
Priyanka Chopra in a Richard Quinn Fall 2021 dress and her husband Nick Jonas in a Maison Margiela Icons black tuxedo paired with red Maison Margiela x Reebok red classic leather Tabi sneakers arrive at The Fashion Awards 2021 at Royal Albert Hall on November 29, 2021, in London, England (Credit: Cubankite / Shutterstock)
Sometimes even models were anonymous, sent onto the runway in ornate masks or with hairstyles that completely covered their faces!
A Master Of Deconstruction
Maison Margiela has become synonymous with deconstruction. Consider Martin Margiela a pioneer of the upcycled fashion movement.
He was taking apart vintage pieces and recreating them into new garments in the early 90s, long before the current term was coined. Martin Margiela showed the beauty of rawness in an industry that favored perfection.
Suki Waterhouse in a Maison Margiela sheer dress paired with a gold bodysuit the Swarovski Prologue at The Fashion Awards 2017 in partnership with Swarovski at Royal Albert Hall on December 4, 2017, in London, England (Credit: Cubankite / Shutterstock)
His pieces often featured unfinished fabrics, raw hems, and exposed stitches. Yet each garment was so masterfully crafted that it exuded sartorial elegance.
Exceptional quality has always been a foundation of Maison Margiela, with artisan pieces handcrafted in Paris and ready-to-wear collections made in Italy.
Margiela's unconventional design techniques have gone on to influence contemporary fashion in a major way.
Bee Shaffer in a colorful Alexander McQueen dress and Anna Wintour in a Maison Margiela Spring 2017 Couture gown attend the 71st Annual Tony Awards at Radio City Music Hall on June 11, 2017, in New York City (Credit: Lev Radin / Shutterstock)
Raw hem jeans, cut-out sleeves, and split hem designs are just a few modern trends we can attribute to the groundbreaking Belgian designer.
The fashion house is also famous for the sleek laceless Future sneakers and split-toe shoes, head-turning trompe l'oeil motifs, oversized silhouettes, organic paint splatters on garments, and an often neutral color palette featuring a lot of white.
Singer Li Yuchun in a Maison Margiela Spring 2017 Couture ensemble attends the "Ismael's Ghosts (Les Fantomes d'Ismael)" screening and Opening Gala during the 70th annual Cannes Film Festival at Palais des Festivals on May 17, 2017, in Cannes, France (Credit: Denis Makarenko / Shutterstock)
Martin Margiela loved the clean shade as he believed it was a symbol of the strength of fragility. A crisp white coat is an essential part of the Margiela design team's uniform in the couture studio.
Martin Margiela's Silent Departure
The Maison Martin Margiela brand grew steadily throughout the 90s and 2000s. It expanded from a sole women's ready-to-wear collection into a full-blown fashion house.
The label launched MM6, a diffusion line for younger customers, and introduced their menswear ready-to-wear line in the late 90s.
The couture-esque Artisanal Collection was created in 2006; each handmade piece was crafted from vintage finds from across the globe.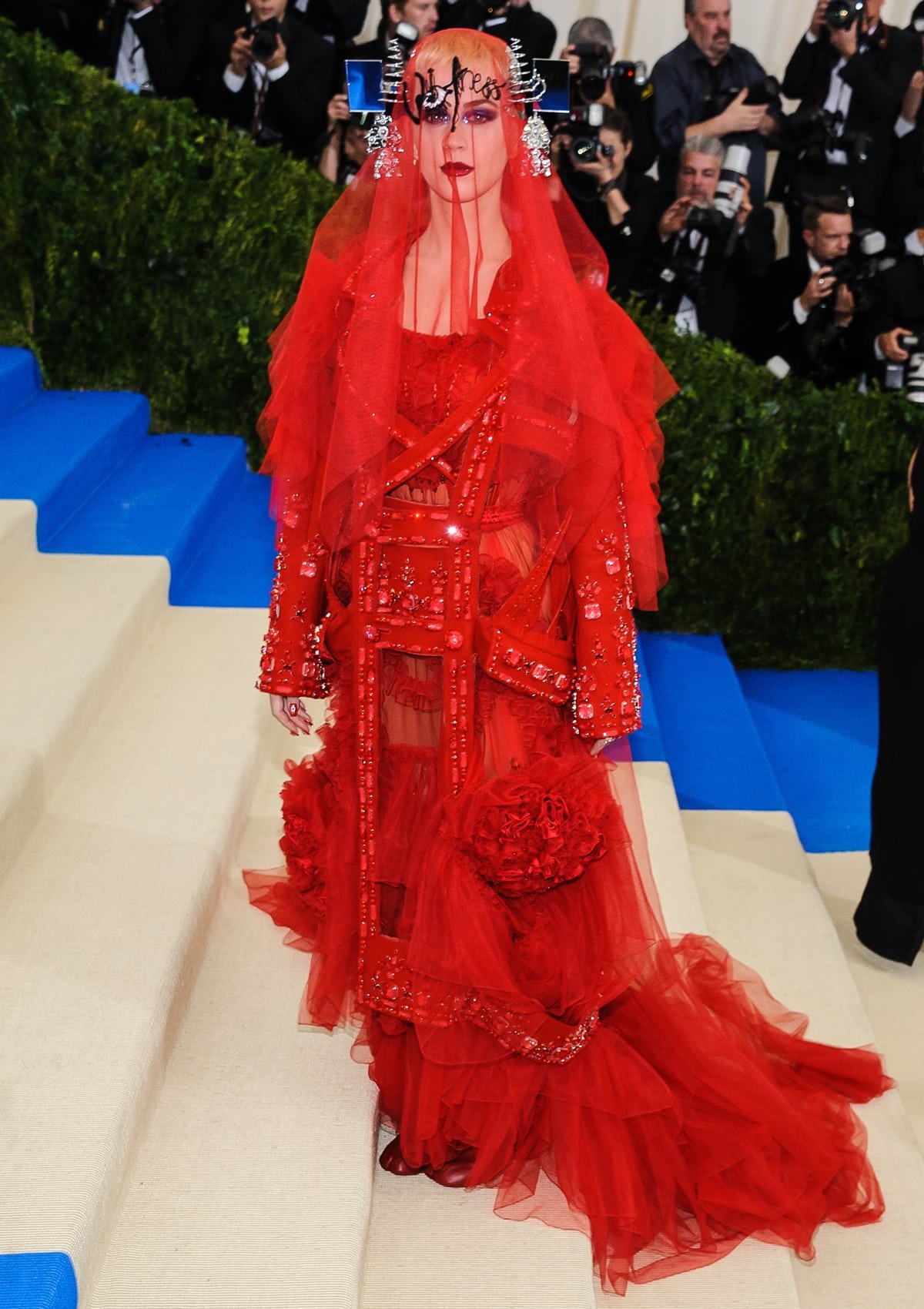 Katy Perry in a red Maison Margiela Spring 2017 Couture design attends the 'Rei Kawakubo / Comme des Garcons: Art Of The In-Between' Costume Institute Gala 2017 at Metropolitan Museum of Art in New York City May 1, 2017 (Credit: Sky Cinema / Shutterstock)
Naturally, the fashion world was shocked to learn about Martin's sudden departure in 2008. Fans would have to wait for several years for a brief explanation letter.
The designer said that he could not cope with the 'increasing pressure and overgrowing demands of trade', as the fashion industry shifted from two main collections a year to several capsule collections.
Martin's slow, artisanal method simply didn't fit in with the new high-speed pace of the industry. He also shared that he didn't like that the rise of social media was taking away the 'thrill' of waiting for new fashion presentations.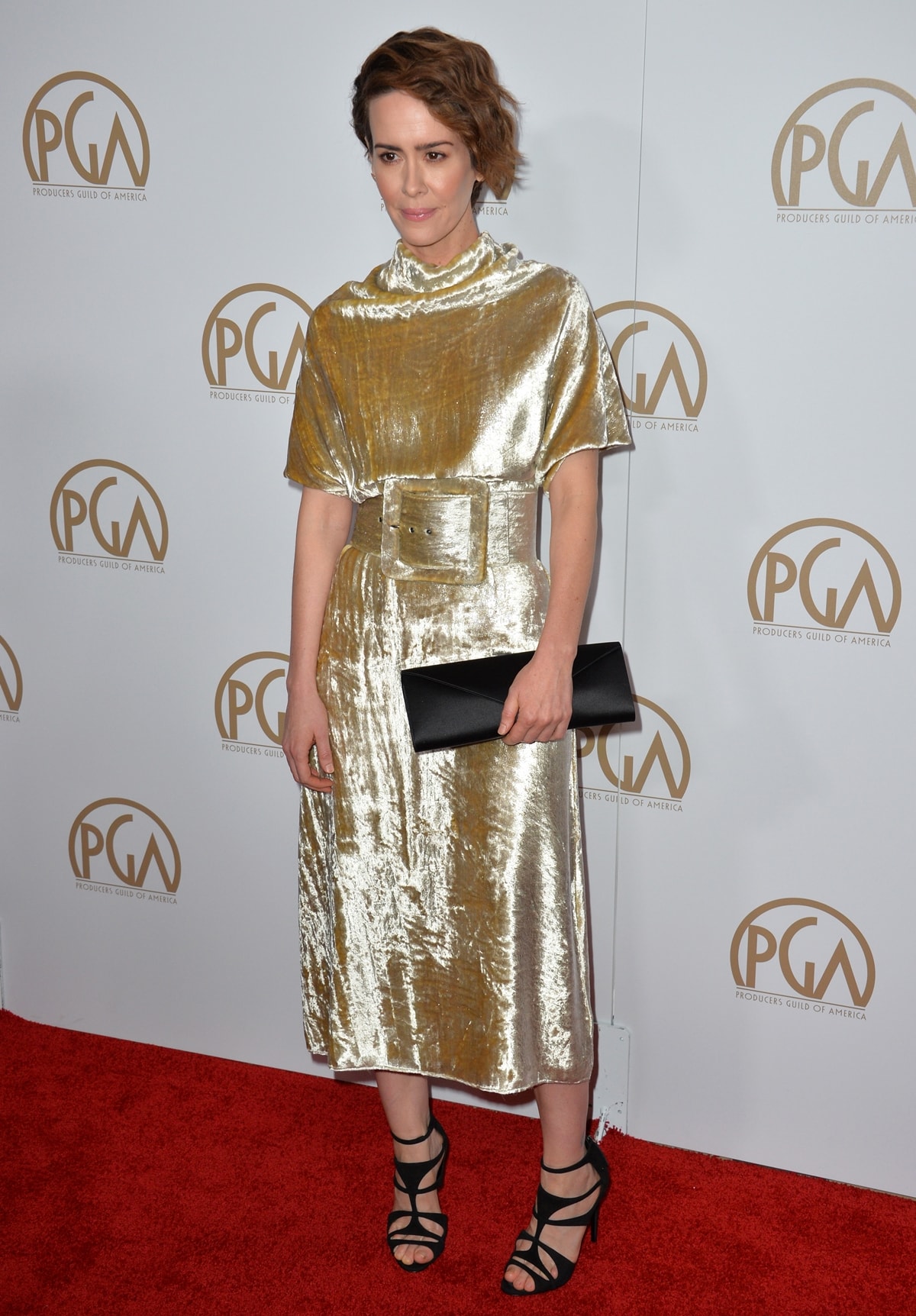 Actress Sarah Paulson in a Maison Margiela dress attends the 28th annual Producers Guild Awards at The Beverly Hilton Hotel on January 28, 2017, in Beverly Hills, California (Credit: Jaguar PS / Shutterstock)
The brand didn't immediately appoint a new creative director after Martin's initial departure.
Instead, they decided to carry on their founder's anonymous legacy by working as a collaborative design team.
The fashion house worked this way until 2014 when former Dior designer John Galliano took over as creative director and changed the brand's name to Maison Margiela.
Doutzen Kroes in a red Maison Margiela gown attends amfAR's 22nd Cinema Against AIDS Gala, Presented By Bold Films And Harry Winston at Hotel du Cap-Eden-Roc on May 21, 2015, in Cap d'Antibes, France (Credit: Featureflash Photo Agency / Shutterstock)
Galliano has remained true to Martin's forward-thinking aesthetic, still producing beautifully deconstructed pieces for the contemporary fashion lover.
Maison Margiela is currently a part of the OTB Group, a company for alternative luxury brands known for pushing boundaries and challenging the established rules of the industry.
Where To Buy Margiela Designs
Are you interested in adding some intrigue to your wardrobe? Maison Margiela has boutiques in San Francisco, LA, New York, and Miami.
It's also available in major luxury department stores such as Mytheresa and Nordstrom, as well as online luxury retailers like Farfetch and Shopbop.
Scroll down to see celebrities wearing clothing and footwear by Maison Margiela, formerly Maison Martin Margiela, a French luxury fashion house headquartered in Paris.