In recent years, multiple issues present in Hollywood (and show business as a whole) have received more attention than before.
From the #MeToo movement to calls for representation for different minority groups (such as POCs, members of the LGBTQIA+ movement, etc.), Hollywood has never been more under pressure to clean up the industry and provide equal opportunities for everyone.
The #MeToo movement has had a big impact on hiring practices in Hollywood (Credit: Logoboom / Shutterstock)
One aspect of this issue that remains prominent in the public mind is providing representation for people with disabilities, particularly when it comes to actors portraying such roles.
While 26% of American citizens identify as disabled, only 3.1% of disabled performers can be seen on screen.
The public pressure to change this trend has been emphasized in recent years specifically, but there are earlier instances in which this issue has been one where audiences have been most vocal.
Switched at Birth is a teen and family drama television series that premiered on ABC Family on June 6, 2011 (Credit: ABC Family)
Enter Switched at Birth, an ABC Family teen drama that premiered in 2011. Revolving around a plot that sees two children switched at birth (hence the title), it drew both praise and controversy for the subject matter of its plot and for the casting of one of the protagonists: Katie Leclerc as Daphne Paloma Vasquez.
How Katie Leclerc Was Cast in Switched at Birth
Katie Leclerc hailed from San Antonio, Texas, although her family relocated to Lakewood, Colorado, when she was young. She began pursuing a career in acting after landing the lead role in the play Annie when she was in seventh grade.
The 35-year-old actress moved to San Diego, California, where she continued her pursuit of a career in acting. She did commercials for large companies such as Comcast, Pepsi, and General Electric.
Katie Leclerc in a multicolored strapless dress at the 31st Annual Imagen Awards in Beverly Hills, California on September 9, 2016 (Credit: Tony DiMaio / Startraksphoto)
During this time, Leclerc's agent submitted her portfolio in a worldwide casting call that ABC Family had put out for the lead roles of the series.
Leclerc was chosen partially because she suffered from Ménière's disease, a condition that can cause sudden bouts of vertigo and hearing loss.
The producers of the show thought that Leclerc having this condition could add a certain element of realism to the character and ensure that the depiction of Daphne (who is deaf in the show) would be done tastefully and respectfully.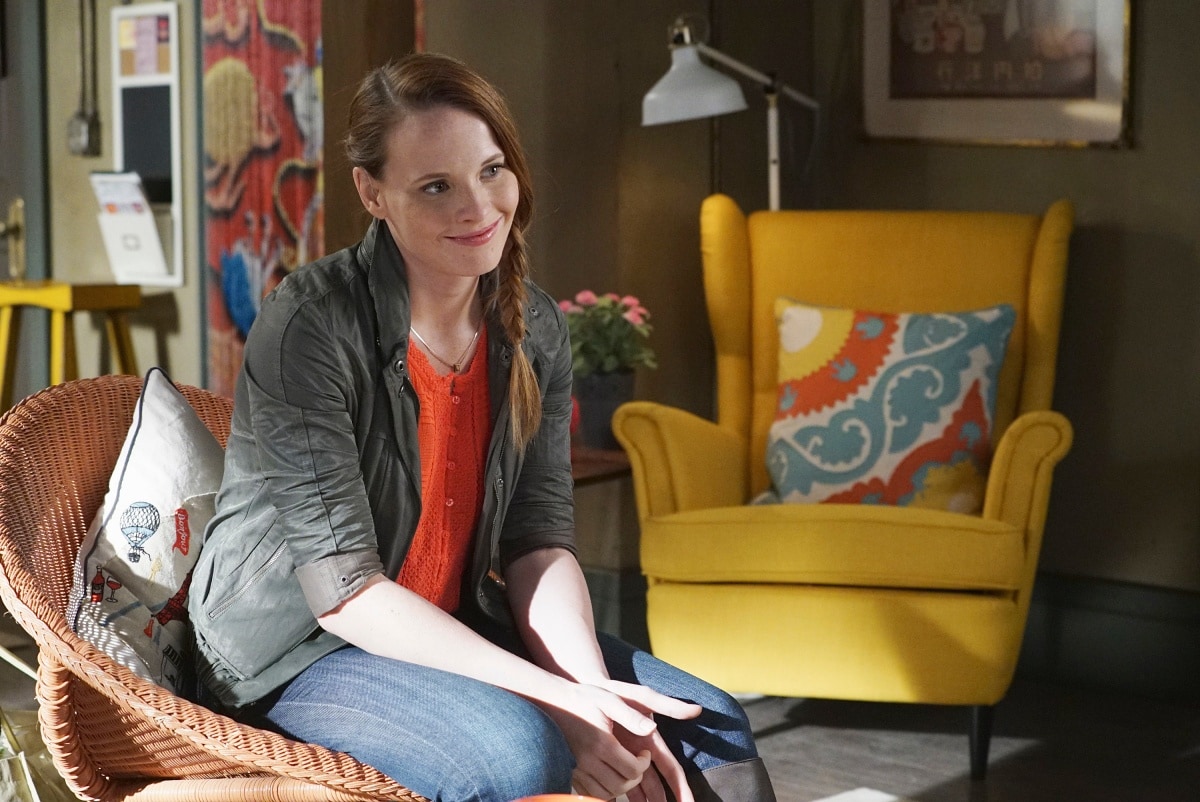 Katie Leclerc as Daphne Vasquez in the 2011 teen and family drama television series Switched at Birth (Credit: ABC Family)
The Controversy Surrounding Switched at Birth
Despite this, however, some were still upset over the fact that Leclerc did not identify as a deaf person and, as such, was taking away a prime opportunity from a deaf actor who could have benefitted from the role.
The response to this casting and the themes of the show, in general, were quite divisive. From the very beginning, one of the main motivations behind the teen drama was to provide more exposure to the struggles that deaf people are subjected to due to their condition.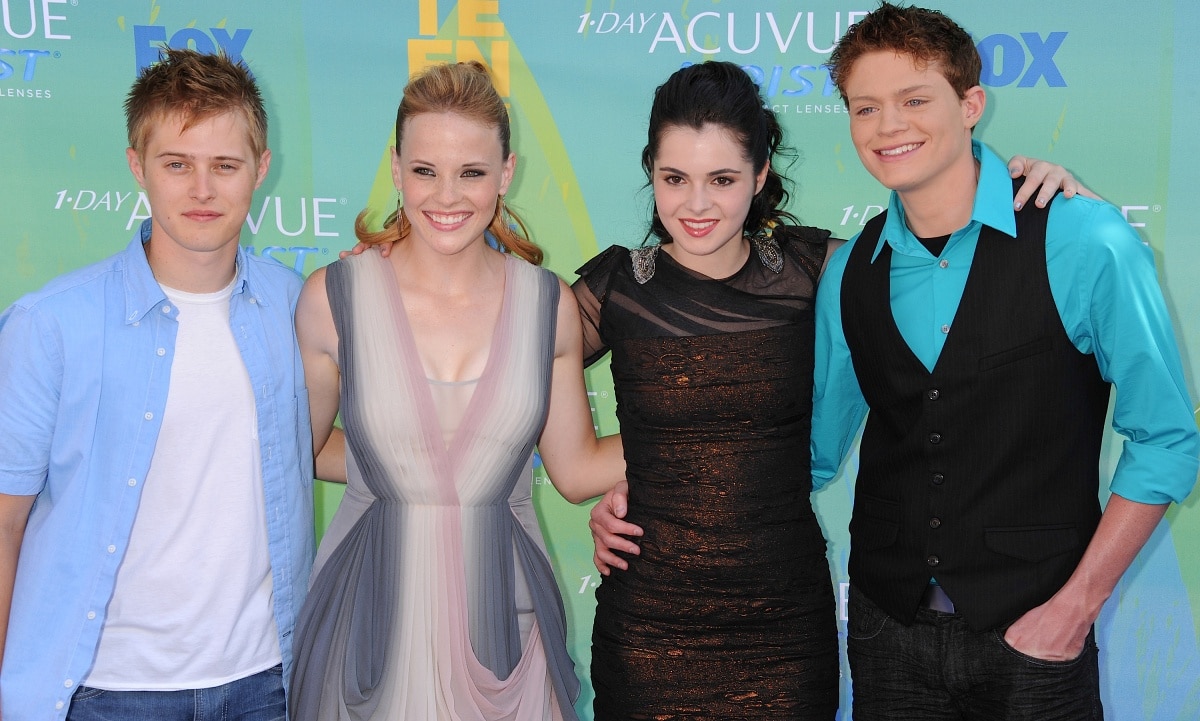 Lucas Grabeel, Katie Leclerc, Vanessa Marano, and Sean Berdy attending the 2011 Teen Choice Awards held at the Gibson Amphitheatre in Universal City, California on August 7, 2011 (Credit: INFevents)
However, many of the stars of the show did not know ASL (American Sign Language) before receiving their roles and had to learn after being cast.
"I didn't become really fluent until I immersed myself in the culture as well as forced myself to either sink or swim," the Switched at Birth actress told JJJ about learning American Sign Language (ASL).
"One of my first times hanging out with a deaf person I made him repeat his question 12 times," she added. "It was embarrassing, but he's still my friend, and we still laugh about it today!"
"You make a drill motion near your nose," Katie said about her favorite ASL word, which is the sign for mosquito. "Other than that, I love a good argument. When Daphne would have ASL fights, I would get so witty!"
On the other hand, other actors (such as Sean Berdy, who plays Daphne's best friend Emmett Bledsoe) were deaf performers, which gave credence to the show's overarching themes.
Divisive Opinions Over Katie Leclerc's Casting in Switched at Birth
In an article entitled "What Started as a Desire to Increase Authenticity Leads to Controversy," published in Australian Financial Review, a deaf actor and activist named Asphyxia remarked on her personal experiences of watching film and television shows that depict deafness and how they have fared in accurately portraying the condition.
Asphyxia had nice things to say about Switched at Birth, stating that it "provides a sophisticated insight into many common issues Deaf people face and provides a valuable window into the importance of the Deaf community. The characters are not simply signing versions of hearing people but actually experience many of the complex challenges that real-life Deaf people face."
The majority of the cast had to learn American Sign Language after taking on their roles in Switched at Birth (Credit: ABC Family)
However, regarding the casting of Leclerc as Daphne, Asphyxia remarked: "The lead Deaf character, Daphne, is played by hearing actor Katie Leclerc (this is comparable to blackface) and there is a fair bit of 'magical lipreading.'"
She also revealed that despite that fact, she "devoured the episodes hungrily, identifying with the characters and their experiences…"
Asphyxia's sentiments were a microcosm of most of the reactions towards the show, and the criticism towards Leclerc's casting came to a head with an online petition on Change.org to replace her with a deaf actress.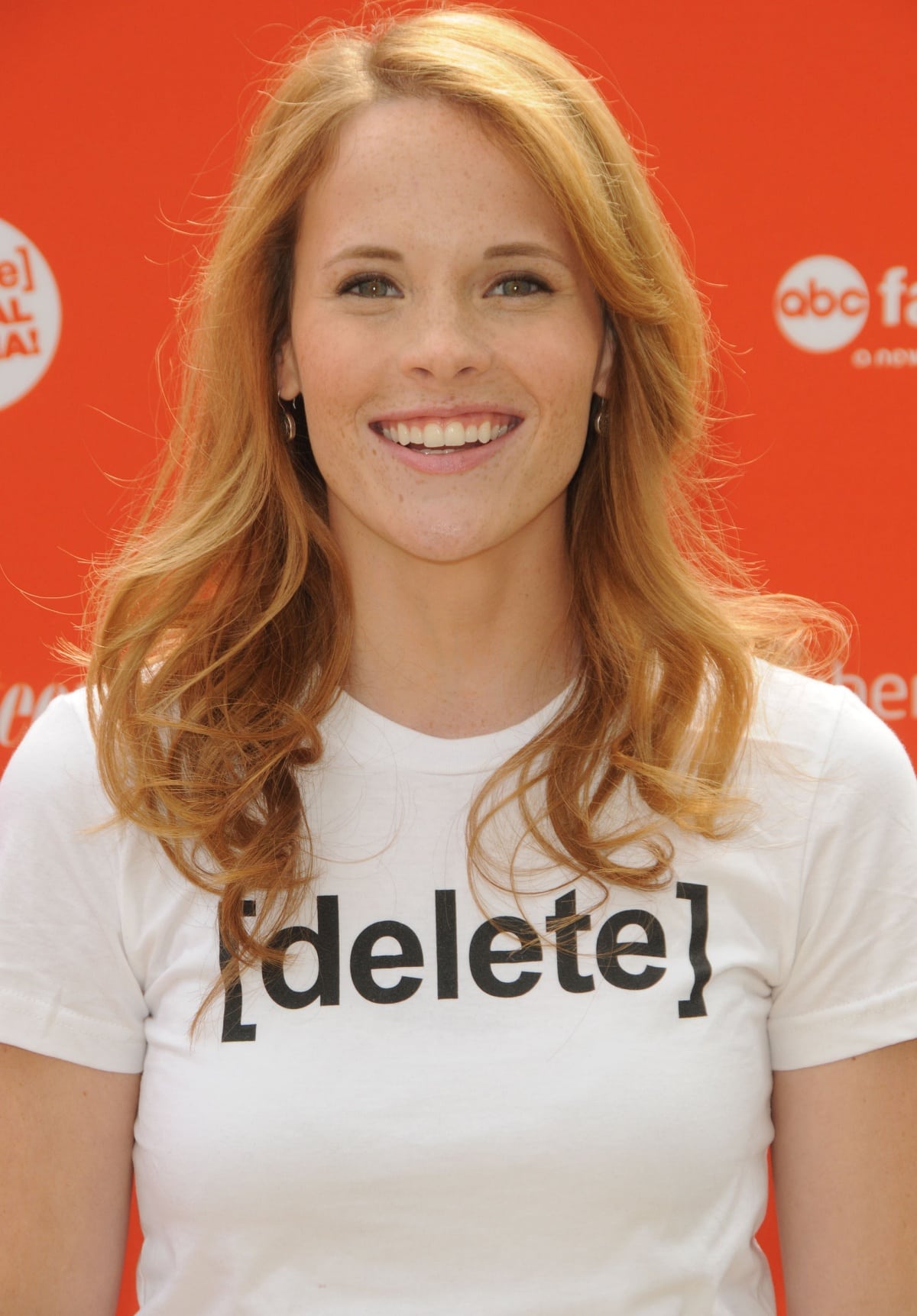 Katie Leclerc faced numerous calls for a recast in favor of a deaf actress to play the role of Daphne Vasquez in Switched at Birth (Credit: Tina Kaawaloa / INFevents)
The petition ended with an impassioned statement: "Katie Leclerc DOES NOT CARE ABOUT DEAF PEOPLE, DEAF CULTURE, THE DEAF COMMUNITY OR PORTRAYING DAPHNE ACCURATELY AS A DEAF PERSON," showcasing just how upset some people were towards Leclerc playing the role of Daphne in the show.
Katie Leclerc's Career Post Switched at Birth
Regardless of the controversy that surrounded Katie Leclerc's casting, she was never replaced. Switched at Birth still managed to enjoy a successful run of six seasons, concluding in April 2017.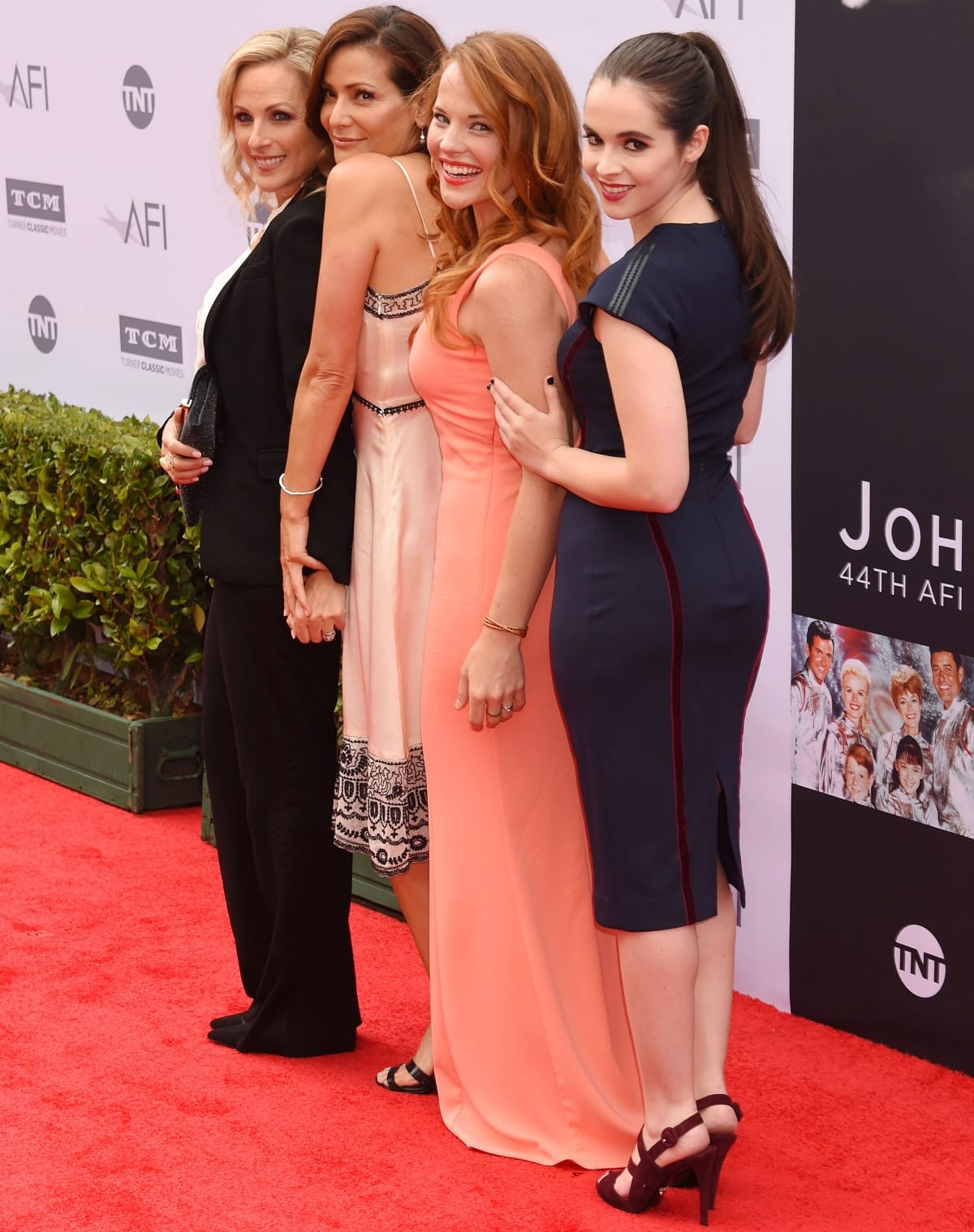 Marlee Matlin, Constance Marie, Katie Leclerc, and Vanessa Marano at the 44th AFI Life Achievement Awards Gala Tribute to John Williams at the Dolby Theatre in Hollywood, California, on June 9, 2016 (Credit: INFphoto)
Despite this fact, it seems that Leclerc never did manage to regain the success she had during the run of the show. After finishing the series in 2017, Leclerc hasn't managed to gain a lead role again, instead settling for single-episode appearances on television shows like Community and NCIS.
Leclerc also appeared in a handful of made-for-TV and straight-to-DVD films, including titles like Round of Your Life, A Bride's Revenge, Christmas a la Mode, and her most recent film, A Cape Cod Christmas, which was released in 2021.
She does have some more projects that are currently in the post-production stages, although it is safe to say that her career has been somewhat of a letdown. This is considering that she was coming off the heels of appearing in some of the most popular television shows of the era including The Big Bang Theory, Veronica Mars, and CSI: Crime Scene Investigation.
Nevertheless, we're looking forward to seeing if Katie Leclerc can revitalize her career, especially considering that the "golden age of television" is currently upon us. With tons of new shows premiering constantly, why can't she get a stab at another prominent role?
Only time will tell.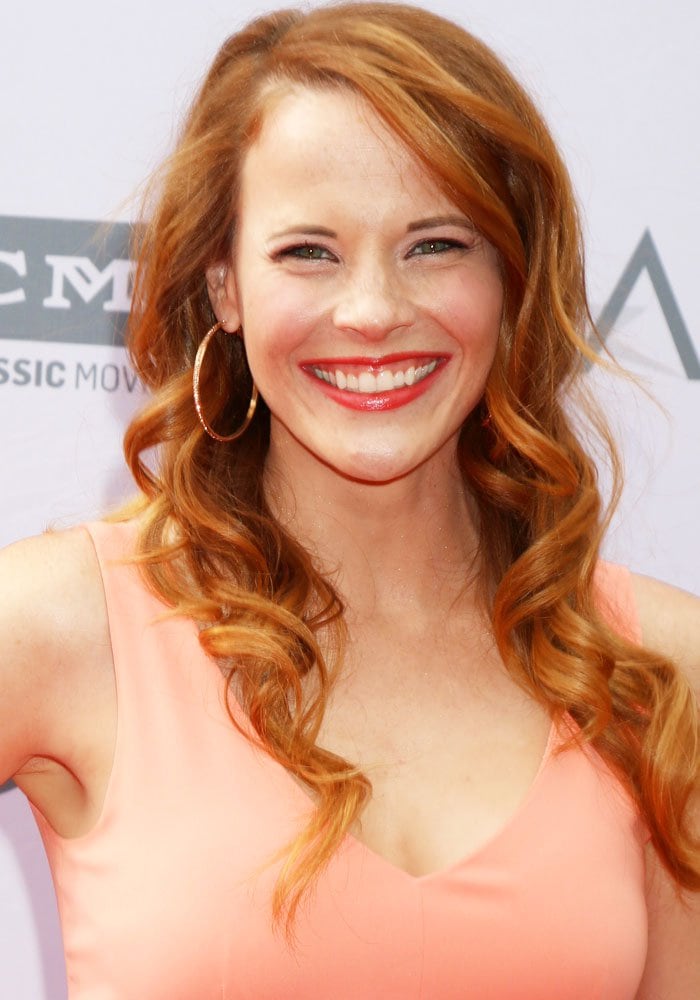 Katie Leclerc wears her red hair in curls at the 2016 American Film Institute Life Achievement Award Gala held on June 9, 2016, at the Dolby Theatre in Hollywood (Credit: Nicky Nelson / Adriana M. Barazza / WENN)
In June 2016, "Switched at Birth" actress Katie Leclerc ditched the normal black tie standard and paired her gown with sneakers.
The then-29-year-old strutted her gown-and-Nike combo at the 2016 American Film Institute Life Achievement Award Gala in Hollywood.
She wore a peach-colored gown that dipped at the chest line to show off a bit of cleavage. Her sleeveless dress flattered her red hair and pale skin. The simple silhouette had a floor-length hem that pooled around her feet.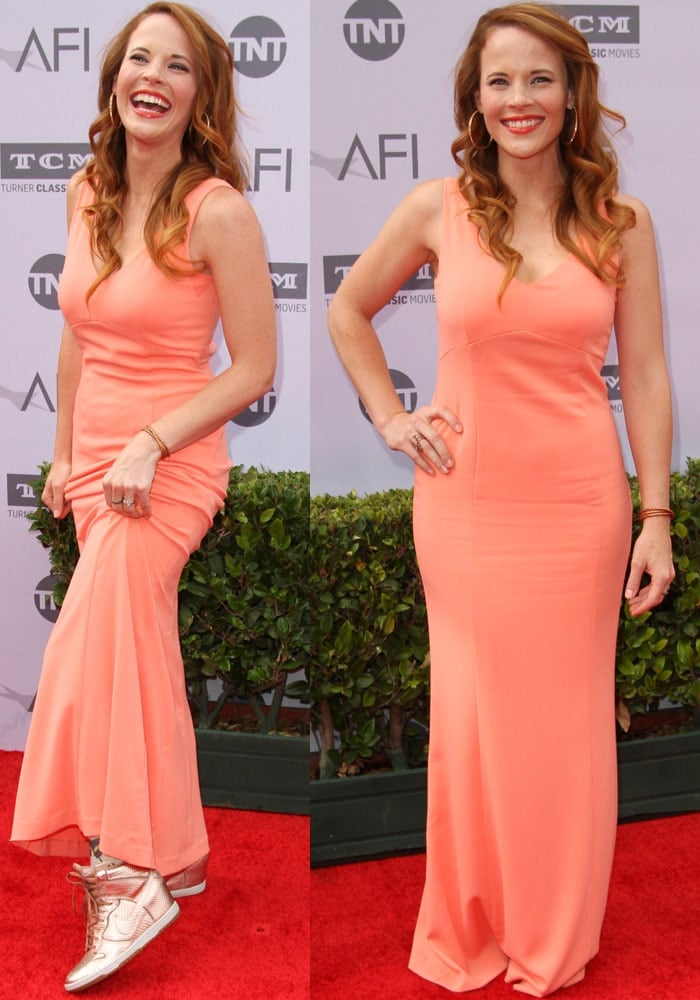 Katie Leclerc shows off her Nike wedge heels in a peach-colored gown (Credit: Nicky Nelson / Adriana M. Barazza / WENN)
She accessorized with gold hoop earrings and a selection of rings and bracelets and wore smoky eye makeup, shiny lip gloss, and curls.
Katie capped off her look with a pair of Nike "Dunk Sky Hi" sneakers in bronze metallic.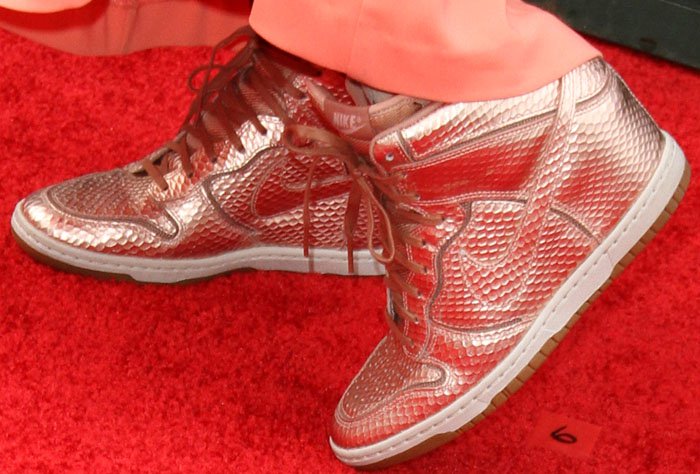 Katie switches out her heels for a pair of Nike "Dunk Sky Hi" wedge sneakers (Credit: Nicky Nelson / Adriana M. Barazza / WENN)
We're not entirely sure the gown-and-sneakers combination works for Katie, but at least her outfit looks comfortable.
You can check out the Nike "Dunk Sky Hi" wedge sneakers in different colors on Amazon.
Bronze Metallic Nike "Dunk Sky Hi" Sneakers, $69.98 – $219.95