There are a few days left to 2022, but that doesn't mean that there's a lack of headlines and online frenzy.
For example, Katie Holmes caused quite a stir with her outfit at this year's iHeartRadio Z100 New York Jingle Ball that unknowingly revived a Y2K trend.
Katie Holmes at the 2022 iHeartRadio Z100 New York Jingle Ball held at Madison Square Garden on December 9, 2022 (Credit: Jordan Hinton / ABACA / INSTARimages / Cover Images)
She wore a sculpted strapless top from Tove in a beautiful deep blue color, which could have been worn as a dress and ended there to become another notch in her red carpet fashion moments.
But she and stylist Brie Welch didn't stop there.
The 44-year-old actress styled her Tove top with loose, light-wash denim jeans from Reformation and a pair of worn-in Margiela sneakers.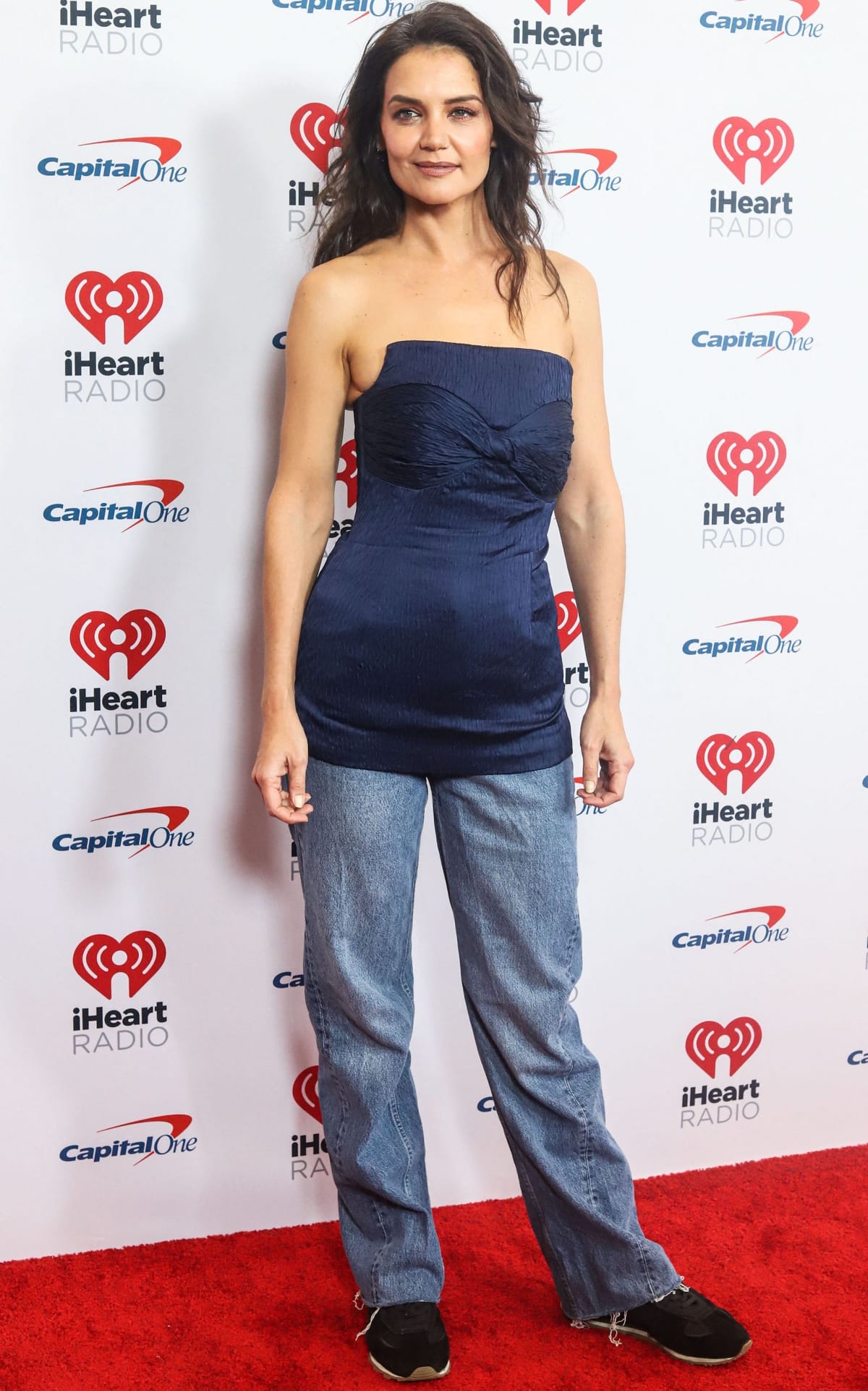 Katie Holmes opted for stylish comfort with her sculpted Tove top, Reformation jeans, and worn-in Margiela sneakers (Credit: Jordan Hinton / ABACA / INSTARimages / Cover Images)
Vogue called it "the mullet of all ensembles" as her top "was ready for any step-and-repeat event while the jeans were fit for her signature Whole Foods runs."
The trend of wearing dresses with jeans on the red carpet was seen on celebrities like Jessica Alba, Rachel Bilson, Zoe Saldana, and Ashley Tisdale in the early 2000s.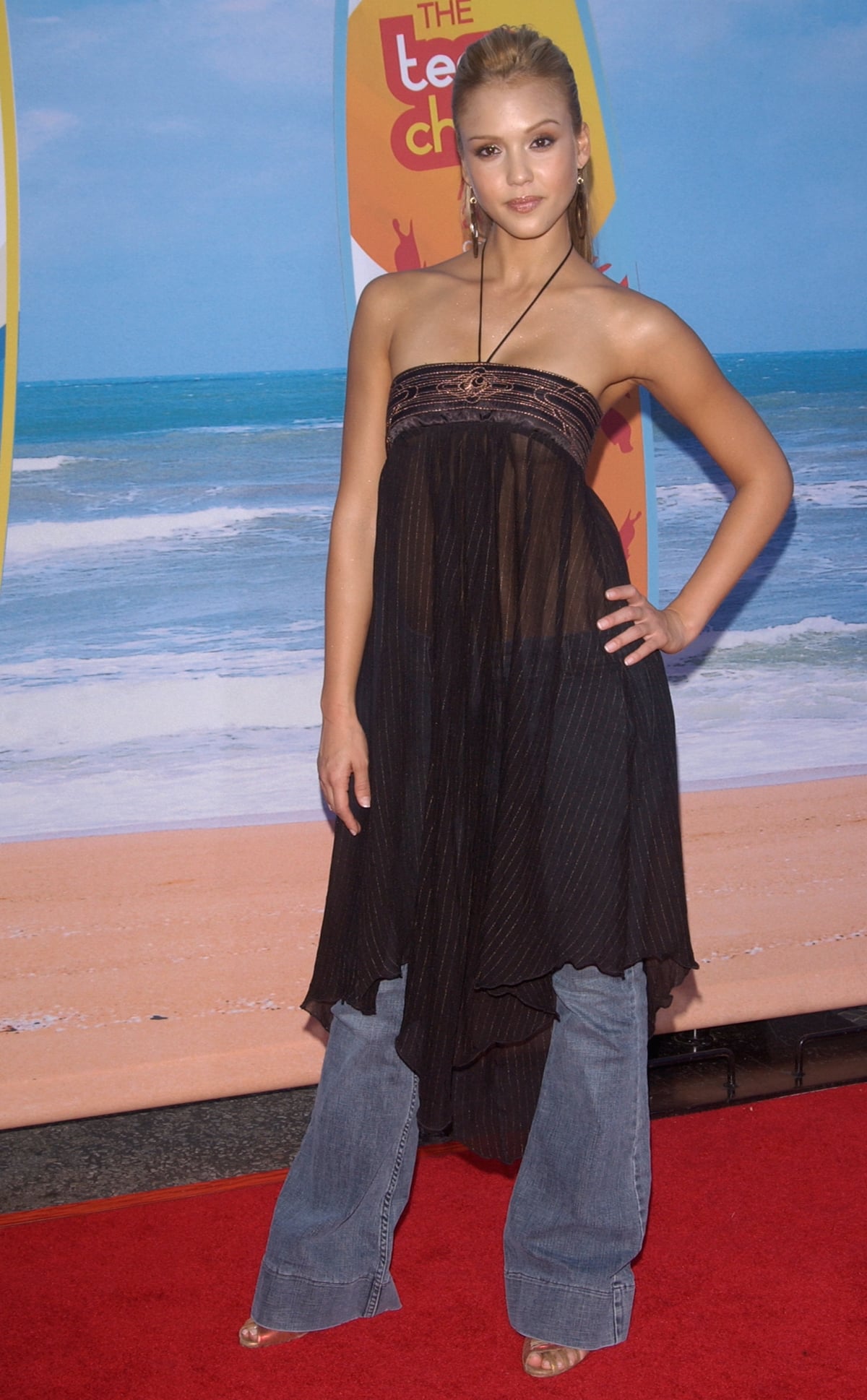 Jessica Alba in a black Desanka halter top with flared jeans at the 2004 Teen Choice Awards held on August 8, 2004, at the Universal Amphitheatre, Universal City, California (Credit: Featureflash Photo Agency / Shutterstock)
But it slowly became a fashion faux pas, and the "internet lovingly roasted" Katie Holmes for it, according to Glamour magazine.
Headlines were suddenly about which Y2K trends are coming back, and online comments range from calling the look "cursed" to applauding Katie Holmes for choosing comfort over style.
But is wearing dresses with jeans a thing of the past?
Rachel Bilson wears a striped tunic dress with flared jeans at the 2003 TCA Summer Press Tour – FOX Party on July 18, 2003, in West Hollywood, California (Credit: DFree / Shutterstock)
British designer Molly Goddard unveiled her Spring/Summer 2022 collection that saw beautiful tulle pieces paired with loose-fitting jeans.
We've seen sleepwear as red carpet fashion, fuzzy bucket hats and slogan tees as workout staples on Addison Rae, and a whole lot of UGGs.
There's even talk of Princess Diana's "revenge dress" as seen recently on Olivia Wilde after her split with British pop sensation Harry Styles. (Incidentally, Katie Holmes was said to have split with 33-year-old musician Bobby Wooten III after eight months of dating because, as an insider put it: "They just didn't work out together for the long run.")
Stylist Brie Welch explained how the look came to be in an interview with The New York Times: "On the day of (and because Katie has her own effortless style that should be appreciated here), she said she wanted to wear sneakers, because it was a concert and obviously there would be a lot of dancing to Dua Lipa (and nothing is more comfortable!).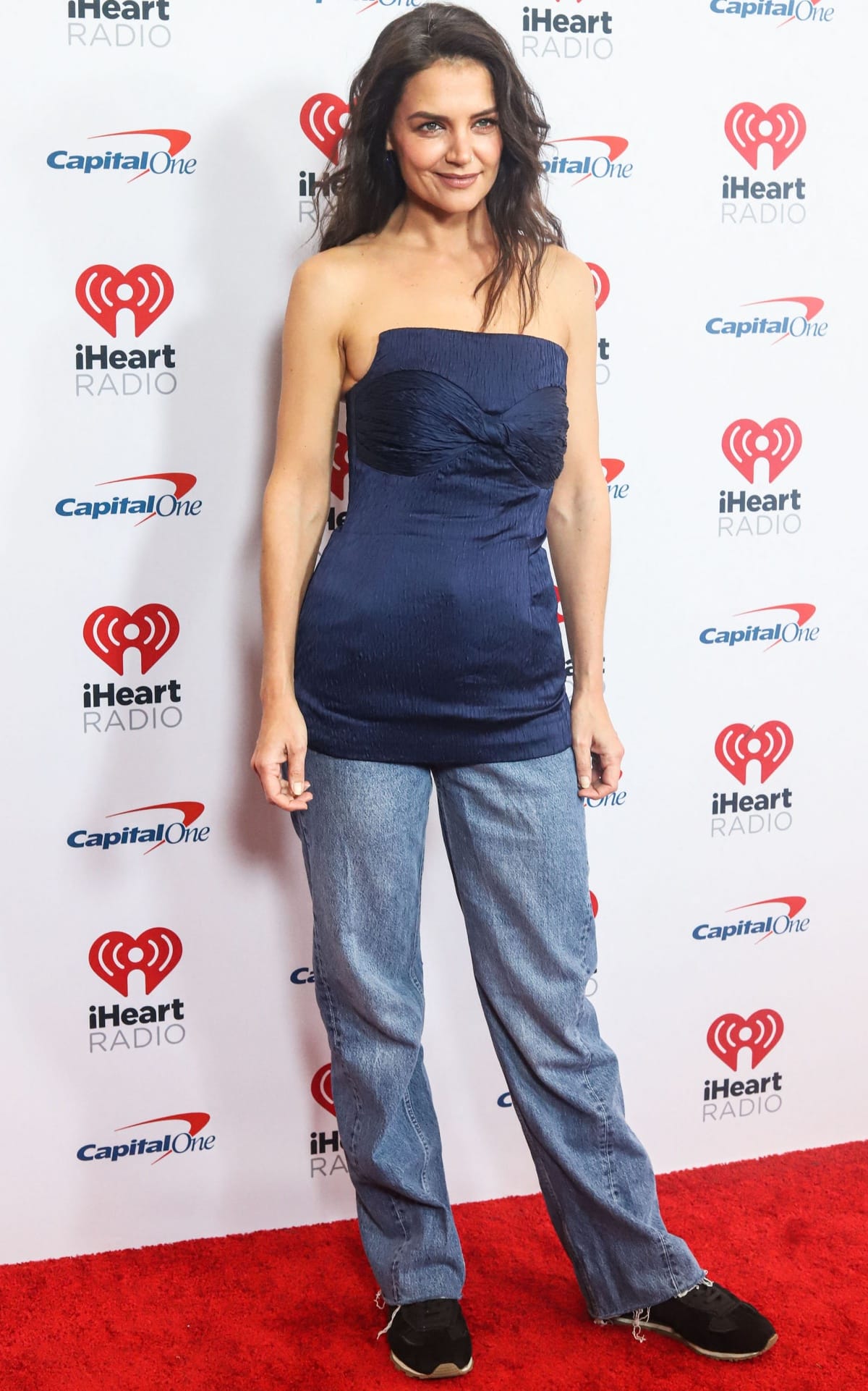 Katie Holmes unintentionally brought back a Y2K trend at this year's iHeartRadio Z100 New York Jingle Ball (Credit: Jordan Hinton / ABACA / INSTARimages / Cover Images)
"We decided the rich color and subtle bustier effect detailing of the top was elegant and would be fun if paired with jeans, creating a more youthful feel for Jingle Ball and the atmosphere there," she said via email.
Besides, as Brie Welch put it, Katie Holmes is "more than capable of looking cool in an unintentional trend 20 years later."
What do you think of Katie Holmes and her unintentional revival of this Y2K trend?