In anticipation of the upcoming third season of the hit series Emily in Paris, the show's leading lady Lily Collins will likely embark on a swanky publicity tour. However, she's already given us some ideas about what to wear in the month of December.
Back in New York City after making an elegant entrance at the world premiere in France last week, the style star has offered up three breathtaking winter looks in a single day.
Lily Collins as Emily Cooper in the romantic comedy television series Emily in Paris (Credit: Netflix)
1. Parisian Chic in Fendi on Good Morning America
On Monday, the star of the Netflix blockbuster show appeared on Good Morning America while perfectly exuding Parisian chic in Fendi, and we can't get over it.
Lily wore a Fall 2022 houndstooth mini dress from Italian fashion house Fendi under a wool jacket from the same collection.
Lily Collins wears a beige houndstooth wool dress with a matching printed jacket from Fendi (Credit: Roger Wong / INSTARimages / Cover Images)
The Emily in Paris star styled them with a black turtleneck top, a pair of sheer black tights, and Giuseppe Zanotti black platform heels. She accessorized with her signature fringe and a couple of gold Cartier hoops for a look that exemplified a French movie star.
Collaborating with stylists Mariel Haeen and Rob Zangardi to create these striking looks, the artist topped off her outfit with a cute little Cartier top-handle mini bag.
Although Emily Cooper, the character she plays in Emily in Paris, has a penchant for bright colors and clashing patterns, Lily has proven that she has mastered the art of Parisian chic.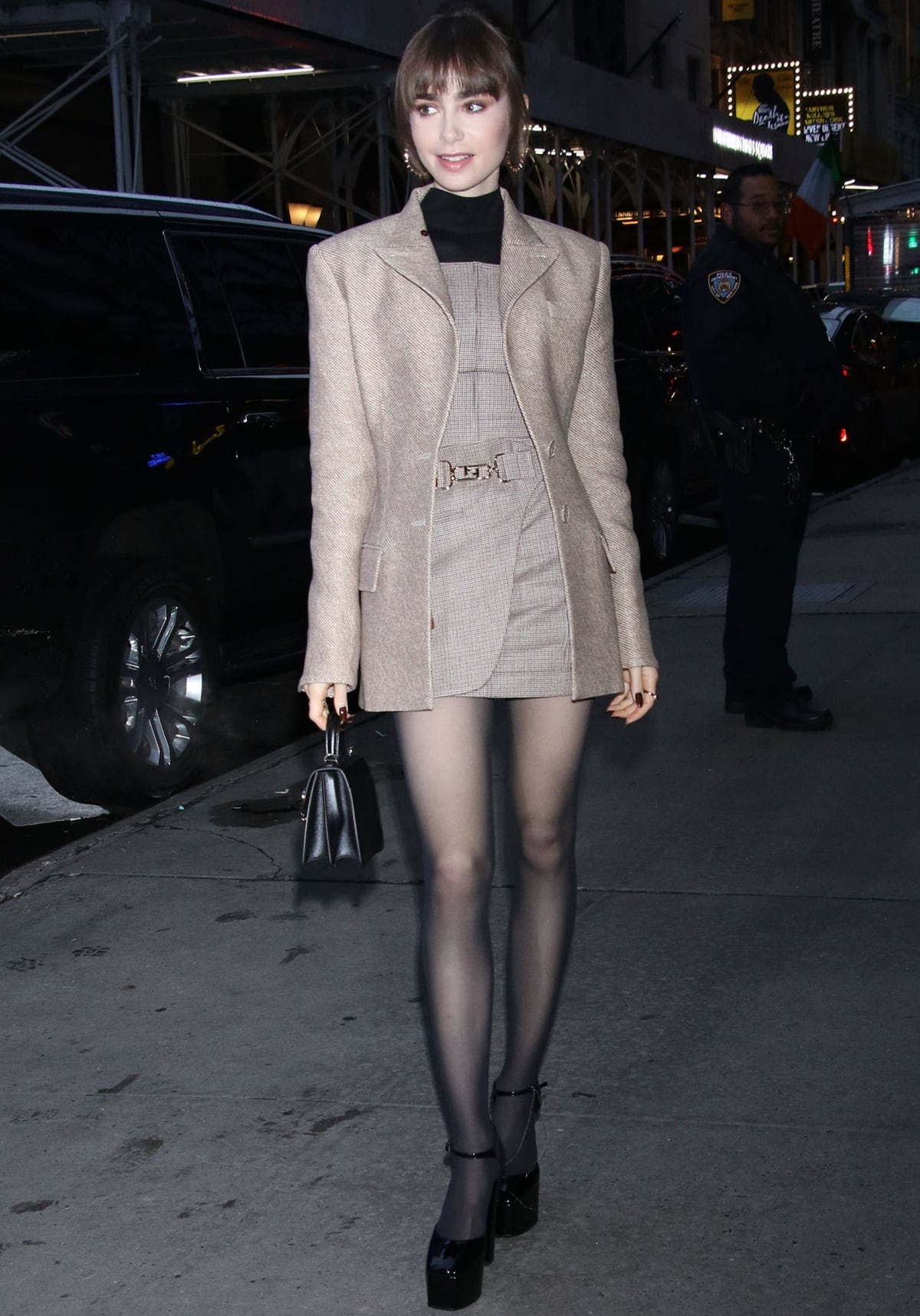 Lily Collins totes a black Panthère de Cartier top handle bag while looking chic outside the Good Morning America studios in New York City on December 12, 2022 (Credit: Roger Wong / INSTARimages / Cover Images)
The 32-year-old actress wore the Bebe platform pumps, which gave her a stylish boost. They feature square toes, thick platforms, and a black patent leather construction.
You can get your own pair for $1,050 at Giuseppe Zanotti. Check out other Bebe styles from Giuseppe Zanotti over at Farfetch.
Giuseppe Zanotti Bebe Platform Pumps, $1,050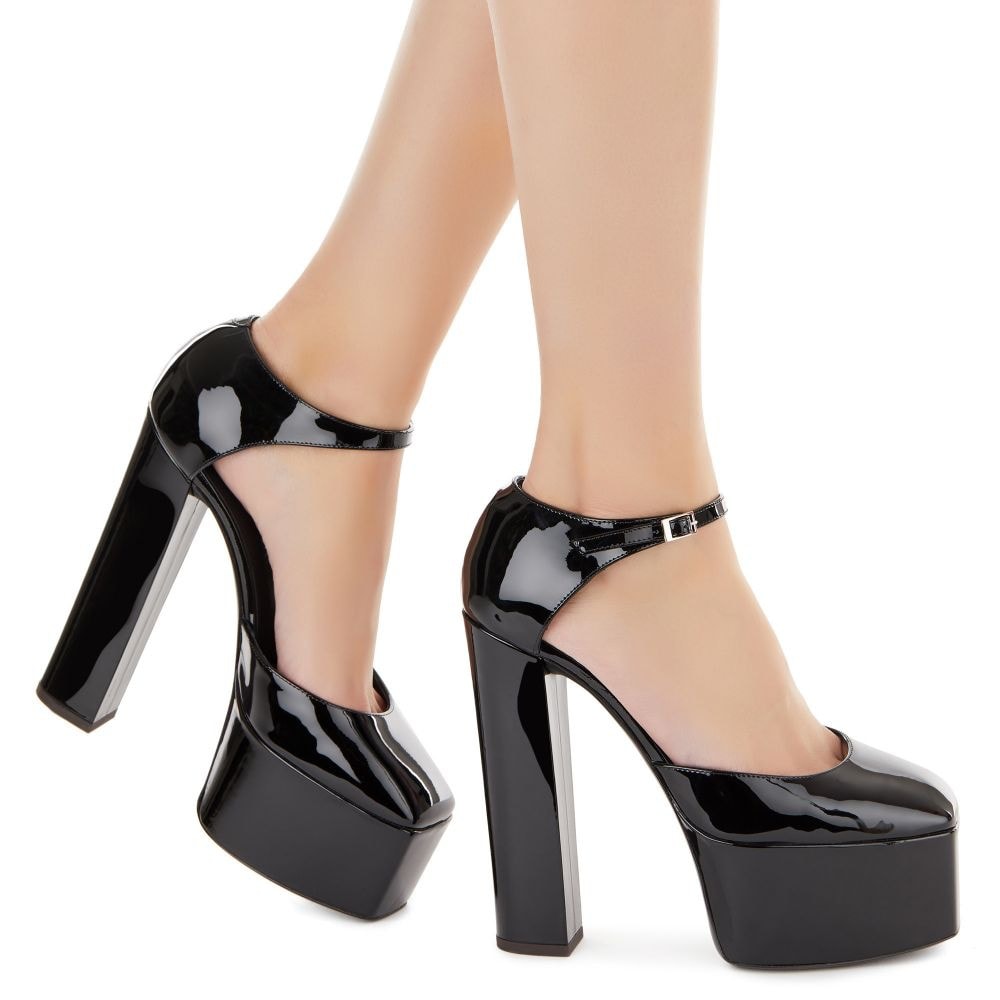 These shoes also have ankle straps with side buckle closures and high block heels
2. Effortlessly Elegant in Del Core on The View
Lily's Monday continued with her appearance on The View, taped on the Upper West Side of Manhattan.
She changed into another matching ensemble, this time opting for a brighter shade of blue to stand out from her previous wardrobe of neutral tones.
The Golden Globe nominee wore a Del Core strapless blouse with a ruffled, asymmetric hem and a pleated bust. Lily styled it with the matching powder blue wide-legged pants and a camel-colored coat.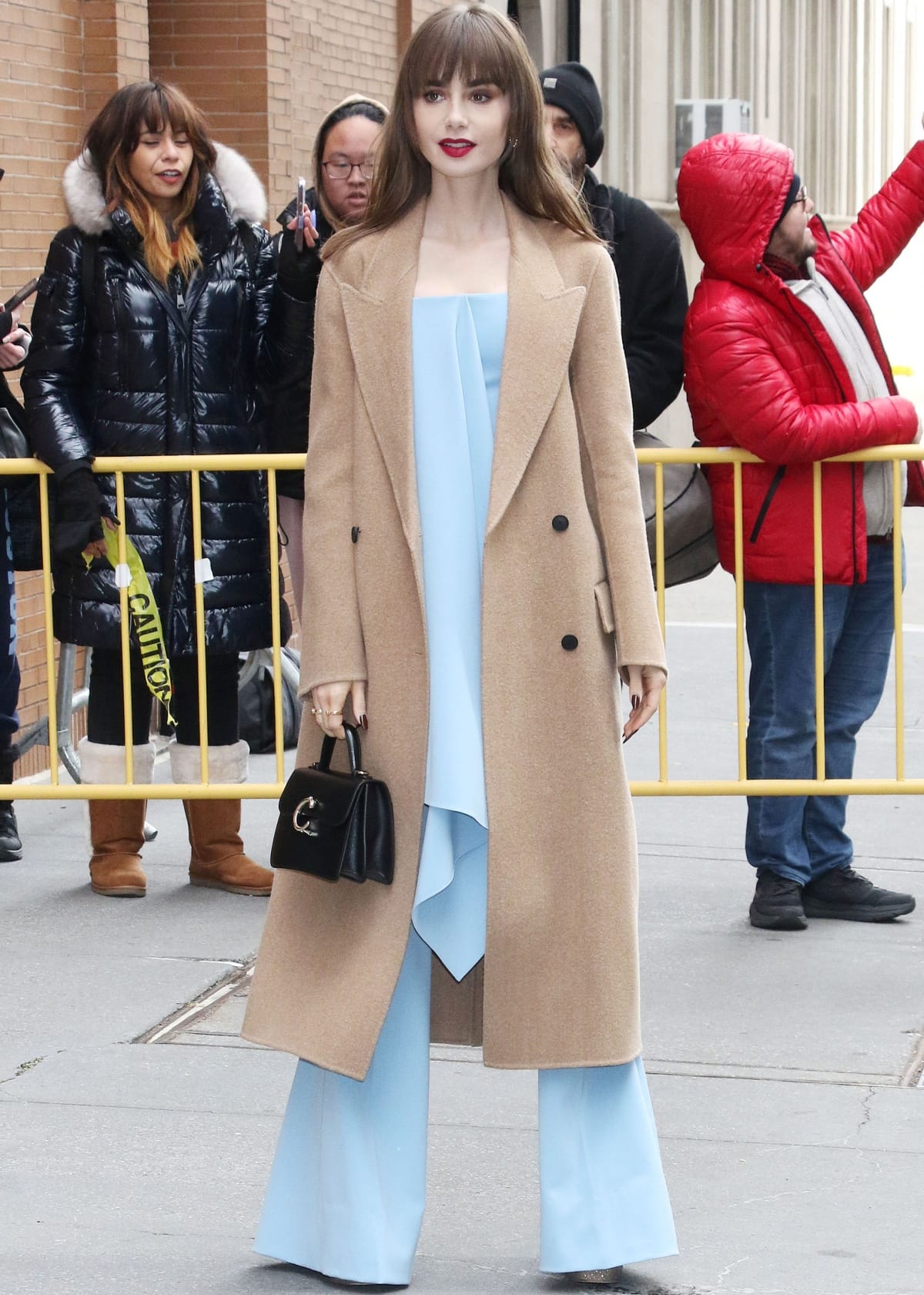 Lily Collins looking sophisticated in Del Core strapless top and pants outside The View studios in New York City on December 12, 2022 (Credit: Roger Wong / INSTARimages / Cover Images)
She accessorized with the same Cartier bag and a pair of sky-high platform heels, which peeked below the hem of her Del Core pants.
Her dark hair was done in soft waves, and she framed her face with a fringe. She also wore a bright pinkish-red lip to complete her look.
3. Dramatic in Dior on The Late Show With Stephen Colbert
Luxury fashion designers also created the outfit Lily wore to the Ed Sullivan Theater for her guest stint on "The Late Show with Stephen Colbert" later that day.
A netted veil headpiece and a Dior dress couldn't be more stereotypical of a classic French silver screen siren. Opaque tights and Christian Louboutin pumps were the outfit's finishing touches, including a Clash de Cartier necklace by Cartier.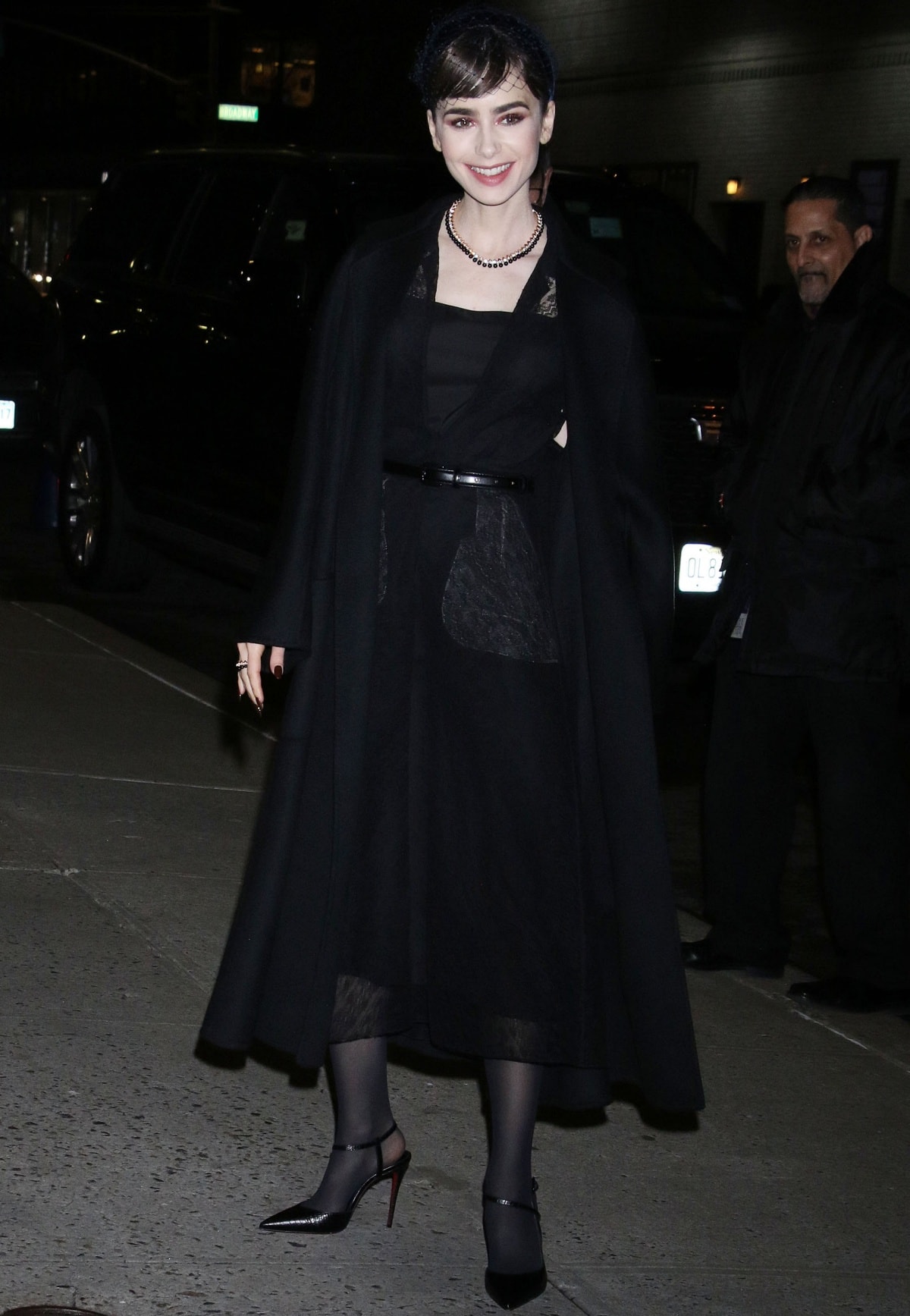 Lily Collins made a dramatic entrance in Christian Louboutin Jenlove pumps at the Ed Sullivan Theater for her guest appearance on "The Late Show with Stephen Colbert" in New York City on December 12, 2022 (Credit: Roger Wong / INSTARimages / Cover Images)
Charlie McDowell's wife wore the Jenlove slingback pumps from Christian Louboutin, who has released a lot of stunning shoes this year.
This black leather pair features a pointy-toe silhouette and side buckle closures. You can get your own in either black or neutral for $895 at Net-A-Porter.
Christian Louboutin Jenlove Slingback Pumps, $895
These shoes also have high stiletto heels and the luxury brand's signature red lacquered soles
Lily posted Instagram images of herself in the Dior outfit and admitted through her caption, "Channeling Wednesday on a Monday," that despite being one of Netflix's leading women, she sometimes watches other shows too.
As can be seen, she has been influenced by more than just the fashion of the city of love.
She'll be returning as Emily Cooper in the third season of her show on December 21, 2022, but we're more interested in seeing what she's going to wear this time around than anything else!