Paris Hilton has finally introduced her bundle of joy to the world through a series of heartwarming photos on her social media account.
The first photo shows the new family of three, with Carter Reum kissing Paris Hilton on the forehead as she cradles their newborn son on her shoulder.
In the second photo, the new mom is seen holding her son in her arms while kissing his cheek. Hilton looked stunning in a plain white robe, which she paired with minimal makeup and her signature blonde locks styled in loose waves.
Phoenix, on the other hand, appeared calm and collected in his white onesie and hat, as if he was born for the spotlight.
Paris Hilton recently revealed the name of her newborn son, Phoenix Barron Hilton Reum, and shared its heartfelt meaning.
The 42-year-old socialite announced the birth of her baby through a surrogate in January and has been keeping his identity a secret until now.
In the most recent episode of her iHeartRadio podcast, This Is Paris, she read from her upcoming memoir, Paris: The Memoir, and shared the inspiration behind her son's name.
Hilton revealed, "We plan to name him Phoenix, a name I decided on years ago when I was searching cities, countries, and states on a map looking for something to go with Paris and London."
Paris Hilton recently introduced her baby boy, Phoenix Barron Hilton Reum, to the world and expressed her excitement and immense love for him, along with her husband Carter Reum (Credit: Axelle Woussen / BauerGriffin / INST / Cover Images)
Then, Hilton adds in her upcoming memoir that, in addition to "a few good pop culture reference points," the name "Phoenix" is not just a city in Arizona but also refers to a legendary bird that emerges from the ashes.
She read, "Phoenix has a few good pop culture reference points, but more important, it's the bird that flames out and then rises from the ashes to fly again. I want my son to grow up knowing that disaster and triumph go around and come around throughout our lives and that this should give us great hope for the future."
Once the piece was read, Hilton confirmed that she and Reum had named their baby Phoenix Barron Hilton Reum. She explained that they had chosen the middle name Barron in honor of Hilton's late grandpa, hotel tycoon Barron Hilton, who passed away in 2019 at 91.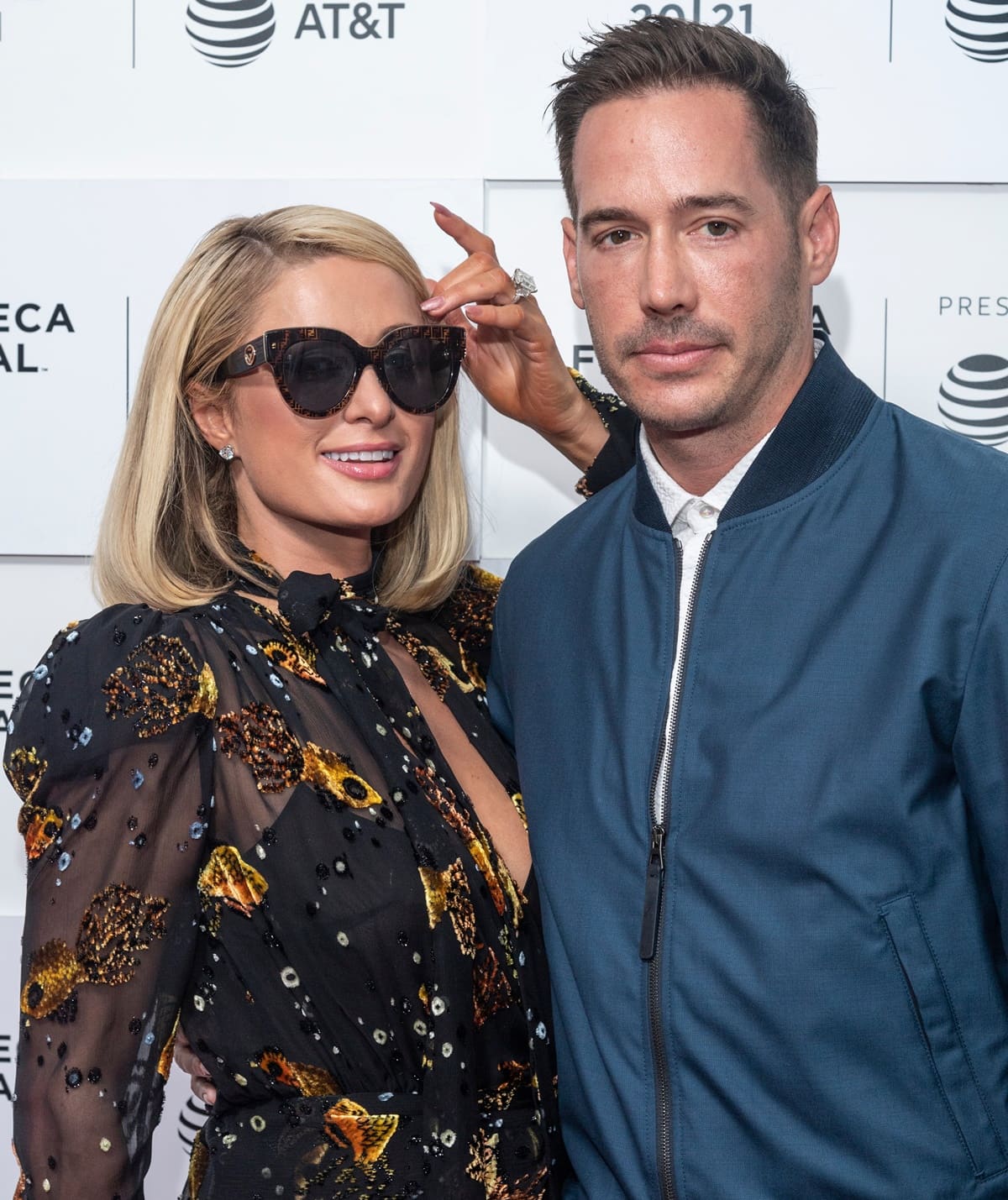 Paris Hilton and her husband, Carter Reum, welcomed their first child, a baby boy born via surrogate in January 2023; the couple named him Phoenix Barron Hilton Reum and have been open about their journey to parenthood after trying in vitro fertilization in 2021, with their romance starting in late 2019 and culminating in a luxurious wedding in November 2021 (Credit: Lev Radin / Shutterstock)
Hilton shared, "[My grandfather] was always my mentor, and I looked up to my grandfather so much. We were so close, and I miss him every day. So I really wanted to honor him by having his name in my first son's name."
The hotel heiress said she wanted to give her child a city name since she loves the one she was born in so much. She says, "I've been planning my children's names for years and years," adding that she has always wanted a daughter called London.
While she wanted a name that was a city, state, or country, she had trouble thinking of a suitable boy's name that fit that concept. Hilton remarked, "Just something about the world. Because I love to travel, and I love exotic names." She added that it's "cute to all have city names."
Hilton, though, admitted that it was "really difficult" to decide on a name for her newborn boy because none of her favorite places—Las Vegas, Ibiza, or Aspen—were terrific choices.
In the podcast, Hilton also revealed that "over a decade ago," she had first thought of the "amazing name" Phoenix, explaining that "it stands for hope, rebirth, and transformation."
The couple wanted a "uniquely remarkable " name for their son. Hilton said, "It's such a beautiful name. It's so unique." Hilton believes names have "power," and she and Reum wanted to give their son a name that reflected that belief.
Although the details of their first meeting in their twenties remain unknown, Paris Hilton and Carter Reum reconnected in 2019 when Reum's sister, Halle Hammond, invited them both to Thanksgiving dinner, which led to their instant connection and incredible chemistry, with Hilton revealing that she has known Reum for 15 years and that they have not spent a night apart since their first date (Credit: Michael Simon / Startraksphoto / Cover Images)
Hilton further disclosed that nobody, not even her mother, Kathy Hilton, or her sister Nicky Hilton, knew her kid had been born until he was over a week old.
She admitted that initially keeping the baby's birth confidential "was really nice just to have that with Carter be our own journey together."
The fashion entrepreneur added, "Because I just feel that my life has just been so public. I've never really had anything really just be mine."
Hilton continued gushing over her "angel baby," saying, "My life just feels so complete, and I'm just so, so grateful and feel so blessed."
On January 24, Hilton posted an image of herself holding the baby's hand and the message, "You are already loved beyond words," to reveal that she and Reum had welcomed their son.