Rihanna is at it again, redefining maternity fashion in '90s baggy jeans while out for lunch at the Italian restaurant Bottega Louie with her baby daddy A$AP Rocky.
The 35-year-old Barbadian singer put her burgeoning belly on full display in a pair of low-rise jeans and a crop top as she walked arm-in-arm with the 34-year-old rapper, whom she's been dating since 2020.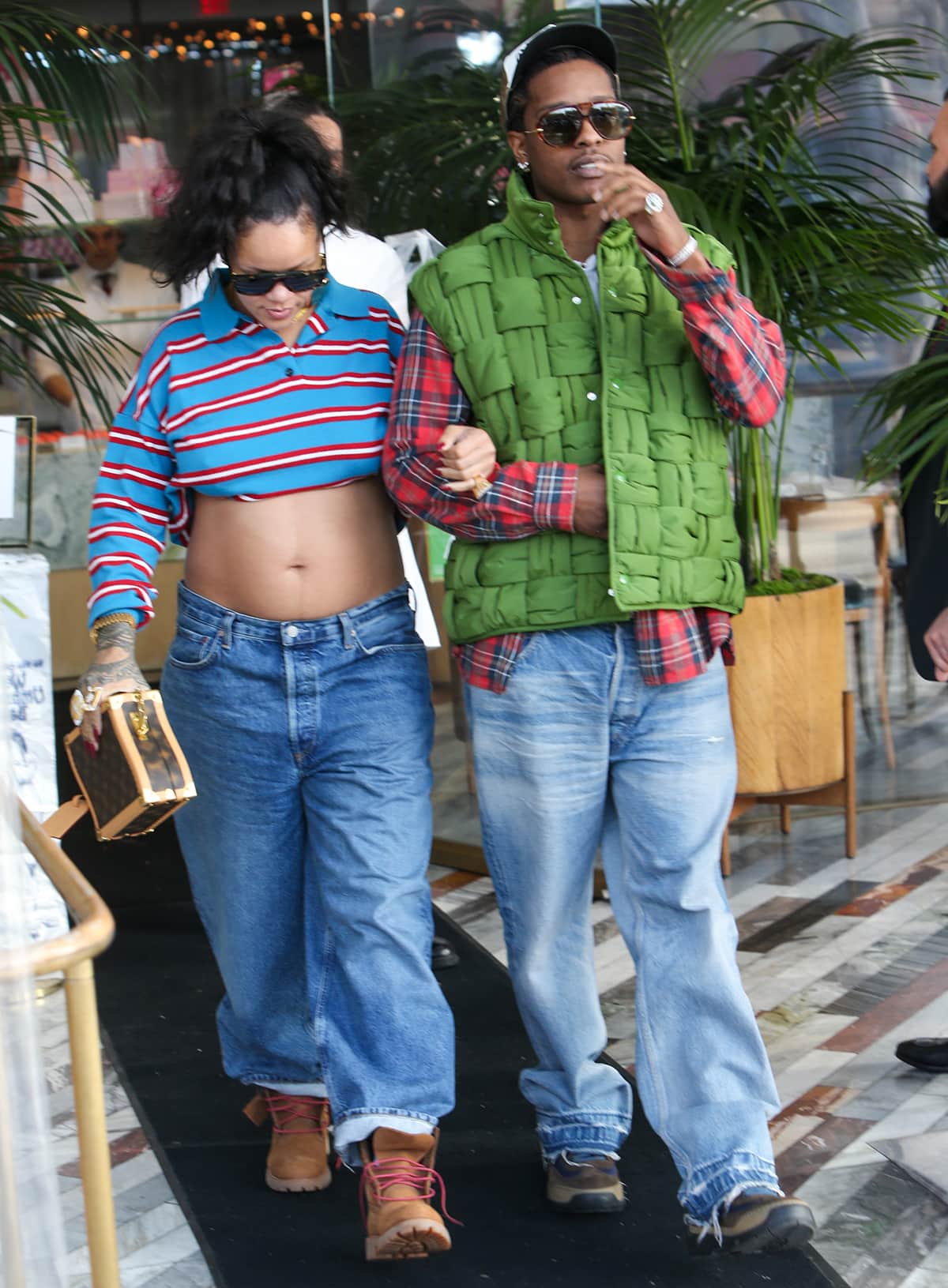 The very pregnant Rihanna and A$AP Rocky on a lunch date at the Italian restaurant Bottega Louie on March 15, 2023 (Credit: BauerGriffin / INSTARimages)
Having worn lingerie and belly-baring crop tops during her first pregnancy, it's no longer surprising to see Rihanna rocking another badass maternity style for her second one, which she revealed during her Super Bowl Halftime performance in February.
Rihanna dressed casually for their lunch date, donning a pair of loose-fitting jeans and a striped wool polo shirt by Loewe, which she rolled and tucked into her bra to resemble a crop top and accentuate her baby bump.
Available for $990 at Mytheresa, the blue, red, and white top was knitted from pure wool to a relaxed, slightly cropped silhouette, finished with drop shoulders, a classic polo collar, and an all-over striped motif.
Hailey Bieber sported the same top while running errands with her husband last week.
Rihanna flashes her growing baby bump in a Loewe striped polo shirt and low-rise baggy jeans, finished with comfy Timberland boots (Credit: BauerGriffin / INSTARimages)
Statement jewelry, such as a thick gold necklace, a watch, several rings, and a gold flip-off earring, elevated Rihanna's maternity streetwear.
Wearing her curly hair in a high ponytail, RiRi hid her eyes behind tortoiseshell sunglasses and carried a Louis Vuitton Monogram Box Clutch.
Preggy Rihanna wears her curly hair in a high ponytail and hides her eyes behind a pair of tortoiseshell sunglasses (Credit: BauerGriffin / INSTARimages)
She completed her outfit with Timberland Premium boots in wheat nubuck that you can buy at Zappos.
These iconic 6-inch work boots have a seam-sealed construction with 200 grams of PrimaLoft insulation.
They are constructed of superior waterproof, abrasion-resistant leather from a tannery that has earned a silver rating from the Leather Working Group.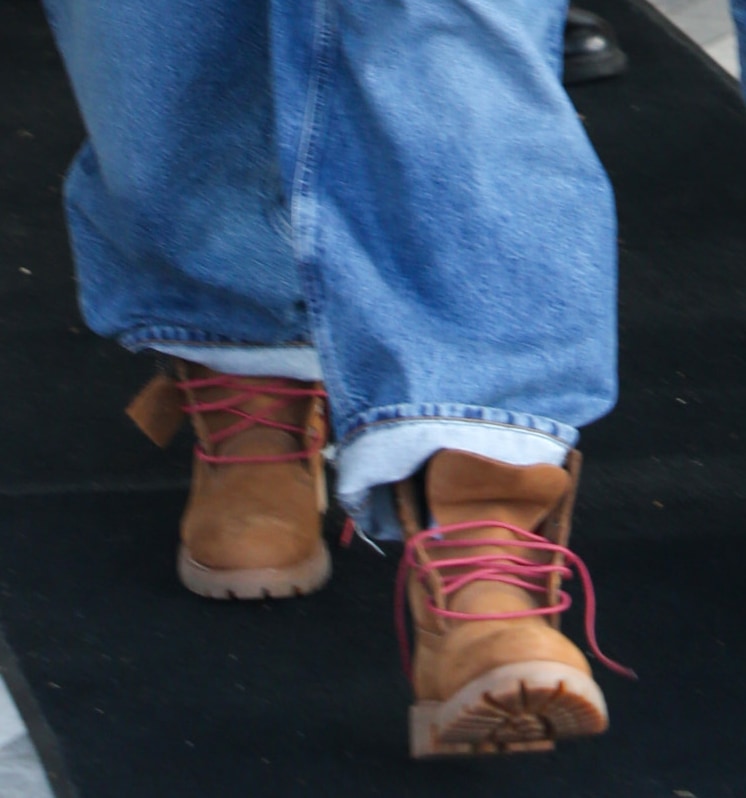 Rihanna completes her badass maternity streetwear with Timberland waterproof boots (Credit: BauerGriffin / INSTARimages)
Additionally, they include a padded collar, a removable anti-fatigue insole, and a rubber lug outsole made with 10% plant-based materials.
Timberland 6-Inch Premium Waterproof Boot, $170 at Nordstrom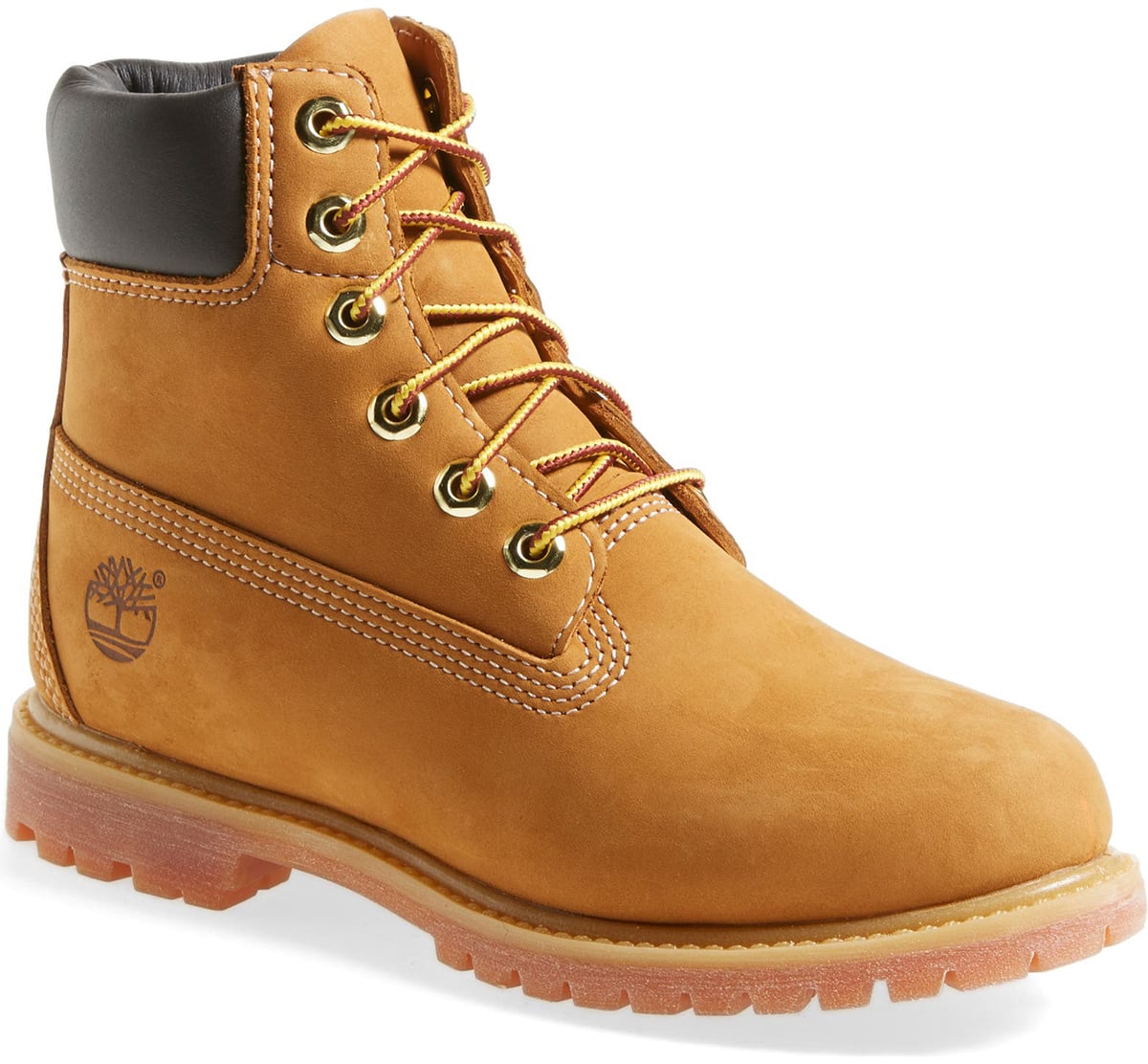 These iconic Timberland boots are made from premium leather from a Leather Working Group silver-rated tannery
Rihanna's baby daddy A$AP Rocky coordinated with her in baggy jeans, with a light-green Bottega Veneta intrecciato puffer vest ($3,500 at Saks Fifth Avenue) and a red plaid shirt.
He wore a white graphic tee underneath and finished the look with a trucker cap, sunglasses, and silver jewelry.
Rihanna's partner A$AP Rocky opted for a casual look, wearing baggy jeans and a red plaid shirt with a light-green Bottega Veneta intrecciato puffer vest (Credit: BauerGriffin / INSTARimages)
Rihanna Surprises Fans with Baby No. 2 at Super Bowl
Rihanna's Super Bowl Halftime show left many in shock, not only because of her explosive performance but also because of the unexpected revelation of her growing belly.
As she stood on the stage clad in an unzipped red Loewe utility jumpsuit with a molded vinyl bra and a fitted turtleneck, Rihanna started rubbing her stomach, seemingly hinting at her second pregnancy.
Fans were confused about whether she was expecting baby number two since she had just given birth to her and A$AP Rocky's first child nine months ago in May 2022.
The same evening, a rep for Rihanna confirmed the happy news to People.
Rihanna hints at her second pregnancy during her Super Bowl Halftime performance on February 12, 2023 (Credit: YouTube / NFL)
The couple has been very private about their growing family. They welcomed their baby boy in May last year but have yet to disclose his name.
In an interview with Zane Lowe on Apple Music 1 two months ago, A$AP Rocky proudly said he's "a member of our club now, like the dad club."
"You see a dad, you see me. I'm playing on, I'm a full dad now."
He went on to say that being a father has changed his life. "Being outside and working and being creative, it drives more energy for you to obviously to think and soak things up like a sponge now that I'm a dad because I have a whole 'nother perspective."
"But it honestly helps you get home to your family and get home to your baby. And I can't even explain it, man. You come home to heaven every day. I'm so thankful. God is good, man."
How Soon Can a Woman Get Pregnant After Giving Birth?
While many were excited about the news, others expressed their concerns if it was healthy for Rihanna to become pregnant again just nine months after welcoming her first child.
It is possible to get pregnant weeks after giving birth, depending on how often moms breastfeed since breastfeeding is known to delay postpartum period.
According to What to Expect, "Most nursing moms won't get their periods for the first three to six months, with many getting their first period about nine or more months after baby's birth. Some women can conceive sooner, while others begin ovulating later."
The report added: "Nursing moms have been known to begin their periods as early as six weeks postpartum or as late as 18 months after giving birth. On average, women who breastfeed resume their cycles later than those who don't."
What to Expect also reported that "The American College of Obstetricians and Gynecologists (ACOG) advises waiting at least six months or more after your last baby's birth before getting pregnant again and cautions against the risks of pregnancy sooner than 18 months after having a baby."
Meanwhile, as per Mayo Clinic, "research suggests waiting 18 to 24 months but less than five years after a live birth before attempting your next pregnancy" to lower the risk of complications and other health problems.