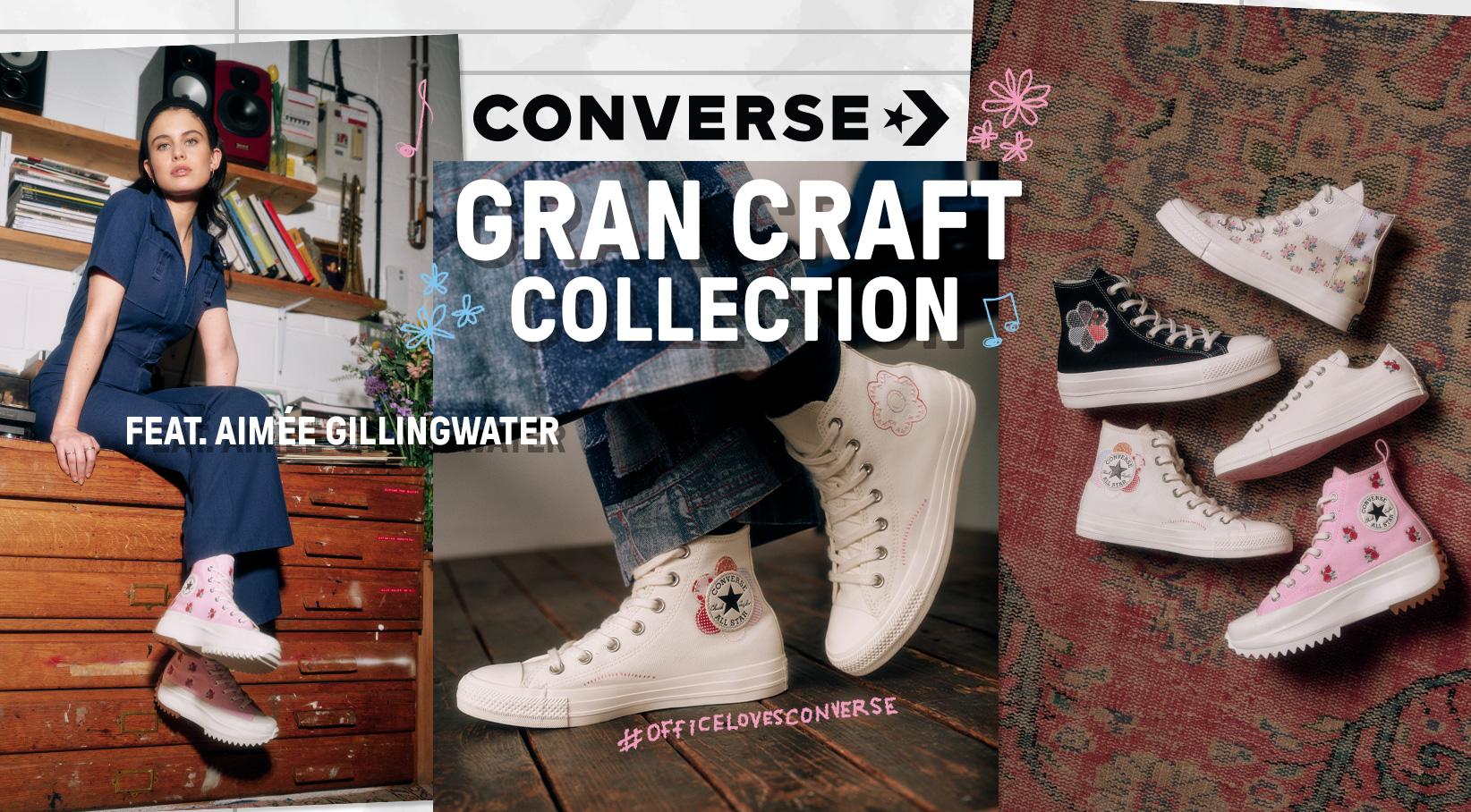 OFFICE and Converse have come together once again to celebrate the launch of the 'Gran Craft' pack😍🌸✨.
We collaborated with super cool, @converse_london All Star and emerging musician Aimée Gillingwater at a chilled location in Hackney💘. We found out about her craft, musical journey so far and how she is styling her Converse's this season!
Keep scrolling to find out more…🤩🤳
Di-voine! The 'All Star Hi' details are a stitch above the rest! The embroidered artwork and patchwork print would look so cute with a patchwork denim or your go to floaty spring skirt😍.
Chuck it on hun! The 'All Star Hi 70' are good for the sole. Our fave deetz are the patchwork panelling against the ornamental floral stitch-work are *chefs kiss*
We looove the hidden motif in the inner tongue print and comfy cushion sole for all-day comfort😎👏!
Taking inspo from your grandma's sewing portfolio, these easy-on Run Star Hike's with the embroidered bouquets bring a personalised, handmade vibe to everyone's fave go-to chunky 'n' funky friend💘!
Low in silhouette, HIGH in vibes. The 'All Star Low' is adorned with floral embroidery on the heel for a subtle yet super fun twist💕. Step out in style with a tailored trouser and colour pop sock💅!
Say hello to the new 'All Star Lift Hi' trainer! It's giving…Patchwork perfection! Express yourself with the gingham-printed and floral panelling around the iconic 'All Star' emblem. Bold and beaut af🤩.
Style this spring with a flared trouser or jumpsuit for a trip down retro lane.
🌸Shop the Converse "Gran Craft" Collection today!🌸
www.office.co.uk| @officeshoes
#OFFICELOVESCONVERSE