If there's one sneaker that defied the odds of fashion, it's the dad sneaker.
Originally worn by suburban dads (who often paired their sneakers with polo shirts and beige chinos), these ironically cool sneakers took the fashion world by storm in the late 2010s.
Originally worn by suburban dads, dad shoes have now become a growing fashion trend
Dad sneakers officially made the transition from Home Depot to high fashion after being reinterpreted by brands like Valentino, Jimmy Choo, and Gucci.
But are dad sneakers still on trend for 2023? We'll be discussing this refreshingly average footwear trend below.
What Exactly Are Dad Sneakers?
Also known as "chunky sneakers" or "ugly sneakers," dad sneaker is a term used to describe any pair of functional and comfortable kicks.
They tend to offer a lot of arch support via their signature chunky soles and are also the everyday footwear of choice for many dads and middle-aged men.
Dad sneakers offer a lot of arch support with their signature chunky soles
Dad sneakers often feature mesh, gel, and other functional features for optimal breathability and comfort. They are neither minimal nor flashy; they're the epitome of a laid-back, unapologetic style.
Are Dad Sneakers Still In Style?
Dad sneakers reached peak popularity around 2019. After almost a decade of plain white tennis sneakers being on trend (think Adidas Stan Smiths and Reebok Club Classics), fashion lovers wanted to switch up their sneaker silhouettes. The chunky soles of dad sneakers were a natural progression from sleek tennis styles.
Plus, dad sneakers perfectly aligned with the 'ugly shoe' trend that was simultaneously popping up in the rest of the footwear world. It seems like too big of a coincidence that dad sneakers became cool at the same time as Crocs and Birkenstocks.
Bella Hadid, Hailey Bieber, Rita Ora, and Kendall Jenner show how to wear chunky dad shoes (Credit: Michael Simon / startraksphoto / Cover Images / BauerGriffin / INSTARimages / DARA KUSHNER)
The belief that beauty is pain seemed long gone as a new era of trendsetters had proved that you can absolutely be comfortable and stylish.
As we near 2023, dad sneakers' popularity is showing no signs of stopping. New Balance, the OG dad shoe brand, has a playful new slogan that tells the world that they're "worn by supermodels in London and dads in Ohio."
We may have teased our dads for their sneaker choices when we were young, but it seems that they really do know best when it comes to comfortable footwear!
Styling Tips, aka How To Make Dad Sneakers Look Cool
So, how can you wear dad shoes without actually looking like a dad? It's all about creating contrast. Celebrities, influencers, and fashion editors have been pairing their dad sneakers with unexpected fits to create the ultimate casual cool look.
1. Dad sneakers + suits
This look proves that just about any sneaker style looks good with a suit. It might not be appropriate for a black-tie event, but it will certainly look cool for a lunch date.
Be sure to wear a t-shirt instead of a button-down to keep the casual elements of your outfit balanced.

1. Dsquared2 Wide-Leg Two-Piece Suit, $2,160 at Farfetch; 2. Leset Kelly Rib Tee, $78 at Shopbop; 3. Nike Air Max 95 Essential, $175 at Nike; 4. Joseph Saria Silk Crepe de Chine Midi Skirt, $675 at Mytheresa; 5. Stella McCartney Lindsay Wool-Twill Jacket, $1,425 at Matches Fashion; 6. Prada Cloudbust Thunder High-Tech Sneaker, $1,200 at Prada; 7. Vince Camuto Gradation Crew Neck Sweater, $69 at Nordstrom; 8. Comme Des Garçons Straight-Leg Tailored Trousers, $519 at Farfetch; 9. Gant Mardii Sneakers, $175 at Zappos
Not into a full suit? You can swap tailored trousers for a silky skirt (for a feminine feel) or straight jeans (for an even more laid-back feel). On a similar note, you can ditch the blazer but keep a semi-structured feel with a sweater or t-shirt and tailored trousers.
2. Dad sneakers + dresses
This is another tried-and-tested style that can work with any sneaker style, especially the dad sneaker.
Whether it's a mini or a midi style, a dress (be it a wrap, slip, t-shirt, or sweater) helps create a playfully feminine contrast. Pairing your favorite dresses with dad sneakers is an excellent way to give them an effortless feel for casual moments.
1. Zimmermann Ruffled Asymmetric Silk-Satin Wrap Dress, $675 at Matches Fashion; 2. Dolce & Gabbana Daymaster Denim Sneaker, $895 at Dolce & Gabbana; 3. Gilda & Pearl Sophie Midi-Slip Dress, $403 at Farfetch; 4. Gola Draken Run Sneakers, $75 at Zappos; 5. Free People Thea Minidress, $128 at Saks Fifth Avenue; 6. Puma RS-X Plas Tech Sneaker, $110 at Shopbop; 7. Maison Kitsuné Knitted Jumper Dress, $337 at Farfetch; Maison Margiela x Reebok Question Mid Leather Sneakers, $400 at Mytheresa
3. Dad sneakers + athleisure
At the end of the day, dad sneakers are athletic shoes. They will be in their element when paired with sweat sets, leggings, and/or hoodies. Throw on a trench coat for a chic, elevated feel.
1. MWL by Madewell Weekender Polo, $78 at Shopbop; 2. MWL by Madewell Oversized Boyfriend Sweatpants, $88 at Shopbop; 3. New Balance Classics WL574 V2, $84.99 at Zappos; 4. Plein Sport Logo-Print Leggings Set, $385 at Farfetch; 5. Michael Kors Wrap Trench Duster, $250 at Zappos; 6. Nike Air Max 97 Sneakers, $175 at Nordstrom; 7. Les Tien Brushed-Back Cotton-Jersey Hoodie, $273 at Matches Fashion; 8. Beyond Yoga Spacedye Biker Shorts, $68 at Zappos; 9. Steve Madden Possession Sneaker, $99.95 at Nordstrom
4. Dad sneakers + jeans
Finally, you can always look to actual dads for inspiration. Stick to straight or wide-leg styles that complement the chunky silhouette of the jeans; skinny jeans might make the sneakers look bigger than they actually are.
As for tops, anything goes: sweaters and hoodies are excellent options for cooler temperatures, while t-shirts, tank tops, and blouses will all work for warmer days.
1. Anine Bing Sydney Sweater, $350 at Shopbop; 2. Agolde 90s Pinch Waist Jeans, $130 at Farfetch; 3. Veja Venturi Sneakers, $195 at Zappos; 4. Nic + Zoe Shirt Tail Perfect Tank Top, $55 at Saks Fifth Avenue; 5. Hint of Blu Mighty High-Waist Wide-Leg Jeans, $59 at Nordstrom; 6. New Balance 624 V5, $67 – $145 on Amazon
You can pair your dad sneakers with calf-length socks if you really want to nail the 'dad' look; otherwise, hidden ankle socks create a cleaner feel.
The Best Dad Sneakers For 2023
Whether you're looking to diversify your sneaker collection or treat your feet to some comfort, you can't go wrong with any of the following dad sneakers.
1. New Balance 624, 990 & MR530, $67 – $184.95 on Amazon, Zappos, and New Balance
New Balance reigns supreme as the brand for dad shoes. It's their specialty, after all. Although they do create other kinds of athletic shoes, nothing beats their mesh-laden chunky styles.
The sporty 624 model has been dubbed the original dad shoe, though the 990 and MR530 models also lend similar effects.
New Balance has some of the best dad shoes, including the 624, 990, and MR530
2. Nike Air Monarch IV, $75 – $89.99 on Amazon
No sneaker list is complete without a pair of Nikes. Although their dad shoe game is not quite as strong as New Balance, the Air Monarch is a close runner-up.
This design is a dad classic with its foam-cushion soles and retro-looking logo. Be sure to choose the navy/white colorway if you really want to score brownie points with your neighborhood dads.
Featuring the iconic dad shoe silhouette, the Nike Air Monarch IV boasts a lightweight foam midsole with a full-length encapsulated Air-Sole unit, providing all-day comfort
3. Veja Venturi Sneakers, $195 – $205 at Nordstrom and Zappos
Tennis sneakers may have propelled this French footwear brand to fame, but the Venturis prove they can also make a mean dad sneaker.
The curved, chunky soles and two-tone mesh uppers definitely give off New Balance vibes in a fashion editor-approved package.
A runner-inspired sneaker, the Venturi features the signature V on the sidewalls, lining made from recycled plastic bottles, and a sole made of natural rubber
4. Hoka Bondi 8 Sneakers, $165 at Zappos and Nordstrom
Major fashion magazines have dubbed Hoka the new sneaker brand to watch, as influencers and celebrities are slowly but surely cementing its 'it girl' status.
The brand has also risen through the fashion ranks thanks to strategic collaborations with Opening Ceremony and Moncler. If you want to be a relatively early adopter of Hoka, grab a pair of colorful and chunky Bondi 8 sneakers.
The Bondi 8 has received the American Podiatric Medical Association (APMA) Seal of Acceptance for promoting good foot health, thanks to its removable cushioned insole, internal heel counter, beveling on the heel, and full-length EVA midsole
5. Asics Gel-Kayano 14 Sneakers
This sporty model will serve you well on the streets or at the gym. The running shoe features a mesh upper supplemented by a suede Asics logo. Comfort and enhanced performance are guaranteed with ultra-cushy soles.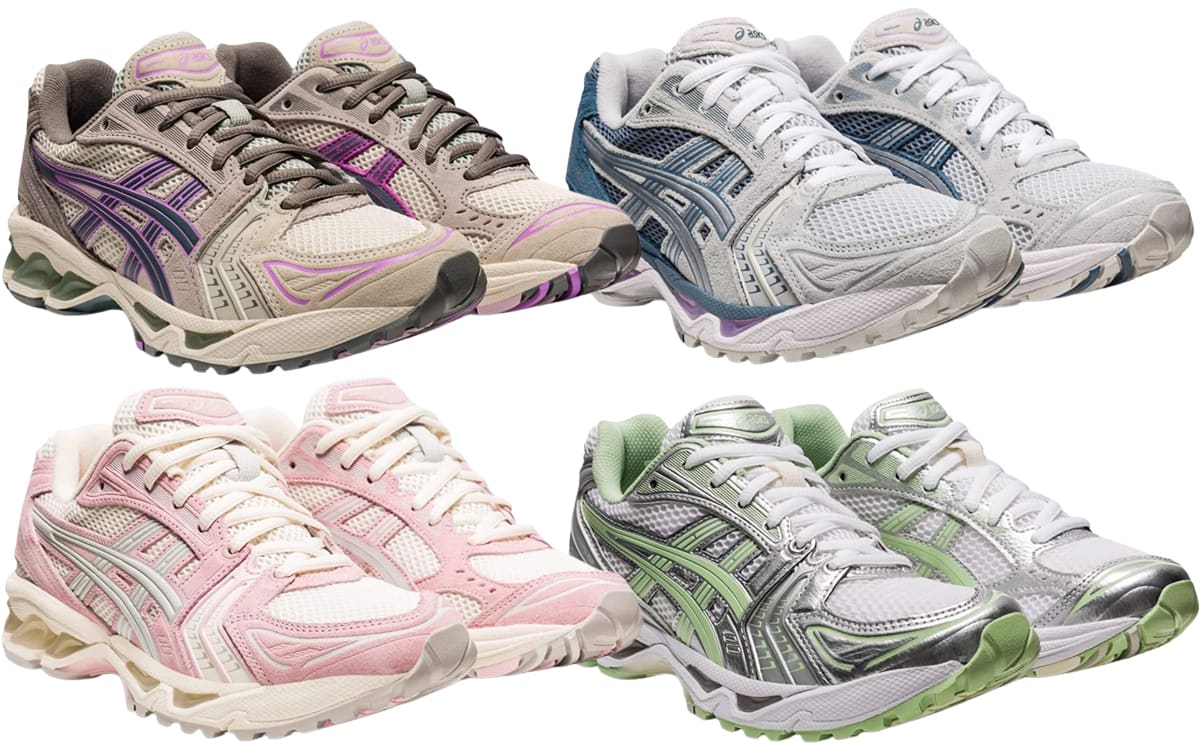 Showcasing a late 2000s aesthetic, the Gel-Kayano 14 boasts the GEL technology cushioning and a sockliner that's produced with a solution dyeing process, reducing water usage by 33% and carbon emissions by approximately 45%
6. Fila Strada Disruptor Sneakers, $54.60 on Amazon
If you love chunky soles, look no further than the Fila Strada sneakers. These sneakers can practically be considered platform-sneaker hybrids, making them a favorite for those looking to gain vertical advantage through their footwear.
The Strada sneakers are also known for their clean colorways, so they are also a good option for people who prefer minimalist designs.
The Fila Strada Disruptor is a lightweight, retro-inspired shoe made with a durable nubuck upper with a removable cushioned insole and an extra-thick rubber sole for excellent shock absorption