Becoming a company spokesperson can turn even the most beloved actors into a public nuisance, and unfortunately, Ryan Reynolds is no exception.
Despite being one of the highest-grossing actors of all time for his work in titles like The Proposal, Blade: Trinity, Green Lantern, and Deadpool, his commercials for Mint Mobile have made the internet hate him… at least a little bit.
Ryan Reynolds has appeared in a bevy of Mint Mobile ads, some of which have been better received than others. For example, one commercial, titled "Deflategreat" seems to have gone over rather well due to the way it gently pokes fun at other cellular providers.
Despite inflationary pressure, Ryan Reynolds says Mint Mobile will start charging its customers less by deflating its prices (Credit: Mint Mobile)
"This might be one of the smartest ads I have seen in a very long time. Way to call everyone out without making a legal claim, kudos to the writers!" one Youtube commenter writes.
Another commented, "This guy is so funny. I was laughing out loud at that last line."
However, in their typical fashion, Reddit users hate Ryan Reynolds' Mint Mobile ads. In fact, he makes frequent appearances on a subreddit designed to trash commercials, r/CommercialsIHate. Recently, Reynolds has been popping up on the forum like there's no tomorrow, as new Mint Mobile ads have been running on the social media platform almost nonstop.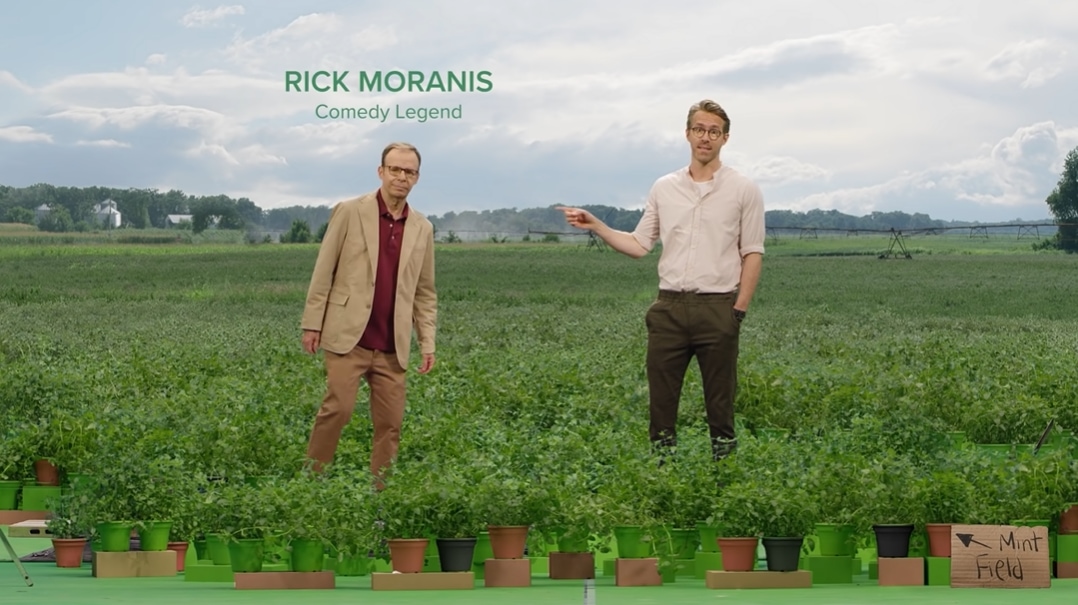 Fellow Canadian actor Rick Moranis came out of retirement to star in a Mint Mobile commercial with Ryan Reynolds (Credit: Mint Mobile)
One poster simply asks, "Anyone else sick of Ryan Reynolds and his crap cellular plan ads?"
"I have literally scrolled past your post like 10 times before actually reading it and seeing what sub it was on. I thought it was another ad with Ryan Reynolds, so I avoided it like the plague," another Reddit user responds, referencing the screenshot used in the post.
"Talk about your ad nausea," another commenter jokes. "I'm so burnt out on seeing Ryan Reynolds nowadays. I don't care what product or movie he's selling, or whatever fast-talking mind-numbing banter he's doing on social media … I tune this dude out."
Ryan Reynolds promotes Mint Mobile's family plan by bringing in his sister-in-law, Robyn Lively (Credit: Mint Mobile)
Another agreed, writing, "It's a shame because he is a great Deadpool, but they rode that pony to death and back and keep hammering the funny out of him. Once every few years, he's a treat. Every few days or weeks, he's a nuisance."
How much does Ryan Reynolds own of Mint Mobile?
As it turns out, there is a reason why Ryan Reynolds keeps popping up all over the web in Mint Mobile ads.
In 2019, Blake Lively's husband purchased a 20%-25% ownership stake in the prepaid wireless carrier, so he has a personal interest in ensuring the company succeeds. Mint Mobile operates on the T-Mobile network and does not have its own network infrastructure.
Mint Mobile owner Ryan Reynolds chats with King Charles III at the Racecourse Ground Stadium on December 9, 2022, in Wrexham, North Wales (Credit: Jacob King / PA Images / INSTARimages / Cover Images)
"It's a bit unconventional which is why I like it," Reynolds said in a statement announcing his investment in Mint Mobile. "Celebrities generally invest in high-end products like skincare brands or delicious gin companies. Yet Mint is making wireless way more affordable at a time when the average American is paying 65 dollars a month. I'm excited to champion a more practical approach to the most essential technology."
It makes sense that he would appear in nearly every commercial—if a majority stakeholder is an A-list actor, why not put them to good use?