She has walked down the aisle multiple times, both in real life and in movies. Prior to marrying her real-life partner Ben Affleck in July last year, Jennifer Lopez wed Owen Wilson in the romantic comedy-drama movie Marry Me. And now, another wedding is underway.
The 53-year-old multihyphenate is set to tie the knot with Josh Duhamel in the romantic action comedy movie Shotgun Wedding, scheduled to be released on January 27 by Amazon Studios via Prime Video.
Jennifer Lopez and Josh Duhamel are about to get married in Amazon Studios' Shotgun Wedding (Credit: Amazon Studios)
Why Jennifer Lopez Was Hesitant to Star in Shotgun Wedding
At the Los Angeles premiere of Shotgun Wedding on Wednesday, the J.Lo Beauty founder revealed she was reluctant to join the cast of the Jason Moore-directed movie.
"[I had] just signed on to do Marry Me and was about to do it and was like, 'Ah, I don't want to do another wedding movie,'" she told The Hollywood Reporter.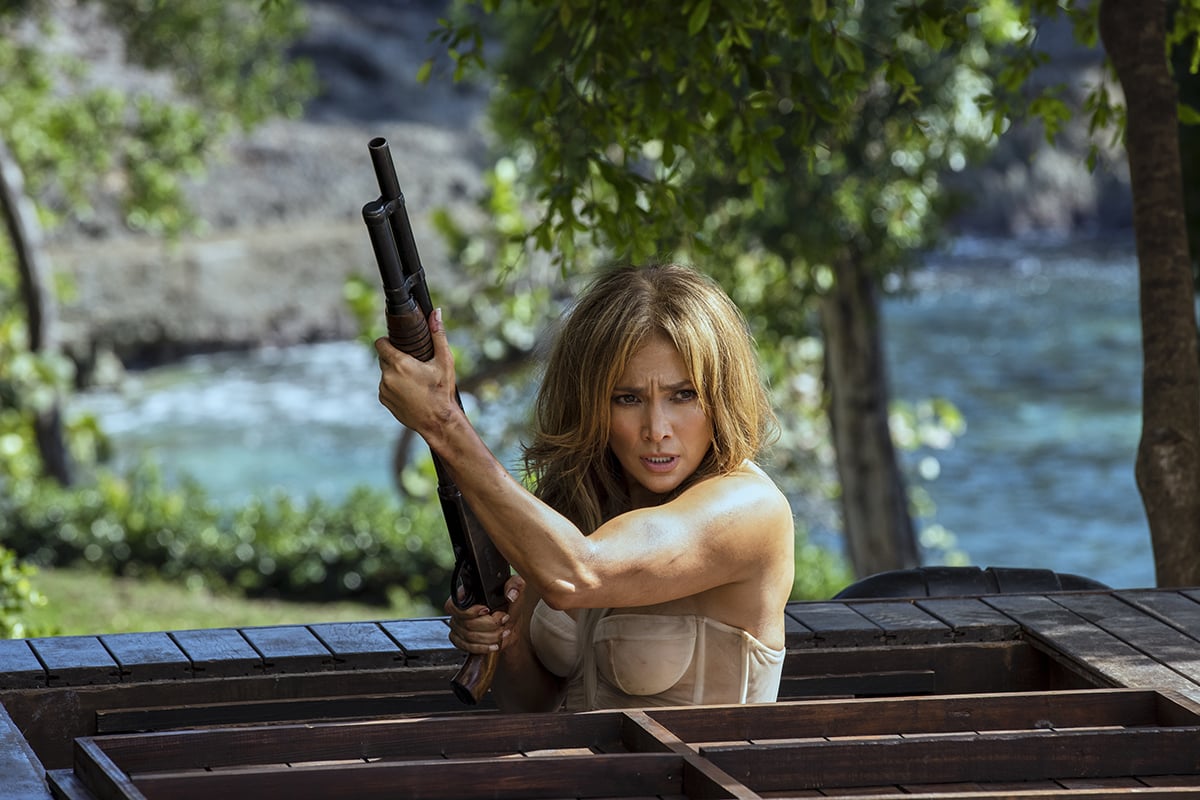 Jennifer Lopez was reluctant to star in Shotgun Wedding after signing on to do 2022's Marry Me (Credit: Amazon Studios)
However, after reading Mark Hammer's script, J.Lo finally agreed.
"I remember, I was in my tub and was like, 'Let me read it,' and I was like, 'Oh, this is funny, this could be good; depending on who directed this, it could be really good.' And then when we got Jason Moore, I was like, 'Okay, this is gonna be fun,' and we got this amazing cast."
What Is Shotgun Wedding Movie About?
Jennifer Lopez and Josh Duhamel play couple Darcy Rivera and Tom Fowler, who is set to wed at their destination wedding on a tropical island in the Philippines (though the location shoot took place in the Dominican Republic).
The two gather their "lovable but very opinionated families" for their wedding but things spiral out of control when a group of pirates takes all their guests hostage, demanding a large ransom.
Shotgun Wedding follows couple Tom and Darcy as they embark on a tropical island wedding with their families (Credit: Amazon Studios)
Unaware of their guests' situation, Tom and Darcy are off in a jungle, arguing over their wedding and differences. It now falls on the bride and groom to save their families even though their unresolved issues are threatening to ruin their relationship.
The official synopsis of Shotgun Wedding reads: "In Shotgun Wedding, Darcy (Jennifer Lopez) and Tom (Josh Duhamel) gather their lovable but very opinionated families for the ultimate wedding, just as the couple begin to get cold feet. And if that wasn't enough of a threat to the celebration, suddenly everyone's lives are in danger when the entire party is taken hostage. 'Til Death Do Us Part' takes on a whole new meaning in this hilarious, adrenaline-fueled adventure as Darcy and Tom must save their loved ones—if they don't kill each other first."
Before the ceremony begins, a group of pirates crashes the wedding and takes the guests hostage, leaving Tom and Darcy no choice but to save them (Credit: Amazon Studios)
Who Is Cast in Shotgun Wedding?
Aside from Jennifer Lopez and Josh Duhamel, Shotgun Wedding also stars Lenny Kravitz as Darcy's ex-fiancé, Sean Hawkins, who arrives at the wedding via helicopter.
Darcy's parents, Renata and Robert Rivera, are played by Brazilian actress Sonia Braga and Mexican-American actor Cheech Marin.
Tom's parents Carol and Larry Fowler are portrayed by The White Lotus star Jennifer Coolidge and Steve Coulter.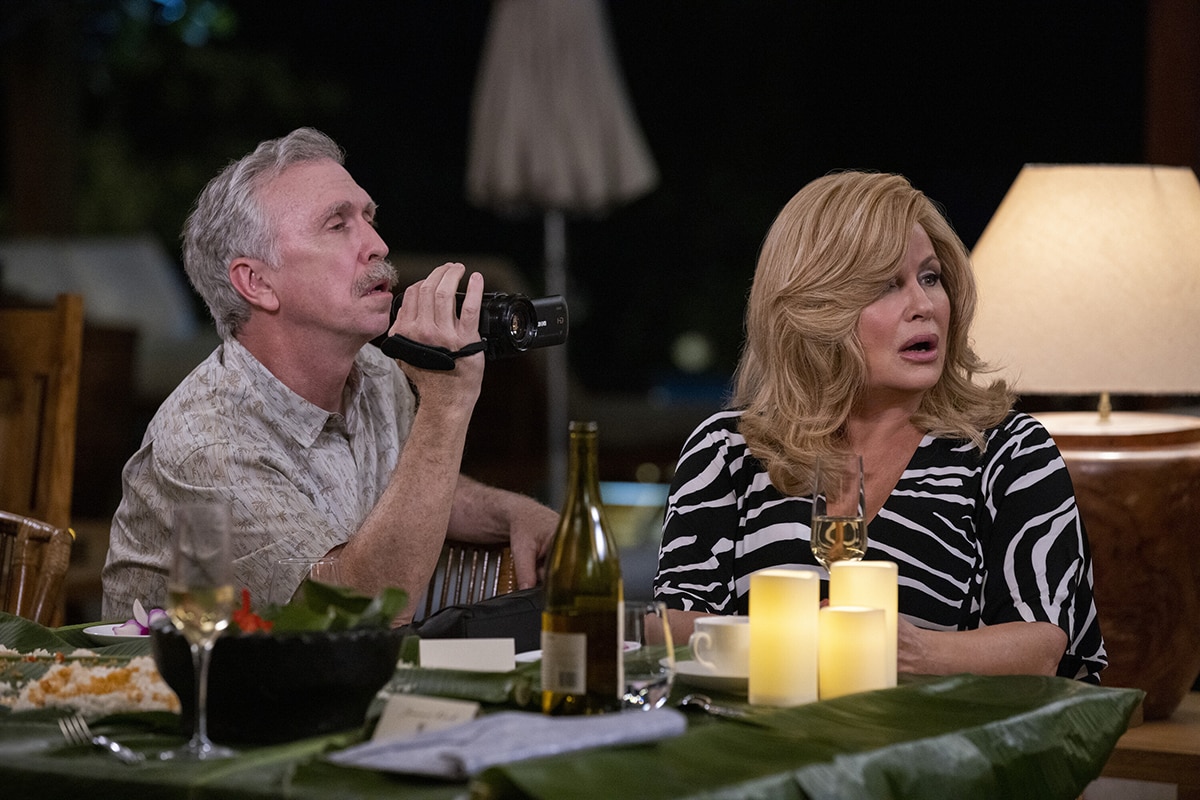 Steve Coulter and Jennifer Coolidge star as parents of Tom Fowler (Josh Duhamel) in Shotgun Wedding (Credit: Amazon Studios)
Jennifer Lopez Dazzles in Valentino
On Wednesday, the cast of Shotgun Wedding attended the Los Angeles premiere of the Prime Video movie held at TCL Chinese Theatre.
Josh Duhamel and Jennifer Lopez at the Los Angeles premiere of their new movie, Shotgun Wedding, held at the TCL Chinese Theatre on January 18, 2023 (Credit: Xavier Collin / ABACA / INSTARimages / Cover Images)
Jennifer Lopez looked every inch the Hollywood movie star in a see-through gown from Valentino's Fall/Winter 2022 Haute Couture collection.
Her sheer nude look featured a mock neck, long sleeves, and a long, dramatic train, all covered with sparkling rhinestone crystals and sequin embellishments.
Underneath the see-through fabric was a nude strapless bodysuit for some coverage, trimmed with a yellow bow around her waist.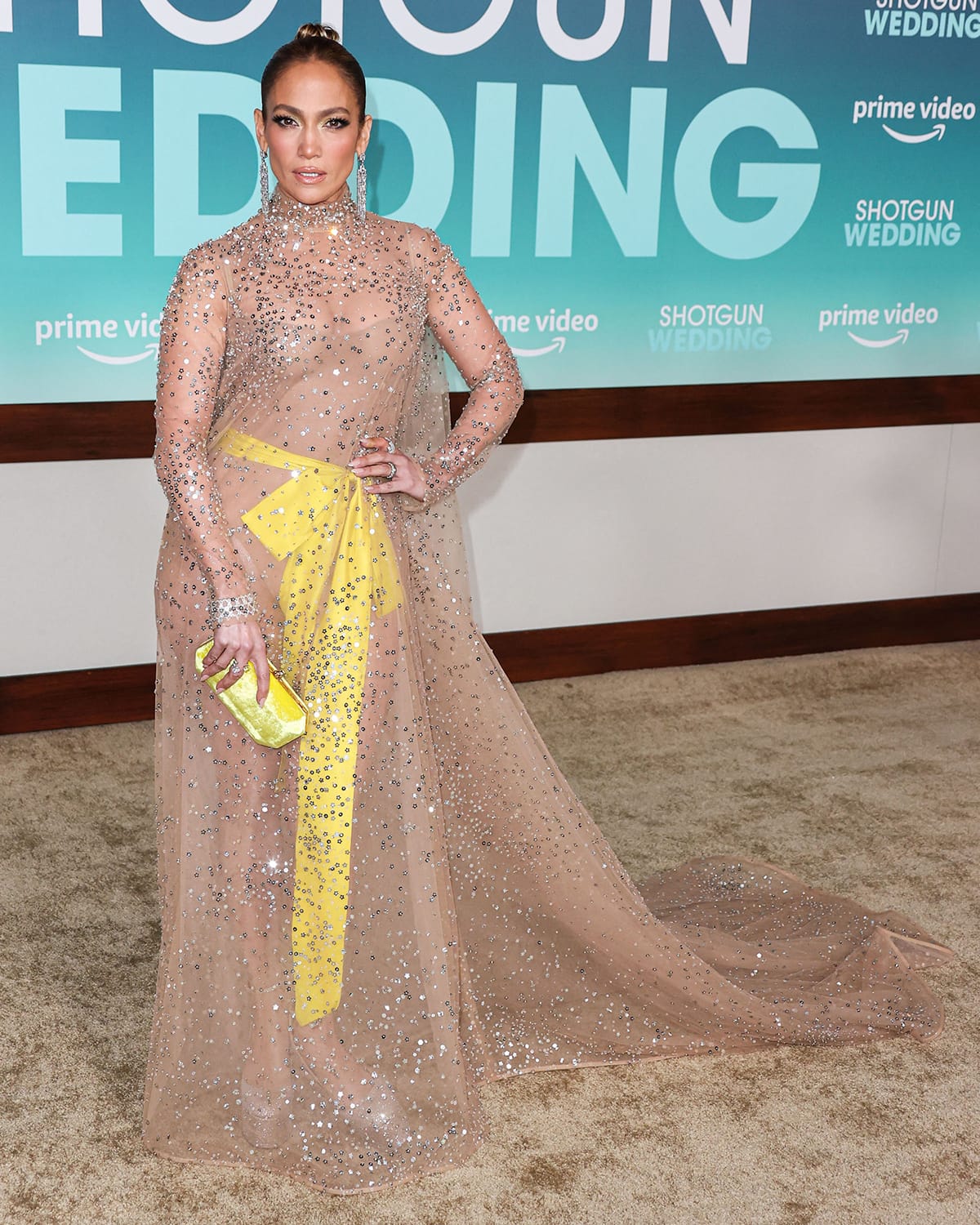 Jennifer Lopez looking every inch the Hollywood star in a crystal-embellished sheer nude gown by Valentino at the LA premiere of Shotgun Wedding on January 18, 2023 (Credit: Xavier Collin / ABACA / INSTARimages / Cover Images)
With the help of styling duo Rob Zangardi and Mariel Haenn, J.Lo carried a $2,550 yellow velvet Tyler Ellis clutch and glammed up her exquisite look further with diamond jewelry by Shiphra.
The Maid in Manhattan star wore a pair of shoulder-grazing Art Deco white diamond earrings, a Coliseum wrist bracelet, an eclipse white diamond ring, a cushion shape eternity ring, and a white diamond chess ring.
Jennifer Lopez adds more shimmer to her look with Shiphra diamond jewelry and glams up with metallic eyeshadow, false eyelashes, nude lip gloss, and a high bun (Credit: Xavier Collin / ABACA / INSTARimages / Cover Images)
Hairstylist Andrew Fitzsimons swept her brunette tresses into a slick tall bun while makeup artist Mary Phillips gave her bronzey makeup with metallic eyeshadow, fake lashes, and nude lip gloss.
Jennifer Lopez completes her sparkling ensemble with crystal-embellished Valentino Tan-Go pumps (Credit: Dave Starbuck / DDP / INSTARimages / Cover Images)
Finishing her shimmering look were Valentino Garavani's "Tan-Go" pumps in nude suede with crystal appliques.
They have thin ankle straps with customized VLogo signature buckles, 2.2-inch platforms, and 6.1-inch block heels.
Valentino Garavani 'Tan-Go' Embellished Platform Pumps, $2,300 at Mytheresa
These Tan-Go pumps are embellished with crystals from the ankle straps down to the thick platforms and block heels
Jennifer Lopez was joined on the red carpet by her on-screen partner Josh Duhamel, who looked dapper in a dark gray suit with a light gray shirt and a matching tie.
Fergie's ex-husband brought along his new wife, former pageant queen Audra Mari, who opted for a body-hugging black velvet Michael Costello gown with long sleeves, crystal-embellished shoulders, and a short train.
Josh Duhamel with his new wife Audra Mari in a Michael Costello black gown (Credit: Xavier Collin / ABACA / INSTARimages / Cover Images)
Jennifer Coolidge also graced the red carpet in a form-fitting black dress made of see-through ruched fabric with long sleeves.
She styled the look with classic black pumps and statement jewelry, including a pair of sparkling earrings and a cocktail ring.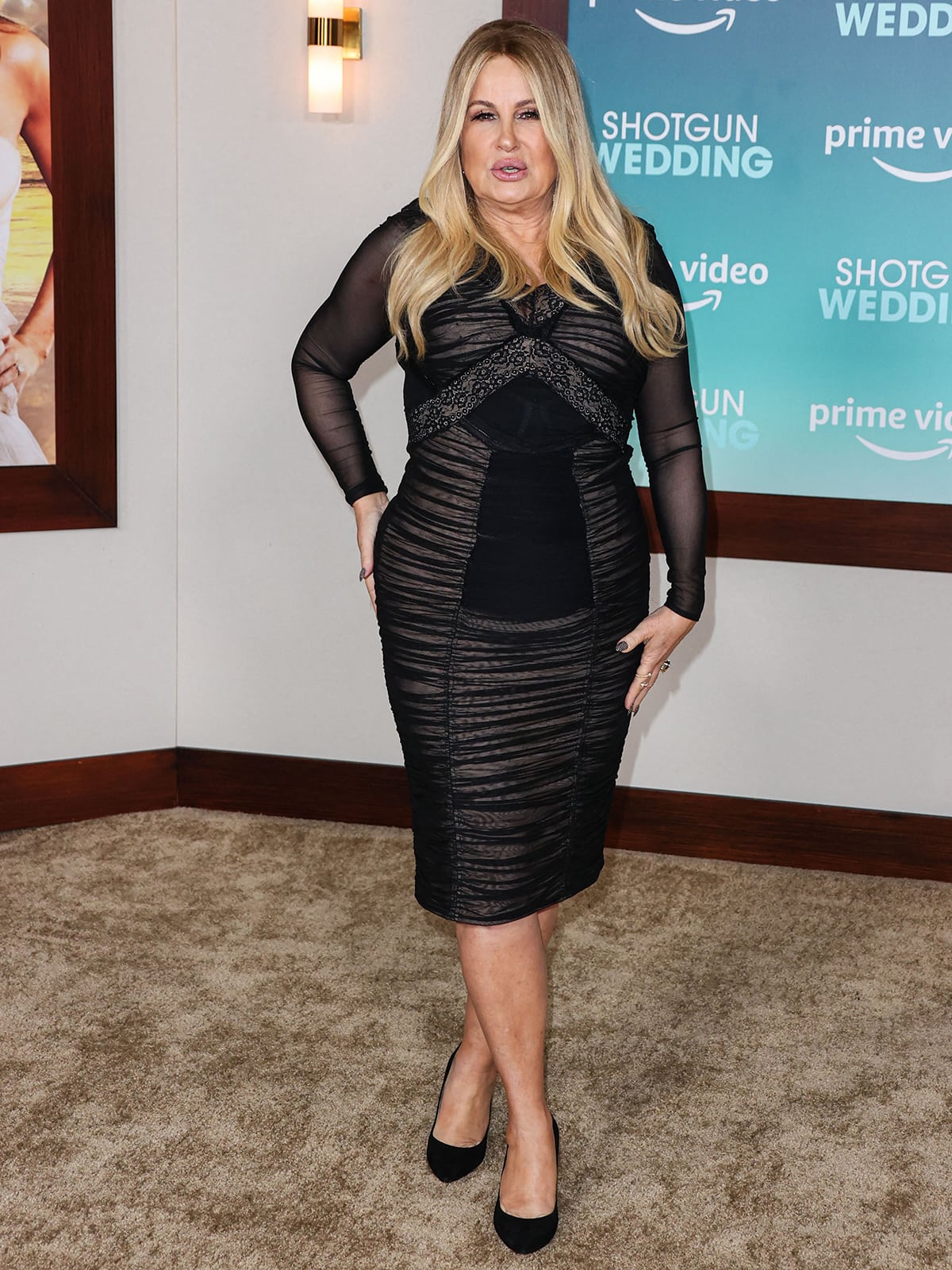 Jennifer Coolidge showcases her figure in a black ruched mini dress and classic suede pumps (Credit: Xavier Collin / ABACA / INSTARimages / Cover Images)